Carter Roberts Talks with the Clinton Foundation's Chelsea Clinton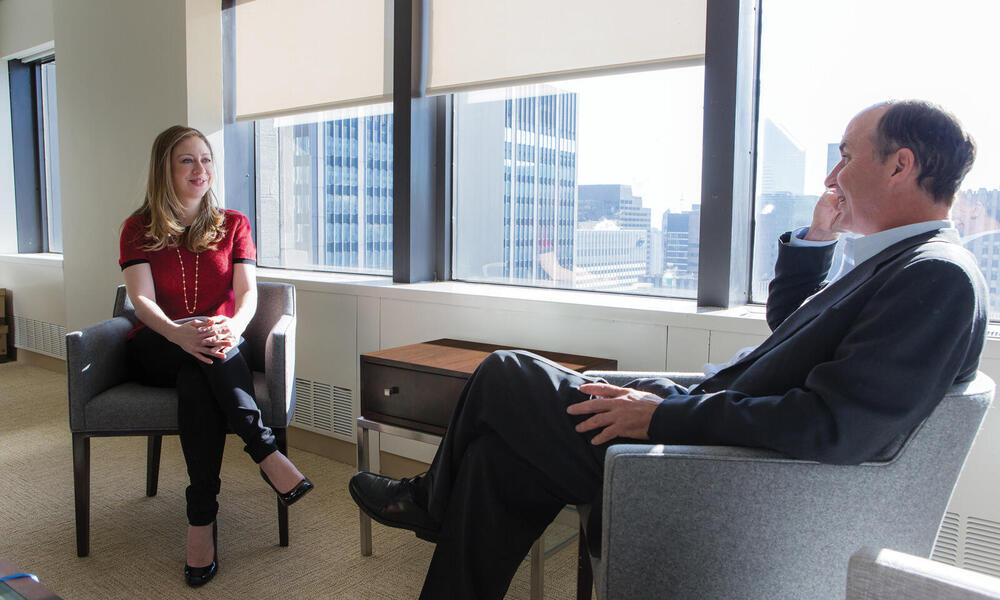 On February 28, 2014, WWF President and CEO Carter Roberts sat down with Clinton Foundation Vice Chair Chelsea Clinton to talk about women and conservation, how she became an environmentalist at the tender age of seven and the importance of a big tent.
CARTER ROBERTS: Thank you so much for doing this. It's great to see you again. So tell me: How did you come to love elephants?
CHELSEA CLINTON: In a couple of ways. In 1987 my mother's parents retired and moved from Chicago to Little Rock. And when they arrived, my grandmother said, "We want to give you a present—something you'll really care about and be connected to." So I asked for a Greenpeace membership. And then the next year I joined WWF. I don't really know why a little girl in Arkansas felt so deeply connected to what was happening in the larger world, particularly through what was happening to animals. Certainly we had a fantastic zoo, and my parents did a wonderful job of taking me there when I was little and helping me feel connected to the broader world—but we didn't have a lot of wildlife where I lived and we weren't exactly on the oceans. So I'm not sure precisely what the connection was, but animal conservation and then anything related to preserving our planet were what resonated with me most.
CR: And what about wildlife trade—when did that become
a concern?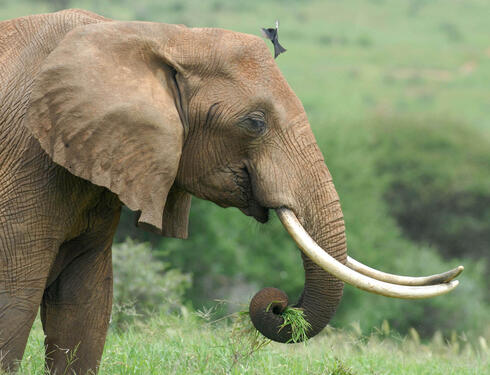 CC: My mom and I have said this publicly and it's true: We didn't realize the extent of the crisis facing the African elephant until a year and a half ago. And we felt really guilty about that. We're both very engaged with the world and pay attention to what's happening, but we just hadn't realized we had reached such a crisis point again—similar to when I had first started to pay attention to environmental issues in the mid-1980s. And because we believe that elephants are at the intersection of so many things we care about—from ecological to moral issues, human rights issues, social development, economic rights and security issues—we felt we had to do whatever we could to arrest this tragic trend and reverse it.
CR: The world talks a lot about boots on the ground, enforcement, guns and all of that when it comes to solving the poaching crisis. My conviction is that as long as China continues to demand [ivory], there will be a will and a way to find the animals and bring it to market. I was encouraged to hear your comments at the most recent Clinton Global Initiative about corporate gifting in China. Would you talk a little bit about that?
CC: Sure. First I should say we just had good news a few days ago when 36 prominent Chinese, many of them CEOs, pledged publicly they would no longer purchase, possess or gift ivory. And there are growing public education campaigns in China to help make consumers aware that ivory comes only from dead elephants, which people historically had not been aware of.
But Carter, I think you're right. We do need different status symbols. And that's one of the reasons we've been reaching out to the luxury goods and fashion industries—industries that are growing rapidly in China. We're talking to retailers about carrying products that are very much coherent with their own brands and can also help educate people about the sad, direct causality between dead elephants and the ivory on the shelves. We envision products that can become a replacement status symbol, so there is no longer a need for ivory.
"When we think of the relationships between where elephants are and the surrounding communities, many of the people who are and will continue to be most impacted—whether by elephants roaming through their land or by poachers intruding on their land—are women."

Chelsea Clinton Vice Chair, Clinton Foundation
CR: That's great. So let's talk about women and children.
CC: Sure, please.

CR: WWF launched a partnership with CARE five years ago on the coast of Mozambique, focused on governance, communities and natural resources. CARE's pivot point is development and the role of women, so they're the perfect partner for us. I'd love for you to talk about how you see the connection between your work with women and your work with conservation.
CC: I think that women are at the forefront of everything. And certainly everything at the community level. So for example, I know WWF has a highly successful communal conservancy program in Namibia. I would imagine that even if women weren't the explicit focus of your work in Namibia when it began 17 years ago, you had to work through women to get almost anything done, right?
CR: Absolutely. In fact, many of the conservancies are managed by women.
CC: Right. So I think you've answered your own question in a way. In sub-Saharan Africa, women are 70% of the smallholder farmers. So when we think of where elephants are and the surrounding communities, it's clear that many of the people who are and will continue to be most impacted—whether by elephants roaming through their land or by poachers intruding on their land—are women. Ensuring that women smallholder farmers are enfranchised into the solutions to help conserve and protect the elephant populations is, as we often say around here, not only the right thing to do but the smart thing to do. If these women feel invested in finding a solution, the outcome will be the best thing for their own security, certainly. But also for the viability of their farmland and their children's future by being able to have greater economic opportunity, connected hopefully to the ongoing conservation of the nearby elephant populations.
CR: So, this question's a bit more personal. The perfect day—what does it look like to you?
CC: Oh, goodness. I would love to spend the day with my husband, and then have dinner with my parents. And then in between, a new shared experience—whether that was a new place we'd never visited, or a play here in New York we'd never seen, or going for a walk in the city somewhere we'd never ventured before. So I guess it's more about the raw materials to me: being with the people I love and sharing something new. Some new discovery about the world.
CR: When you think about the work you're doing with women and children, and in conservation, who are your heroes?
CC: Certainly, my parents. And my grandmother was a huge influence in my life—even though she is no longer with us she remains a tremendous influence. I think about Graça Machel, who has led such an extraordinary life in Mozambique and South Africa, and everything she has done for women in those countries and now broadly across the African continent. And I think I'm one of the millions of people who look up to Wangari Maathai and everything she was able to do through her Green Belt Movement. That she created a system that endured beyond her life is, I think, a testament to what a revolutionary she really was.
CR: So I'm going to end with a quote from Pete Seeger, who captured an imperative in our work when he said: "Participation—that's what's gonna save the human race."
CC: I absolutely agree. Pete Seeger was fabulous. He did so much for conservation in New York.
CR: You're doing so much for elephants and wildlife, and helping to encourage people to think more broadly about what they can do to help. All of that will be part of the solution.
CC: I hope so. I'm just tired of cynicism.
CR: Yes. There are plenty of signs of hope all around us—we just need to get more people involved.
CC: I agree. Big tent.
Explore More
About

World Wildlife magazine provides an inspiring, in-depth look at the connections between animals, people and our planet. Published quarterly by WWF, the magazine helps make you a part of our efforts to solve some of the most pressing issues facing the natural world.