Dance-Worthy Statistics
WWF's Louise Glew on the social impacts of conservation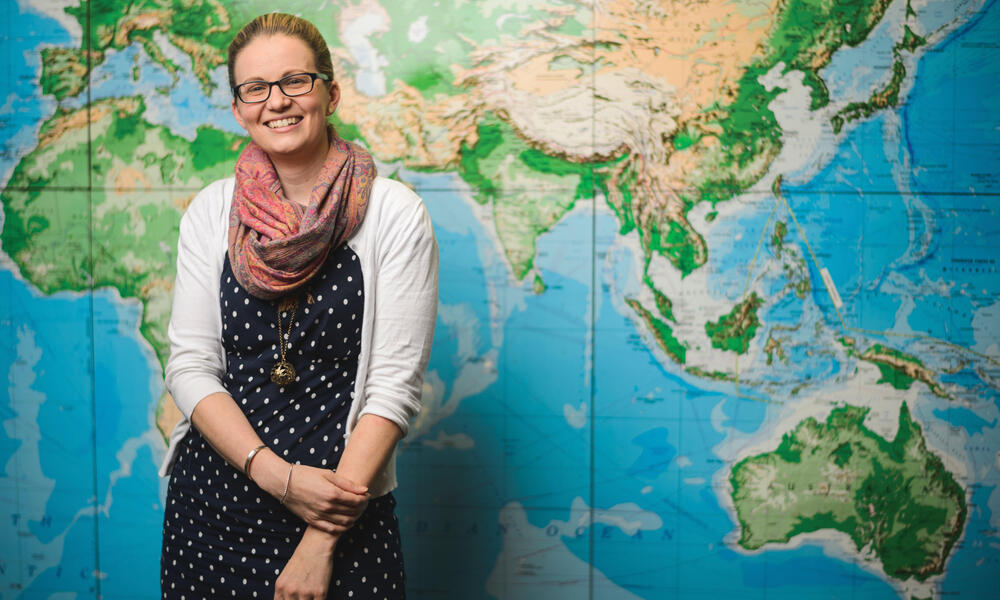 LOUISE GLEW is a self-proclaimed statistics nerd who specializes in monitoring and impact evaluation, community-based conservation, and conservation social science. She has spent the better part of a decade evaluating the effectiveness of conservation in places like northern Kenya and Papua, Indonesia—places she says have a hold on her heart. Glew holds a PhD in environmental science from the University of Southampton in the UK, where she focused on ecology. As WWF's monitoring and evaluation lead, Glew spends her time applying robust methodologies to understanding the social and ecological impacts of conservation interventions.
As a young and very green PhD student, I traveled to Kenya to study what happens to large mammals and their habitats when communities establish locally managed conservancies. Within the first week of my arrival in the arid north, I realized the ecological implications were only half of the story. Frankly, I was more excited by the social changes emerging
at the same time.

With a field team from the local Samburu ethnic group, I began the slow, hot and dusty work of documenting these impacts. We sat for hours, drinking cup after cup of chai offered by the locals, and listening to the stories of their lives. As evidence accumulated in my dirt-stained notebooks, it became clear that communities in northern Kenya—who experience frequent cattle rustling and highway banditry—had used conservation to achieve something remarkable: peace and security. We learned that game scouts, whose primary task was to protect wildlife, were also watching over people and their livestock. So citizens felt safer and slept better at night.

To me that was fascinating.

Why?

Because all too often the impacts of conservation are tied to dollar signs, but here was a community experiencing profound changes far removed from direct financial benefit. When we asked people what had happened in their lives over the previous 10 years, they replied, "We have peace now." It was not a financial gain, yet it was by far the biggest impact on community life.

And it was due to conservation.
That epiphany made it clear to me that we should design conservation projects by first evaluating, and then communicating, the full range of impacts such projects might have on communities. Today, we're applying "impact evaluation" in places like Papua, Indonesia, where we are studying how marine protected areas (MPAs) affect local communities. In essence, we want to use the power of statistics and quantitative research to answer this question: Do MPAs benefit both fish and fishermen?

The effort is groundbreaking—one of the largest social impact evaluations of any conservation project, anywhere. We work closely with the Universitas Negeri Papua (UNIPA) to build local scientific capacity, while also monitoring the social impacts of conservation. Our UNIPA field team sits with households in remote Indonesian communities and asks: How many people live here? How long have you been in this area? Do your kids go to school? How often? Does everyone have enough food to eat?

Just like in Kenya, we are casting our net wide, assessing the impact of MPAs on local people's education, food security, health and economic well-being to ensure we capture all of the social changes linked to conservation efforts offshore.

Our model for measuring the impact of conservation borrows from the rigorous approach used in medical trials. We're comparing changes we see in households living inside the MPA with similar "control" households outside the MPA—for example, matching two households that rely on fishing for their livelihoods, rather than comparing a fishing household with a farming one.

Getting those matches right is harder than it sounds. In fact, initially we didn't know if we had. But after months of international calls and emails and crunching data, we ran the numbers and I literally did a dance at my desk. We'd found the right control group matches. Our data would hold up!

I'm equally excited by questions that relate to emotional changes that might result from an MPA. To explore this, we're measuring something called "place attachment," which is the bond you feel with a particular place. Ultimately, we want to find out whether people within MPAs develop a stronger or a weaker connection to the sea as a result of marine conservation. Our preliminary data from Papua are giving us an enticing indication that our methods will bear fruit.

To me, this tiny speck of knowledge has all the thrill of a major breakthrough. You see, it's the first time anyone has used a quantitative metric to document the potential cultural impact of a conservation project.

These incremental triumphs add up to something that could transform how we work in the future. As these mini-laboratories begin to build a scientific body of knowledge about what works and what doesn't, we can design programs to deliver specific benefits for particular communities—and to take a more holistic approach to our work on the ground. In some ways, we're becoming mechanics—learning how the system works and fine-tuning for maximum impact.
Explore More
About

World Wildlife magazine provides an inspiring, in-depth look at the connections between animals, people and our planet. Published quarterly by WWF, the magazine helps make you a part of our efforts to solve some of the most pressing issues facing the natural world.