President's Letter: Catalyzing Change in Conservation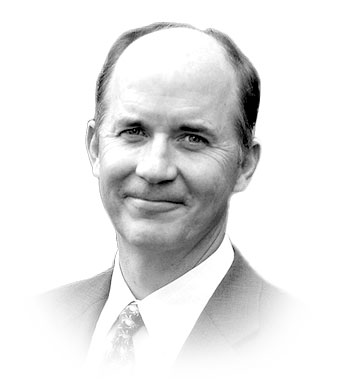 "At the heart of the best work WWF does is always an idea and a person who serves as a catalyst for greatness."

Carter Roberts
President & CEO, WWF
I recently attended an advisory board meeting of the United Nations' Sustainable Energy for All (SE4ALL) initiative in New York City. This global body of experts was charged with a bold mandate: to provide energy access to the world's poor, double the efficiency of all forms of energy globally and double the market share of renewables. All by 2030.

Chaired by UN Secretary-General Ban Ki-moon and World Bank Group president Dr. Jim Yong Kim, the advisory board's array of talent is really quite stunning. Current and former presidents of countries, cabinet-level officials, leaders of international development banks—united in the common purpose of bringing sustainable energy to everyone around the world who needs it.

The SE4ALL Executive Committee is led by Bank of America chairman and WWF Board member Chad Holliday. At the meeting in New York, Chad led a panel discussion about the process of matching finance to renewable energy solutions. He shared wisdom gleaned from his years in business, noting that the most successful deals he put together typically had two elements in common. One, they were complicated. And two, the most essential ingredient was always the catalyst—the person, group or event that got the ball rolling.

He challenged us to find the catalysts in every approach to this initiative. Who or what are they? And how would we bring them together to make things happen?
Merriam-Webster defines catalyst as "an agent that provokes or speeds significant change or action." At the heart of the best work WWF does is always an idea and a person who serves as a catalyst for greatness. Take the case of the Amazon Region Protected Areas Program (ARPA). An idea to set aside 10% of the Amazon started with President Cardoso of Brazil and came to life because of a group of individuals and organizations—including the Brazilian and German governments, the Moore Foundation, the Global Environment Facility and WWF Board members Larry Linden and Roger Sant—who continue to serve as catalysts.

Or consider Namibia, where the catalysts behind the WWF-supported community conservancy movement are often local leaders who have persevered through political change and economic hardships. At the core of these and many other spectacular programs are people and ideas that start a chain reaction, which then drives the transformation of individuals and the conservation of biodiversity at scale.

But the sheer enormity of the problems we face demands that we become even better at cultivating catalysts in every aspect of our work—from forest conservation to climate change to saving species. So we're currently reorienting our organization toward the identification of catalysts and ideas that can move the needle against the measurements of our mission, pursuing innovation and scale in all that we do. It's a process that requires flexibility and new approaches, and requires that we become more decisive, more swift and more nimble in how we operate.

It also requires defining goals that matter and then methodically finding the catalysts that spark initiatives that move us—either incrementally or in great leaps forward—toward those goals. ARPA and Namibia are classic cases in point. Our current renewable energy push is catalyzing US homeowners to effect change right at home, via surprisingly inexpensive energy-saving solar panels.

Finding catalysts in everything we do, nurturing that innovation and possibility, and making sure we use it effectively to deliver on our promise as an organization is how we will achieve truly consequential change. And it is you, our membership, who make it possible for us to create the conditions necessary to spark those chain reactions and take the change the world needs to scale. For this, and so many other things, we thank you.
Explore More
About

World Wildlife magazine provides an inspiring, in-depth look at the connections between animals, people and our planet. Published quarterly by WWF, the magazine helps make you a part of our efforts to solve some of the most pressing issues facing the natural world.