In-Depth
Ireland and the Future of Sustainability
A new model of forward-thinking agriculture
Issue: Summer 2015
Author: Suzanne Campbell
Photographer: Jack Caffrey
In 2012, Ireland became the first country to commit to third-party-verified, 100% sustainable food exports by 2016. This groundbreaking national commitment offers a new model of forward-thinking agriculture—the kind of ambitious, sustainable approach WWF is crafting in coordination with communities, companies and countries around the world.
Understanding Origin Green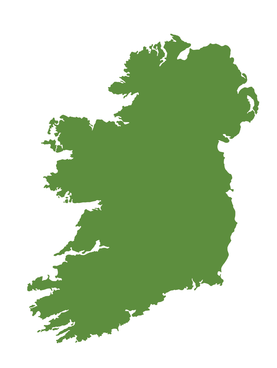 Origin Green extends through Ireland's food and farming sector, and includes dairy, beef, drinks, seafood and a host of manufactured foods. To become part of the Origin Green sustainability program, a food or drink producer must first apply.
For farmers, an auditor then visits the farm. Information on what the producer uses—water, feed, fertilizer, electricity and all—is entered into a tablet that communicates with a national database. Those inputs are matched against outputs in terms of the quantities of food product produced. The Origin Green model (approved by the Carbon Trust) then calculates the CO2 level of that farm per kilogram of output—for example, beef or milk.
Farmers are sent a breakdown of their farm's performance and feedback on how they can improve output, save money and boost environmental sustainability. Farms continue to be assessed every 18 months and can follow their progress in comparison with other farms in their sector.
For the most part, Irish farmers already meet EU standards on production methods, maintaining biodiversity and attending to animal welfare. "What we want to see is farms improving over time—things like energy efficiency and increased savings at the farm level," says Padraig Brennan, sustainability development manager for Origin Green. "Sustainability levels on Irish farms are already high—and yes, we are adding another layer, but it's a voluntary layer. Adopting best practices and new technology seems like the best way to optimize both financial and environmental results."
Moving slowly through the deep straw that provides a cozy bed for his heavily pregnant Montbéliarde cows, Pat Mulrooney coos softly beneath his breath. Their large eyes seek him out as he passes through the group, and wet muzzles inhale his scent before lowering again to resume the steady munching of hay.
Mulrooney's land in Manganstown, County Tipperary, lies at the foot of Slievenamon—in the Irish language Sliabh na mBan, mountain of the women. This lush and fertile landscape, which Johnny Cash called "the forty shades of green," boasts a natural abundance that has helped propel Ireland to center stage with the creation of the world's first national farming sustainability commitment. Created and administered by the Irish food board, Bord Bia, the effort is called Origin Green.
An ambitious and unprecedented proposal, Origin Green is the only national-level sustainability program in the world that unites government, private-sector food companies and farmers. "A national commitment is the key thing," says Jason Clay, WWF's senior vice president of markets and executive director of the WWF Markets Institute. "As we work to protect nature at a planetary scale, we need sustainability actions not just on the part of individuals and corporations, but countries as a whole. Ireland's commitment gives the whole food sustainability movement an important shot in the arm, a vision of what could be, of what should be."
Initially designed to give Irish food an advantage in the marketplace, in three short years Origin Green has been embraced by nearly 400 food companies and has the potential to become a roadmap for the sustainable production of food worldwide.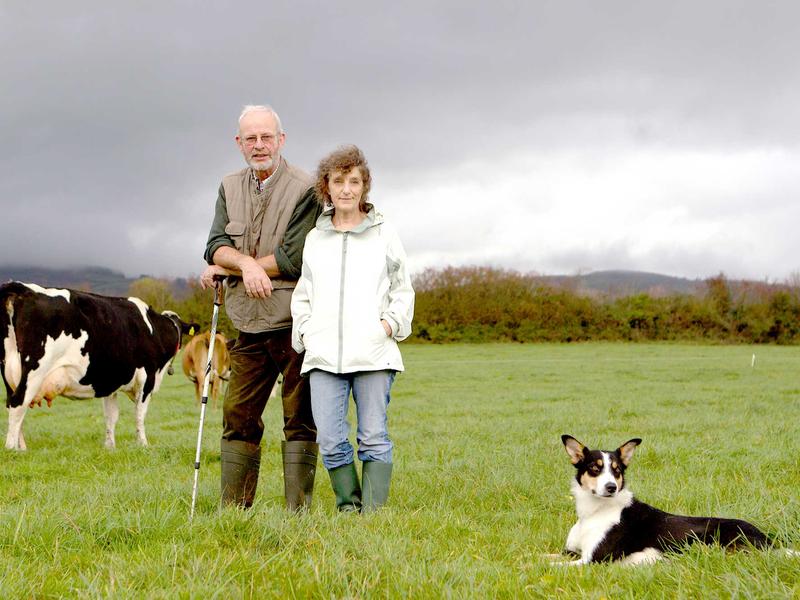 © Jack Caffrey / WWF-US
Low-Impact Learning
Mulrooney's farm is typical of an environmentally focused vigor across the Irish agricultural sector. Tradition and romance are still there—the grass, the rain, the passion of farmers—but there is a newer technological and business savvy that has positioned Ireland as a best-practice model in terms of food chains.
Farming and a growing artisan food sector are helping the country recover from a deep recession following the banking collapse of 2008. In the boom years, land was an asset on which to build houses. Now it is being farmed efficiently and sustainably by a generation of ambitious, educated farmers. Driving a leaner and more sustainable food sector has made Ireland the fourth-largest exporter of beef in the world, and the producer of about 10% of the world's infant formula—made from Irish milk powder.
In essence, Ireland is a trusted source of healthy food. And that, combined with this public commitment to sustainability across its food and farming sector, has been essential to securing new marketplaces for Irish food in places like Asia and the Middle East.
Irish farms are typically small—around 80 acres—and family owned. Farming has high visibility in rural areas and the food and farming sector accounts for nearly 1 in 10 jobs. Before Origin Green, Ireland was already operating a grass-based system on the vast majority of its beef farms and dairy farms. The added value Origin Green brought to the table was the measurement and verification of factors like carbon emissions with international bodies such as the UK's Carbon Trust, an independent carbon-reduction verification group.
Ireland has the lowest carbon footprint per liter of milk produced in the European Union. It's no surprise that Irish-produced food is so attractive to international food and beverage companies such as Nestlé, Wyeth and Diageo.
The Gift of Rain
Rain and a temperate climate are the keys to Ireland's farming economy; grass nourishes beef and dairy herds like Mulrooney's for nine months of the year. "In Ireland," the farmer says, "keeping animals on grass has really paid off." While conjugated linoleic acids found in grass-fed beef and milk are now prized for their cancer-inhibiting properties, for farmers like Mulrooney, science is a latecomer. The specific yellow creaminess of Irish butter was always a telltale sign of its grass-based nutrients, and to maximize this he is sending the milk from his herd to be made into award-winning cheese.
"Three years ago I got several farmers together to try and think of ways to be more than just commodity producers and price takers," says Mulrooney. "We started out with a cheddar and now—under our Little Milk Company label—have a range of cheeses that have won awards all over Europe." That cheese is now in the process of getting accreditation through Origin Green.
In Ireland, keeping animals outdoors longer uses less grain, water and electricity, and produces less waste than some other approaches to farming. And while not every country benefits from the same natural abundance, many nations are crafting alternative routes to sustainability that fit their realities more closely. Still, in this particular situation, Ireland has a head start. And ironically, those long-standing principles Mulrooney has used to farm organically for decades are now routes to efficiency in conventional farming.
For him, farming sustainably is also a pathway to a more fulfilling life. "This is not an easier or cheaper lifestyle," he says. "It is a choice to farm in a more environmental way, and therein lies the satisfaction."
The National View
For Agriculture Minister Simon Coveney, Origin Green has been far more successful than he envisaged. "When Bord Bia came up with this idea of auditing the sustainability of our food," he says, "I didn't think it would be adopted by food companies and farmers as easily as it has been. Yes, it's an environmental crusade—but with a real commercial edge. Happy cows and green fields make a good image. But to back that up now we have the science to show the long-term benefits behind this traditional way of farming."
Measuring and certification take place throughout the year on farms where auditors use handheld, GPS-enabled devices to capture information on grazing, fertilizer use, feeds consumed, manure management, water use and biodiversity. This data is then transferred to a central database at Bord Bia where performance on every farm can be compared. In turn, that database provides individual feedback to farmers that helps them become more sustainable and efficient producers in a world running tight on resources.
"Very soon," continues Coveney, "there are going to be regions of the world, even parts of Europe, that simply cannot farm the way they do now because of diminishing water and other resources. Sustainability is the future, and Origin Green presents accountable, trackable proof of that."
While Ireland's beef farmers fill order books belonging to some of the world's largest food companies, Ireland's food picture is still quite varied in scale and type. But common to all is the realization that everything is built on the environment, and that farming foods of the future will mean unlocking doors to the past.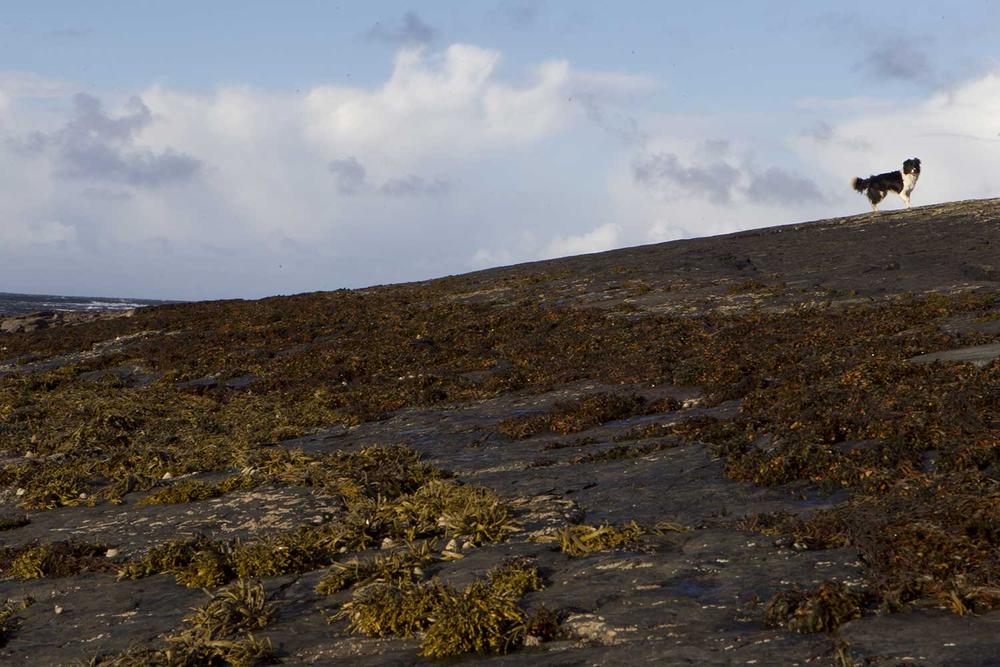 © Jack Caffrey / WWF-US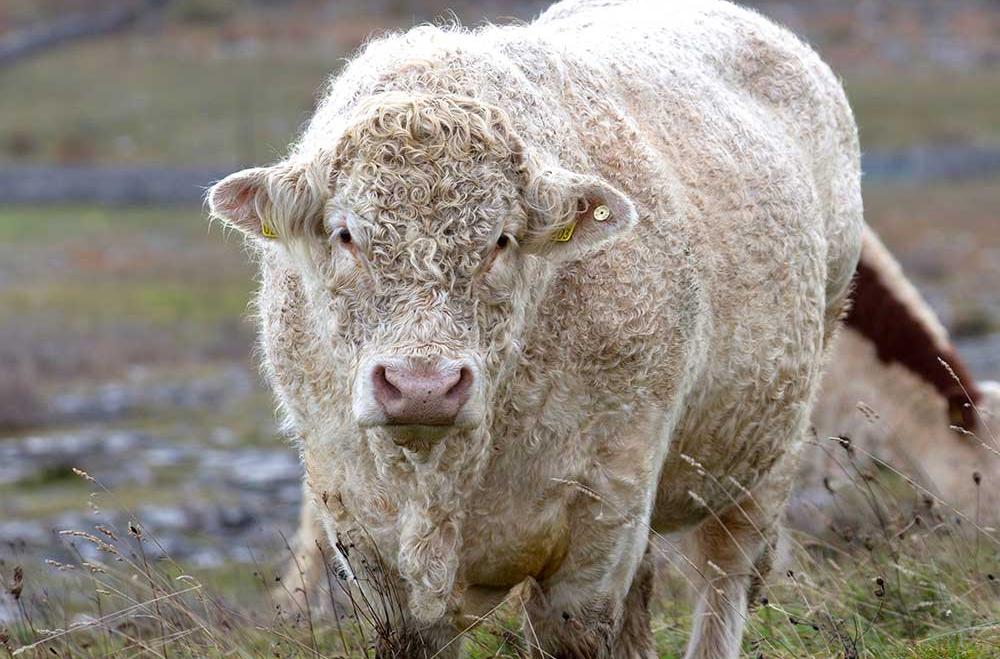 © Jack Caffrey / WWF-US
Mixed Greens
On the stormy Atlantic coast of the Burren in County Clare, Gerard Talty has technologized the ancient bounty of the sea, drying and selling kelp, wrack and other types of seaweed as food supplements that sell worldwide. Looking out at the powerful rolling Atlantic from the rocky peninsula at Quilty, it's easy to see how a hurricane on this coastline wrecked the invading Spanish Armada in 1588.
Tourism and farming in Ireland have rarely worked in harmony, but on the Burren, managing nature sustainably has benefited both farmers and visitors. The region has become a model for producing food within a delicate ecosystem where rare wild plants spring from cracks in the limestone, yielding a stark beauty that draws millions of tourists each year. Shaped by wind and water erosion, the "karst" landscape forms dramatic "clints" and "grikes"—channels and crevices that reveal glimpses of deep water reserves beneath the rock. The stepped limestone platform falls raggedly down to the untamed coast, part of the Wild Atlantic Way tourism route.
Mickey Talty

Mickey Talty and his family continue a long-standing tradition of harvesting wild seaweed for markets near and far.

Quilty, County Clare

Mickey Talty and his family continue a long-standing tradition of harvesting wild seaweed for markets near and far.

Mickey Talty and his family continue a long-standing tradition of harvesting wild seaweed for markets near and far.

Mickey Talty and his family continue a long-standing tradition of harvesting wild seaweed for markets near and far.
Where land and sea meet, seaweeds were collected for millennia to nourish the land with added natural, organic nutrients. At 77 years of age, Talty's father, Mickey, is still harvesting seaweed with his son, and now with his 29-year-old grandson Evan. As Evan moves slowly through the low tide, pulling fronds of shimmering dillisk from the rocks, Talty recalls how his father would load a cart with seaweed at three in the morning and head for the county capital, Ennis, walking beside the horse-drawn cart for the journey of 23 miles. From Ennis the seaweed was sold to Scotland to be made into iodine, a mineral now frequently lacking in our diets.
"That was the trade then," says Talty, who lives a few miles from Quilty, in Spanish Point. "It had ceased for decades before we started to harvest seaweed again here. People want it because its nutrients protect them from pollutants and metals. Seaweed is also rich in calcium and many other minerals. We were told these ways of doing things from the past were old fashioned, but here we are collecting it again as an amazing natural resource and foodstuff." The Taltys' dried kelp, bladderwracks and nori sell in Whole Foods in London and Dean & DeLuca in New York.
Seaweeds are seasonal, and while Talty uses health service laboratories to determine water quality and the nutritional content of his seaweed crop, he also follows the trusted path of the periwinkle. Plucking one tiny dark snail from a rock pool, he motions, "See this lad here? As the nutrients move through the seaweed he moves the same direction. When it's ready to harvest, he begins to feed." Talty places the periwinkle back in the pool. "So we harvest only at these times and always leave plenty behind."
A few miles north of Quilty, the road leaves the coast and climbs eastward into the uplands of the Burren. Here the land is fashioned by the elements but also by 6,000 years of farming. Low walls painstakingly constructed from small pebbles and stones remain to denote separate holdings, even if some "fields" are fairly small.
It's a harsh place to earn a living but, in a return to the past, cattle are once again being wintered out on the limestone in a system that supports the regeneration of rare flora. The cattle clear growth on the uplands, removing grass, opening crevices to light and leaving behind nourishment (in the form of natural waste) to fertilize the growth of rare orchid species in the late spring and early summer. About 160 farmers now take part in the Burren Farming for Conservation Programme, which has managed to attract EU support in addition to funding from the Irish state. Meanwhile, a separate organization called the Burren Beo Trust is linking conservation and tourism to maintain and restore the area's biodiversity.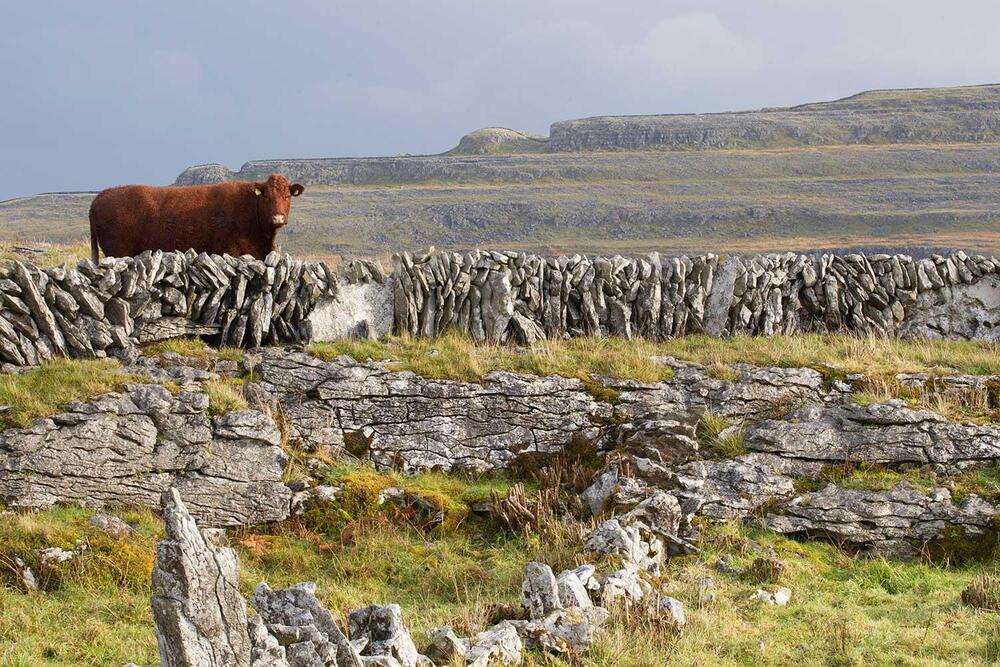 Farmer Pat Nagle keeps 15 cows and a bull on the uplands on the slopes of Sliabh Carran, which locals call "the mountain of the stone mound." In the reverse of housing animals in barns during winter, Nagle has his cows climb 600 feet every October, grazing the unique grasses and plants amid the limestone grikes. In February they come back down to calve out on the lowlands.
Nagle also has 12 field monuments on his farm, in Pullagh, County Clare. Some are so old that they stand as evidence of Bronze Age communities living and farming on his land. "We cleared some hazel last year and there, hidden away, was an ancient stone hut. Maybe it's a place of shelter where people like me, farmers, watched their cattle on the mountain."
Nagle's farm is slated to be audited by Bord Bia for carbon emissions and environmental impact. With no bedding or energy costs, his operation couldn't be more sustainable. "I've 80 acres on the mountain but only 15 cows on it in winter. In fact we don't even talk about acres here but what your land can carry. It's the lowest management you could have, but it's also what we were reared at." Even with the GPS technology and benchmarking, Bord Bia is in many ways simply documenting and supporting what Ireland's farmers, and the farmers before them, were already doing to live in harmony with their land.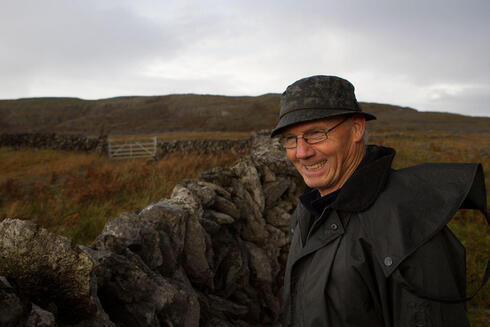 In the Balance
It's ironic that farming in the most ancient way on the most ancient lands is part of Ireland's agricultural future. It's a future that recognizes natural resources not just on the balance sheet, but as a sustainable platform from which farm families can continue to earn a living.
Because Ireland is an island with primarily grass-based farming, a sustainability scheme has been easy to implement. But that's not to say other countries can't take lessons from the giant step Ireland is taking.
Aidan Cotter, the chief executive of Bord Bia, is happy for other countries to adapt the ideas at the center of Origin Green to fit their own realities. "The principles and values of sustainability—in particular, energy savings and minimized greenhouse gas emissions, limited nutrient inputs, and more farms that can sustain their owners and livestock—mean that we should be able to help anybody who wants to follow us on this route. If you look at the tensions across the world between supply and demand in food, it's clear this has to be part of a global solution."
By placing Origin Green interns or "ambassadors" in companies like Nestle, Unilever and Starbucks, Bord Bia is bringing its message into international boardrooms. "We admire what WWF is doing on that front—working with big business rather than against them," says Cotter. "That idea of bringing people with you along a journey is really important.
"Sustainability is that journey," Cotter adds. "It's constantly evolving and the stakes are getting higher. But one of the striking things we've found is the willingness of food companies and farmers to come on board."
For WWF, Ireland's proposition is an essential starting point. "You can't have a second before a first. What's so important about Ireland is that it is the first country to make a commitment like this," says Clay. "Once you've got the first, you can begin to push others to do something as well. Think of a country as large and as agriculturally driven as Brazil. Even if they commit to sustainability for one commodity—whether beef, soy, sugar or something else—it would be incredible to see how that might improve agricultural sustainability on an even grander scale."
Every Eater, Everywhere Improving Food Sustainability Around the Globe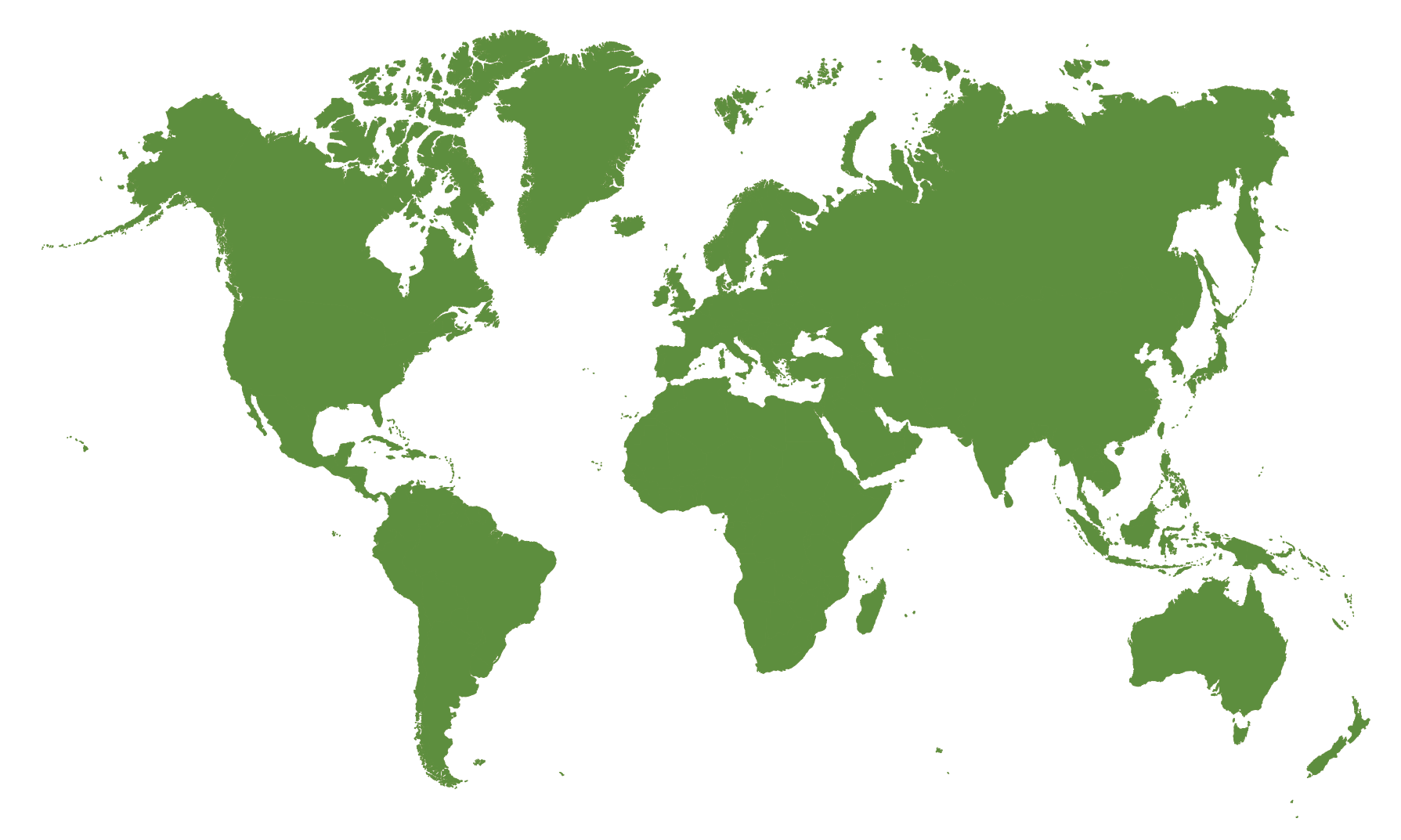 Thanks to its fertile land and abundant rainfall, Ireland is better positioned than most countries to improve the sustainability of its agriculture, including the grass-fed, small-farm approach to dairy described here. But there are other approaches to minimizing food's impact on the planet, and from Pakistan to Pennsylvania, governments, businesses, farmers, fishers and consumers are showing how we can all do something to make our food more sustainable.
WWF recognizes that not everyone has the ability or inclination to change their consumption habits. This is why we're working to shift the entire food industry to be more sustainable—from the production of dairy, meat and row crops to the way food is processed, packaged and delivered to eaters everywhere.
In short, the practices used to grow, catch and deliver our food vary widely from one region to another. WWF tailors its approach depending on the food product and region to achieve the greatest global impact possible. So regardless of what you choose to eat, the best approach to addressing your own impact is to understand the impacts of the food you consume and buy accordingly.
David McLaughlin
Acting Senior Vice President
of Sustainable Food, WWF
In Pakistan and Nepal
thousands of small dairy farmers use systems that convert cow manure into fertilizer and fuel that they and their neighbors use for cooking and to power their homes. Larger systems are also being employed on a growing number of farms around the world, including in the US, to reuse not only manure but also organic waste from industrial manufacturers in nearby communities.
In Honduras
SABMiller's sugarcane subsidiary, Azucarera del Norte, achieved Bonsucro certification, which requires compliance around key sustainability measurements. This is the first sugarcane operator in Central America to achieve this certification, showing that sustainable performance can be achieved in the developing world.
In Belize
farms producing about 90% of the country's shrimp earned certification from the Aquaculture Stewardship Council. This international body creates standards for responsible seafood production to preserve wildlife and water quality, promote animal health and uphold human rights. Belize now leads the world; no other country produces a higher proportion of ASC-certified shrimp.
Some of the largest wood companies in the world,
including Mars, Nestlé, Procter & Gamble and Mondelez, buy a significant portion of their palm oil from sources certified by the Roundtable for Sustainable Palm Oil. In the past year, some major palm oil producers and traders have made pledges regarding deforestation. Cargill, for example, broadened its commitment to include every commodity it produces and trades. While much still needs to be done, it is clear that awareness of these issues is growing rapidly.
Eight island nations in the south pacific
have established the world's largest sustainable tuna fishery, as certified by the Marine Stewardship Council, which ensures fish stocks are managed responsibly with minimal impact on other marine life. The fishery produces about 10% of the world's tuna, valued at about $1.3 billion each year and enough to fill nearly one billion 5-ounce cans, the average size in the United States.
Explore More
About

World Wildlife magazine provides an inspiring, in-depth look at the connections between animals, people and our planet. Published quarterly by WWF, the magazine helps make you a part of our efforts to solve some of the most pressing issues facing the natural world.