President's Letter: The Oceans Have Work to Do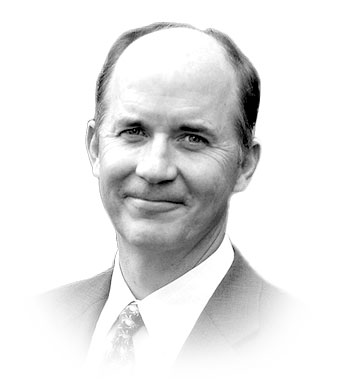 "As the second-largest global market for imported seafood, the US has more than 5.3 billion pounds passing through our borders every year. Every pound has the potential to put honest American businesses at risk."

Carter Roberts
President & CEO, WWF
What does conservation look like in 2015? It looks like this:
A computer screen in a dark room displaying a hypnotizing pattern of neon-yellow lines, representing vessels at sea. If the lines are moving slowly back and forth, the boat is likely fishing. Using satellite-collected vessel data, technicians determine if the boat is legally entitled to be fishing in the waters where those slowly moving lines appear—and alert authorities to intercept boats engaged in illegal fishing practices.
Or a federal special agent from the National Oceanic and Atmospheric Administration serving a warrant on a 40-foot container ship, docked in the port of Miami. The warrant entitles the agent to hold the ship's contents—50,000 pounds of seafood worth nearly half a million dollars—in order to determine if, as suspected, the contents are illegal.
Or the Port State Measures Agreement (PSMA), adopted by the Food and Agriculture Organization of the United Nations in 2009, which applies when a foreign-flagged vessel reaches a port state, or point of landing, that is a party to the agreement. The PSMA will take effect once it has been ratified by 25 parties; to date 12 have done so. The second step toward ratification is under way in the United States.
Under the auspices of the PSMA, if officials have intelligence that a vessel has been fishing illegally, the suspected illegal product that is onboard—or the entire catch—may be seized. Or, port officials may choose to turn suspected illegal fishing boats away, while alerting other ports, which could deny the vessel access to essential services such as refueling or repairs.
All of this matters because, according to a study commissioned by WWF, an estimated 30% of seafood coming into the US annually is illegal. As the second-largest global market for imported seafood, the US has more than 5.3 billion pounds passing through our borders every year. Every pound has the potential to put honest American businesses at risk.
Marine conservation doesn't look like it did 10 years ago—or even five years ago. Many new approaches rely on technology, like AIS (Automatic Identification System) data, which broadcasts a vessel's location, speed and course. This information can be updated as often as every two seconds and can identify the type of vessel moving through a country's waters. AIS was originally created as a means to prevent boat collisions, and is now mandatory for all oceangoing vessels on international voyages. Except fishing boats.
WWF boasts a long history in the fight against unsustainable fishing. In 1997 we helped create the Marine Stewardship Council (MSC), and fisheries that are certified as meeting MSC standards (or are under review for the same) now make up 11% of the annual global wild-catch harvest. Through our participation in the International Seafood Sustainability Foundation—which represents 75% of the world's tuna processors—we stand with the world's biggest companies in their demand for products that are sustainably caught.
But there is still much to be done, and WWF is in this fight for as long as it takes.
We know that illegal fishers are the minority. Most fishers operate like farmers—they work to ensure there will be a yield year after year by only fishing legally and sustainably. Fishing is often a family business, and fishers want the next generation to thrive. But illegal fishers operate like strip miners, destroying the oceans layer by layer and slowly pushing out the good guys.
So it is our responsibility to work with others to harness the smartest technologies and solutions in support of responsible fishers, so that they may pass on their trade. And we are encouraged by the administration's new action plan on illegal fishing that moves the US toward comprehensive regulation for all species, as well as their negotiations to press other countries to join the United States in enforcing laws and treaties against illegal trade.
We love oceans for all they are: awesome reservoirs of life that cover two-thirds of our planet and feed our families and nourish our souls. But there's more. In the words of American poet Mary Oliver, the oceans have "work to do." In order to be successful, the oceans must be whole. And we must work with others to make it so.

Carter Roberts
President and CEO
Explore More
About

World Wildlife magazine provides an inspiring, in-depth look at the connections between animals, people and our planet. Published quarterly by WWF, the magazine helps make you a part of our efforts to solve some of the most pressing issues facing the natural world.