Wild Dog Safaris in Botswana
Basking in the presence of Africa's canines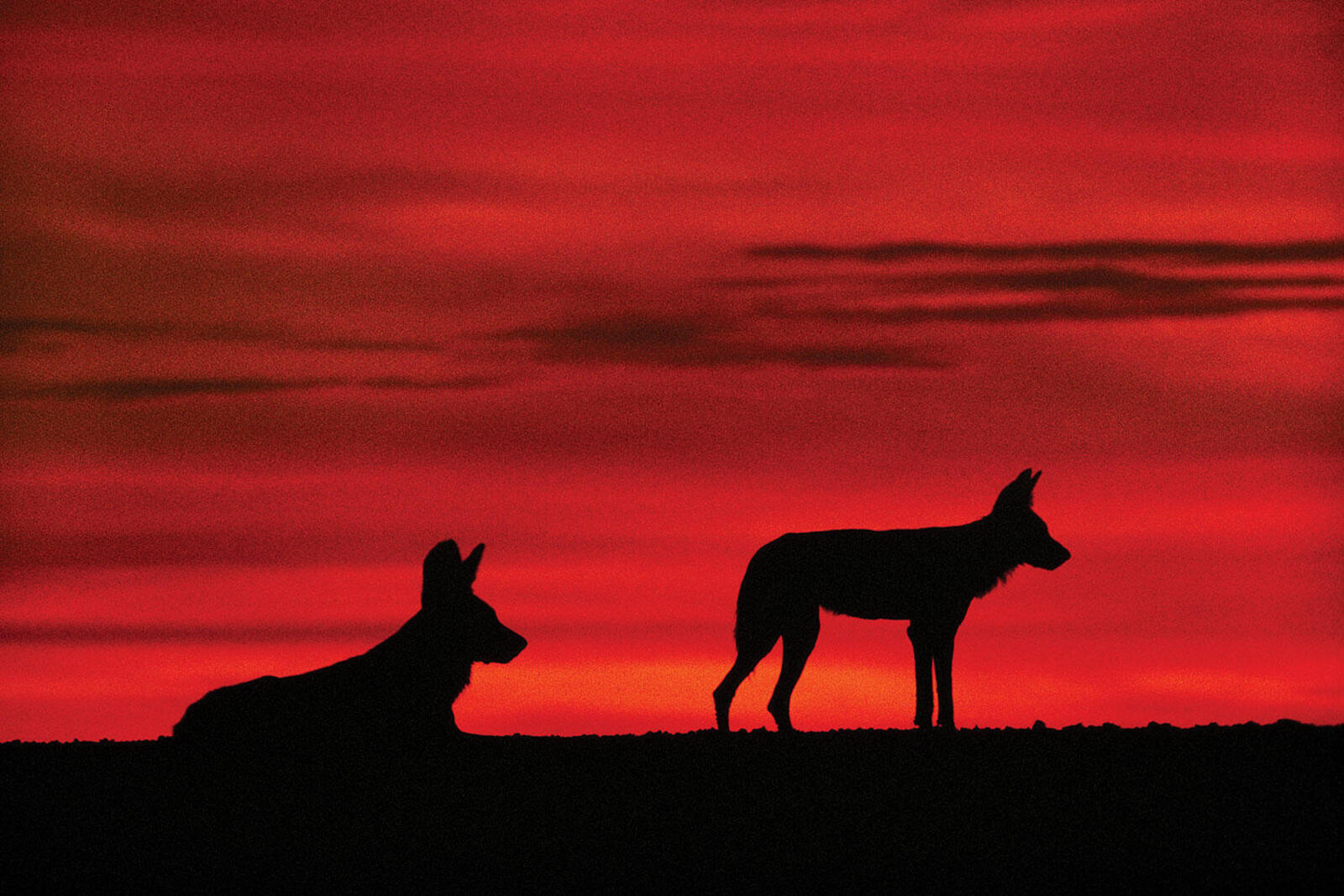 Issue: Summer 2015
Author: Court Whelan
The mist lifted over the Okavango Delta as the first rays of sun began to peek through distant trees. We awoke and dressed early, in hopes of catching sight of one of Africa's most elusive carnivores: the wild dog.
Powerful, agile, tough and ruthless, the African wild dog is as regal as it is fierce. It is revered as one of the most successful mammalian predators in the world. Yet its habitat is diminishing and populations are decreasing.
As the sun rose, our safari vehicle forded shallow channels and rumbled through dense thickets of reeds. Two hours crept by, and my eyes were becoming bleary from focusing on nearly identical bushes, one after another, in the midst of the watery labyrinth.
But then one bush was different. Small patches of tan, black and white appeared through the negative space between leaves. We rounded a corner, and suddenly a pack of 20 dogs, pups and all, appeared. We stopped at a distance to observe and photograph the group, who were oblivious to our presence.
Watching animals that operate with a "pack mentality," I found it fascinating to see how the dogs' personalities varied. Some lounged calmly in the grass; others darted around frenetically.
After nearly 20 minutes, the dogs methodically began to pick up and leave, somehow communicating to one another when to go and where. When these dogs hunt, they do so by tiring out their prey and then closing in. You could tell they were preparing to go the distance that day.
And, given where these dogs had made their home, they had all the hunting space they needed. This was no fenced-off private ranch or isolated research area, but a pure and wide-open wilderness. Seeing the African wild dog thriving in such a place was a rich reward for getting out of bed before dawn.
Explore More
About

World Wildlife magazine provides an inspiring, in-depth look at the connections between animals, people and our planet. Published quarterly by WWF, the magazine helps make you a part of our efforts to solve some of the most pressing issues facing the natural world.