In-Depth
Partnering for America's Plains
How WWF helped assemble a broad coalition of people to conserve the Northern Great Plains
One afternoon in September 2014, during a WWF Advisory Committee trip to the Nebraska Sandhills, Gordon Orians made a surprising connection. "I met a rancher who was extremely skeptical of environmentalists," Orians, an emeritus WWF Board member and professor emeritus of biology at the University of Washington, says. "But then we started talking about prairie dogs. He told me how much he loves the ones on his ranch and wants to protect them. We suddenly saw the incredible degree to which our interests overlapped."
Their conversation, and the partnership that resulted from it, reflects one of the core philosophies behind WWF's Northern Great Plains program. In a part of the country where environmental issues are often hotly disputed by a disparate array of stakeholders, WWF has developed a flagship conservation program that thrives on unconventional alliances.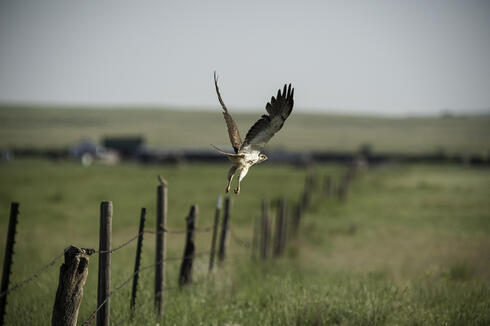 It's been more than a decade in the making. When the Northern Great Plains (or NGP) program was established in Bozeman, Montana, in 2002, its mission was simple enough: to protect and restore a grassland ecosystem that was once biologically rich and remains vastly important to the nation's history and heritage.
"Prairie grasslands in the US and around the world were not really on the conservation radar screen," says Brenda Davis, a WWF Board member and chair of the NGP's Advisory Committee. "And those grasslands were disappearing due to crop conversion and energy development," she adds. "Today, only four major temperate grasslands are left on Earth."
WWF's first move in the region was to help start the American Prairie Reserve, now an independently run prairie conservation project focused on acquiring lands for a wildlife reserve. Recognizing the need to achieve impact at scale in the vast region, NGP program staff began looking for partnerships with other landholders who value the grasslands—ranchers and tribal communities emerged as the most important ones.
"In mapping the biological diversity of the Great Plains, we recognized that an awful lot of it was on private ranches," says Orians, who helped establish the NGP program. Additionally, after the federal government authorized the Renewable Fuel Standard program in 2005 (and then expanded it in 2007), farm operations eager to plant corn and other crops for renewable fuel began gnawing up larger and larger chunks of native prairie. "WWF realized," Davis explains, "that ranchers were among our most important allies."
To build trust and relationships with those ranchers, WWF created the Sustainable Ranching Initiative in 2011. Since then, WWF's NGP team has frequently met with ranchers to hear their insights, needs, and concerns; conducted beef sustainability workshops for local ranchers and their corporate partners; audited numerous beef sustainability programs; and completed 38 grassland bird surveys on ranches in the region to document their ecological value.
Tribal nations have also emerged as essential partners for WWF's work in the NGP—particularly wildlife restoration. "There is great interest on many reservations in bringing back bison and other native species, including black-footed ferrets and prairie dogs, that once thrived in the Northern Great Plains," Davis says. And many reservations have ample land to host new populations of those species. To bring those animals back, WWF has partnered with several tribes in the region to offer the technical support needed—from grant applications and wildlife management plans to training and capacity building for native biologists.
In a way, those partnerships are increasingly critical in the face of evolving threats. The rate of grassland conversion remains dire: In 2014, more than 1.4 million acres of native prairie were plowed up for farmland. With the advent of fracking, oil and gas development have turned vast swaths of the Plains into glittering industrial complexes rife with environmental risks. Even the wind farms proliferating across the region as an alternative to oil and gas energy can threaten delicate bird and bat populations, and degrade the habitats of numerous other species.
Given those pressures, what will success for the NGP program look like in the future?
Davis says success will require reversing some of the harmful policies that have fueled grassland conversion, including federal policies that incentivize the plow-up of native prairies and growing crops in marginal soils. Orians says it will mean establishing more landscape connectivity so that species can move and migrate, and making the ecosystem more resilient to sudden stressors. He also notes that success will require continued scientific research to guide management decisions—such as already-proposed win-win plans to meet renewable energy goals and save the areas of richest biodiversity. Both agree it will also certainly require even stronger partnerships with the people who call the Plains home.
Explore more of this issue's coverage of the Northern Great Plains:
Explore More
About

World Wildlife magazine provides an inspiring, in-depth look at the connections between animals, people and our planet. Published quarterly by WWF, the magazine helps make you a part of our efforts to solve some of the most pressing issues facing the natural world.