WWF Board Member Jared Diamond on writing and why his heart is always in New Guinea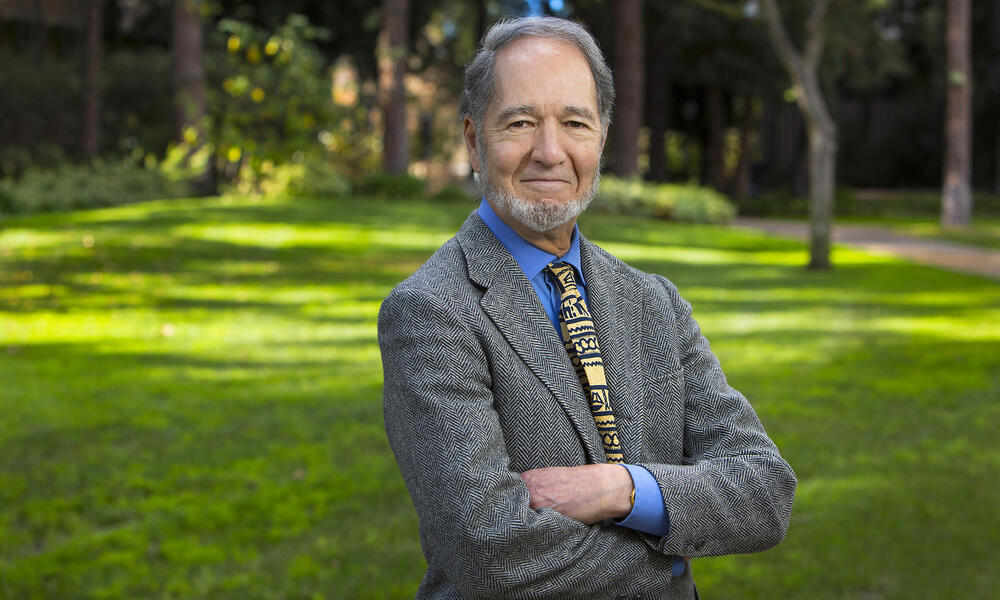 When scientist and Pulitzer Prize-winning author Jared Diamond was 42, he received a once-in-a-lifetime offer: Would he like to design a country's national park system? Of course, there was a slight catch: He had one month to complete the project, and the budget was only $1,000.
The country seeking Diamond's assistance was Indonesian New Guinea, a place he knew well. Diamond wrote a renowned study of the ecology and distribution of its birds, and has returned to the country a dozen times over the years. "[The park planning] was an assignment of the sort that conservationists dream about, but that I think will never again happen," he says. Perhaps even more amazing, the recommendations that Diamond handed to Indonesian officials nearly four decades ago were implemented with few changes and remain, for the most part, in place today.
"Our environmental problems are solvable because we are the ones causing them—so it can be our choice to stop those behaviors."

Jared Diamond WWF Board of Directors
Diamond, a prolific author who was awarded the 1998 Pulitzer Prize for his book Guns, Germs and Steel, was not born into a nature-revering family. His parents were "city dwellers"—from New York—and he grew up in suburban Boston. But the family spent time each summer in New Hampshire, around Lake Winnipesaukee, and in Maine on Bar Harbor Island.
"I imprinted on those places where I spent one or two months of the year, and so to me, still, the ideal place to be is a coniferous forest, like New England in the summer. I think that's also part of the reason why I love New Guinea. New Guinea forests are mostly not coniferous, but they're still forests, and so ever since my childhood summers, forests seem to me the right place to be."
Diamond's affection for New Guinea began in 1964 when he and a college friend decided they wanted to take a trip to the tropics. "We said to ourselves, 'What's the most wild and adventurous place that we young and unattached bachelors could go to?' And so we cooked up a trip to New Guinea. For me, it was love at first sight and I've been returning ever since. That's how I got interested in nature seriously."
His interest in writing began much earlier, when his studies at Boston's Roxbury Latin School included writing a weekly independent composition. By the time he went to college, at Harvard, he enjoyed writing enough to apply for a spot in the press office. "But I just could not develop the skill of writing a good news story then, in college, and so that didn't work out."
But years later, Diamond began writing columns for the "News and Views" section of Nature, a weekly science magazine. One of the columns he wrote, about why animals never evolved wheels, caught the attention of the editors at Discover magazine. He began writing articles for that publication, along with others, and in 1991 wrote his first book, The Third Chimpanzee. He went on to write four more critically lauded books, each with a distinct scientific theme.
But running through them all are two underlying messages Diamond hopes readers take from his books. First: "Our environmental problems are serious, and at the rate we're going now, if we don't solve these problems they will do us in." And second: All is not lost. "Our environmental problems are solvable because we are the ones causing them—so it can be our choice to stop those behaviors," he says. "We know perfectly well what we have to do. For example, reduce our energy consumption, and burn less fossil fuel. It's just a matter of motivating people to take these problems seriously."
Diamond says that his inspiration for writing books for the public came in 1987, when his wife Marie gave birth to their twin sons. "Yes, I knew climate change was real, deforestation was real, both were under way, and both had the potential of ruining the lives of everybody on Earth by around 2040. But I was born in 1937, so I won't be alive then, and that date felt almost as unreal as 2340. When my kids were born though, I realized with a jolt that year is a real date: My kids would be in the prime of their lives then. Will the world around them still be a world worth living in?
"That realization changed my life strategy. Why are my wife and I going to the effort of writing a will and buying life insurance for our kids, if we're launching them into a ruined world? That's what motivated me to write books aimed at the broad public, and not just at the world's four other experts on my research specialty of the gallbladder."
Explore More
About

World Wildlife magazine provides an inspiring, in-depth look at the connections between animals, people and our planet. Published quarterly by WWF, the magazine helps make you a part of our efforts to solve some of the most pressing issues facing the natural world.