In-Depth
Tracking elephant migrations
WWF and partners are collaring elephants in Kenya's Maasai Mara National Reserve
Issue: Summer 2017
Author: Erin Waite
Photographer: Greg Armfield
Move over, Fido—collars aren't just for dogs. In the first project of its kind in Kenya's Maasai Mara National Reserve, WWF—along with the Kenyan Wildlife Service and Narok County Council—is now collaring elephants. Unlike your pooch's neckwear, these sophisticated collars contain advanced GPS satellite tracking devices that allow scientists to monitor, in real time, when and where individual animals are moving across the landscape. That information is used to chart their vast habitat, which not only helps researchers identify and manage essential wildlife corridors, but also informs landscape-level conservation efforts and land-use policies—especially when development pressure is high in areas that are critical for elephants. And though the collaring process is both labor-intensive and expensive, the effort is worth the payoff: By revealing whether an elephant is active, stationary, or injured, the collars enable rangers to respond more quickly and effectively to poaching incidents and human-elephant conflicts.
FOLLOWING THE HERD
During a weeklong exercise, a team of WWF researchers and experts set out to collar elephants in the Maasai Mara National Reserve. Since 2015, eight elephants have been fitted with the devices, which track their movements as they travel in and out of the protected area. But collaring an African elephant that can weigh up to seven tons is no easy task. The process requires a lot of time and planning—and no short supply of patience.
The experts drive to the western side of the Maasai Mara from Keekorok to the edge of Oloololo escarpment, where an eligible herd of elephants was previously identified.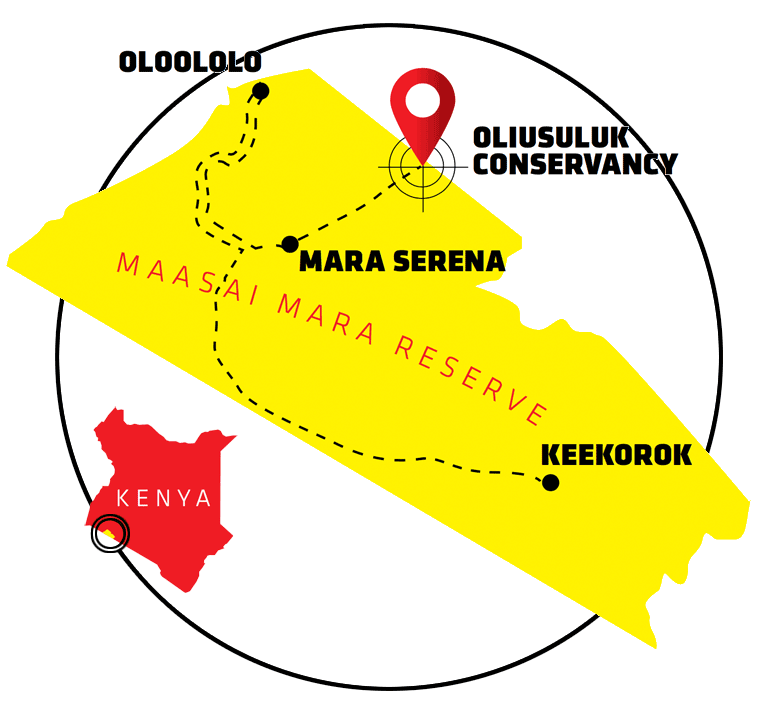 7:00 AM
After half an hour of tracking elephants in the humid morning, the team finds the herd they've been seeking—a family now feeding on dense forest vegetation in the Oliusuluk Conservancy. A 20-year-old matriarch elephant is identified as an ideal candidate for collaring because she's likely to cross borders to breed.
7:30 AM
A veterinarian prepares the anesthetic used to immobilize the elephant. The potent drug, red from a specialized gun that injects it, takes effect within 15 minutes. Once the pachyderm is asleep, the team must act quickly to complete its task or the animal could suffocate under its own weight.
7:45 AM
The collaring process is well-rehearsed, and everyone knows their role. One expert measures the elephant's tusk while another measures its neck. Others ensure the animal remains hydrated and healthy throughout the exercise.
7:55 AM
The team checks that the GPS collar, which weighs about 22 pounds, is producing a signal and working properly. They then fit the collar around the elephant's neck and bolt it securely into place.
8:15 AM
WWF-Kenya elephant officer David Leto tests a GPS device. Leto's father was killed by an elephant when he was 10 years old. Now, he is dedicated to preventing human-wildlife conflicts. Collars are useful tools for understanding what an elephant is doing and predicting where it might be headed, and can help mitigate potential conflicts with people living within their range.
8:30 AM
The successfully collared elephant, nicknamed "Kiambi," rejoins her herd.
UP NEXT FOR ELEPHANTS In the Selous Game Reserve, a World Heritage Site and one of Africa's largest protected areas, another extensive WWF elephant-collaring effort is starting soon. With a goal of collaring 60 individual elephants by 2017, the undertaking will give rangers a better picture of elephant locations, helping antipoaching patrols fight wildlife crime in a region where rampant poaching for ivory has reduced the elephant population from 110,000 individuals in the mid-1970s to an estimated 15,217 in 2014.
CHARGED AND READY
New technologies offer new solutions for conservation
From enabling better monitoring for research to empowering rangers to fight illegal poaching on the ground, technology is a critical component of conservation work. Beyond elephant collars, WWF and a host of partners are developing an ever-evolving suite of innovative tools and systems to help protect endangered wildlife and vulnerable landscapes around the world.
PREVENTING POACHING
Designed by WWF's Wildlife Crime Technology Project to protect endangered species, FLIR infrared cameras allow park rangers to find and nab would-be poachers—even in the dark. Since their debut in Kenya's Mara Conservancy in 2016, thermal cameras have helped rangers capture more than 100 poachers.
Using remote sensors and video capabilities, drones can detect poachers and GPS-tagged animals on the ground, relaying data to the ranger command centers and mobile law enforcement units to determine if more surveillance or deployment is needed. These "eyes in the sky" give access to previously unreachable areas and a safe view of illegal activities on the ground.
HUMAN-WILDLIFE CONFLICT
WWF is building a small, affordable seismic detection device to alert people, especially farmers, to the sound of an approaching elephant before it reaches their field or community. This preemptive approach to detecting elephants will better protect both elephants and people in places like India by preventing conflict between humans and elephants.
In India, WWF's "Lights for Stripes" project installs solar-powered lights around villages located at the edge of the Sundarbans National Park, a reserve that harbors a population of tigers uniquely adapted to living in mangrove wetlands. The lights deter tigers from straying into these villages, which in turn reduces human-tiger conflict. Zero human-wildlife conflict incidents have been reported in the areas where solar lights are already installed and maintained.
WILDLIFE MONITORING
The current model of polar bear collars has an extremely high failure rate—up to 50% malfunction or fail to successfully provide data to researchers. WWF and tech startup IDEO are developing and testing new GPS ear tags for polar bears, a less invasive alternative researchers hope will be more reliable than collars.
WWF works to expand greater one-horned rhino populations in Nepal by translocating rhinos from Chitwan National Park to other parts of their historic range where numbers have declined over time, such as Bardia National Park. GPS collars help scientists track the animals' movements and habits in real time once they're released into their new habitat.
Explore More
About

World Wildlife magazine provides an inspiring, in-depth look at the connections between animals, people and our planet. Published quarterly by WWF, the magazine helps make you a part of our efforts to solve some of the most pressing issues facing the natural world.