A gift to inspire conservation research and fight wildlife crime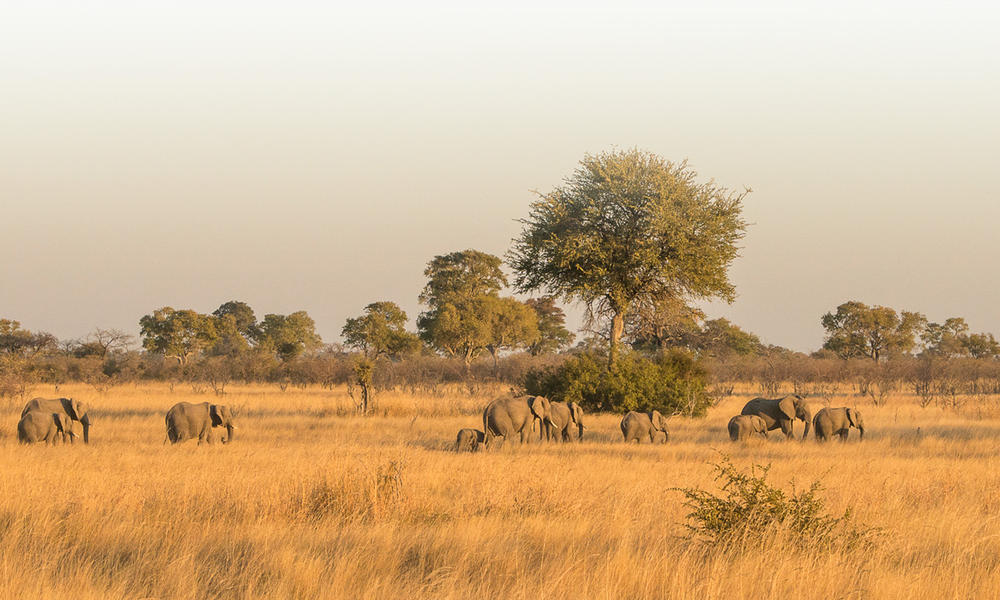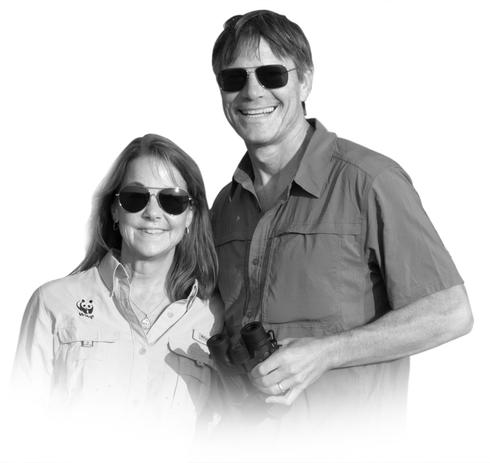 JEFF UBBEN is the founder and CEO of ValueAct Capital, a San Francisco-based investment company. LAURIE UBBEN is cofounder of the Bird School of Music and executive producer of the film Loving Vincent.
Ask Laurie and Jeff Ubben about the most memorable moment of their trip to Namibia last summer, and they're sure to tell you about their encounter with a family of elephants.
Namibia's desert elephants have smaller bodies than their savanna-dwelling cousins (pictured above), but longer legs and broader feet to help them traverse the soft sand. The Ubbens remember marveling at how quietly the elephants moved as they lumbered past— close enough for Laurie to spot one giving them a sly sideways glance.
"When we saw the elephants in their natural habitat, I didn't feel like I was peering into a zoo exhibit," recalls Laurie. "What I felt was a deep sense of connection and gratitude—a feeling that I carry with me to this day."
It's a feeling that future generations may never get to experience, if African elephant populations continue to fall. While poaching in Namibia is on the decline—in part due to success in empowering local communities to be custodians of their own lands and natural resources—tens of thousands of elephants still die every year across the continent to fuel the illegal ivory trade.
That stark reality is not lost on the Ubbens, who recently announced a $20 million gift to WWF—part of which will be used to help bring the illegal ivory trade to an end.
For Jeff, it was a chance to rekindle an old relationship. "I was a World Wildlife Fund member when I was a teen," he says. "I got a new wildlife stamp in the mail every month and pasted it into a binder. I'm thrilled to be working with WWF again."
For Laurie, it was an opportunity to support her passion for wildlife while addressing an issue that impacts people as well. "Poaching is a blight on society and nature," says Laurie. "But if we work together, I firmly believe we can put the ivory poachers and traffickers out of business—for good."
A new hope for elephants
The Ubbens' gift is a powerful shot in the arm for WWF's work, including efforts to end the illegal ivory trade—particularly in Asia, which is home to most of the world's ivory markets.
Illegal ivory traders often use legal ivory markets as cover for their criminal activity. That is why January 1, 2018, the day China closed its legal ivory market (the largest in the world), was such a turning point. And momentum is growing: Just one month later, Hong Kong announced that it will shutter its market by 2021.
These actions represent a major blow to ivory traffickers, but even the strictest bans won't completely stop the illegal ivory trade, so long as demand for the "white gold" remains. To learn what drives people to purchase ivory, and what might persuade them to stop, WWF and TRAFFIC commissioned the largest survey ever done of Chinese ivory consumers—funded in part by Jeff and Laurie's gift.
According to this survey, most Chinese consumers intend to abide by the government's new ban on ivory. The survey also provided key insights on how to persuade the remaining holdouts—insights that are already shaping WWF's new consumer engagement strategy. The Ubbens' gift will help drive this crucial effort to change hearts and minds, even as WWF also works with governments and other conservation groups to shut down the remaining legal ivory markets throughout Asia.
"When we saw the elephants in their natural habitat, I didn't feel like I was peering into a zoo exhibit. What I felt was a deep sense of connection and gratitude—a feeling that I carry with me to this day."

Laurie and Jeff Ubben Donors
Investing in next generation solutions
The plight of the elephants is what first drew Jeff and Laurie to WWF's mission, but they quickly saw an opportunity to extend the reach of their impact. "I'm an analyst at heart," says Jeff. "To ensure healthy ecosystems and communities, it's clear we need to invest in new solutions and, most importantly, shepherd those solutions from research to application."
The Ubbens' gift is also funding a new partnership between WWF and Duke University that will serve as an innovation hub, bringing together the brightest minds to develop and implement a wide range of practical, cutting-edge solutions. The first round of projects the partnership awarded run the gamut from drones (unmanned aerial vehicles, or UAVs) that can evaluate the health of mangroves and coral reefs, to projects that uncover the evidence for where to prioritize ocean conservation efforts, to electronic "seeds" that explore the role elephants play in maintaining biodiversity (when they leave behind partially digested plant seeds in their dung).
As odd as that last example may sound, it's the interconnectedness of the many ecological challenges we face that has inspired Laurie and Jeff to get involved. "One species loss has a ripple effect," says Jeff. "And when you educate yourself on it, you get a sense of urgency that is hard to put into words."
The Ubbens are matching the urgency of the moment with their strong support. That's good news for African elephants and myriad other species around the world—including us.
Explore More
About

World Wildlife magazine provides an inspiring, in-depth look at the connections between animals, people and our planet. Published quarterly by WWF, the magazine helps make you a part of our efforts to solve some of the most pressing issues facing the natural world.