How small investments in conservation create big returns
Conserving natural habitats has long been recognized as a powerful way to secure and shelter the planet's biological diversity. But the advantages of these areas go even further, delivering important benefits for people and nature that might be something of a surprise.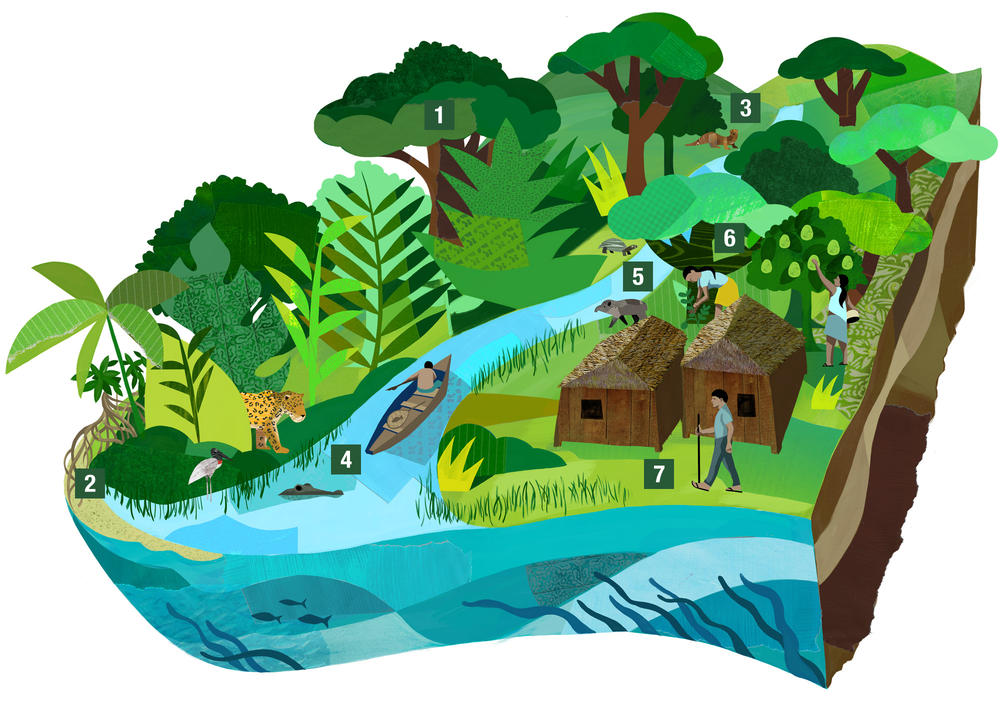 1
CARBON ABSORPTION
Trees store and absorb (aka sequester) carbon dioxide. But deforestation and forest degradation release this carbon back into the atmosphere and account for approximately 15% of global emissions. Conservation areas help prevent illegal logging and other causes of deforestation and forest degradation.
2
RESILIENT COASTLINES
Coastal ecosystems, like mangroves and barrier islands, act as a physical barrier between land and shore, helping to protect people from cyclones and storm surges. When these habitats gain the protections that allow them to thrive, the impacts of natural disasters can be reduced.
3
FLOOD PROTECTION
When forests and other vegetation are cleared or degraded, rainwater runoff can increase the risk and severity of floods. But when a region's natural plant systems remain healthy, the habitat is able to absorb even heavy rainfall.
4
FOOD
In healthy ecosystems, nutrient-rich plants and animals proliferate. For example, marine and freshwater protected areas enable fish—an essential protein source for many people in the developing world—to thrive.
5
CLEAN WATER
Trees and plants soak up rain, storing it underground for drier months. But this cycle is broken when habitats are lost or degraded by agriculture, road development, illegal logging, and other activities. Without natural vegetation holding it back, the soil can wash into rivers and streams, dirtying the water when it flows.
6
HEALTH
For communities that have relied on medicinal plants for thousands of years, protected areas provide fertile ground from which to harvest affordable treatments. The active ingredients in many of these plants are being studied for new ways to treat and cure human disease.
7
LIVELIHOODS
A recent study of 600 protected areas across 34 developing countries found that individuals living near a protected area were both healthier and less likely to live in poverty. Protected natural areas—especially those that support tourism—provide jobs, increasing the economic well-being of the region.
Explore More
About

World Wildlife magazine provides an inspiring, in-depth look at the connections between animals, people and our planet. Published quarterly by WWF, the magazine helps make you a part of our efforts to solve some of the most pressing issues facing the natural world.