In-Depth
Sightlines
Using thermal imaging technology to expand protections for people and wildlife in Zambia's Kafue National Park
Issue: Summer 2020
Author: Dianne Tipping-Woods
Photographer: Neil Ever Osborne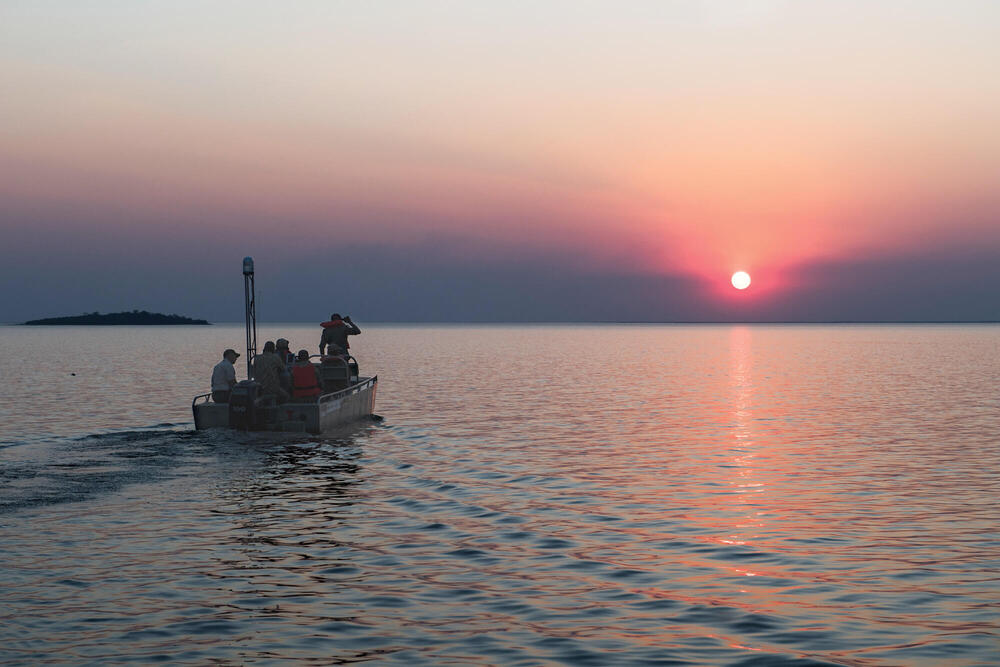 At 3 am one October morning in 2018, a wooden canoe slid into the black waters of Lake Itezhi Tezhi, leaving the shore of Kafue National Park and heading toward the unprotected land on the lake's eastern side. Darkness hid the two men in the hand-carved mokoro. Or so they thought.
"They were leaving the national park," explains Patricia Mweetwa, a community ranger with Zambia's Department of National Parks and Wildlife (DNPW). Her unit is tasked with keeping the waters and shores of the lake safe for wildlife and for local fishers: Digital evidence of the crossing is clearly rendered in black and white on a large flat-screen monitor behind her, in the new Marine Unit control room where she stands.
During the day, Mweetwa explains, legitimate fishers ply the lake, but no boats are allowed on the water between 6 pm and 6 am. Accordingly, anyone in a boat after dark is there illegally and potentially violating local fishing regulations—or poaching. Mweetwa flags the incident as suspicious, logging it in a hardcover notebook in neat cursive, a beret perched on her head.

"Our goal is to make sure the lake is protected so it can continue to benefit everyone and not just a handful."

Sport Beattie Founder and CEO, Game Rangers International
Yet while a few bad actors continue to use the lake for illegal activities, "most of the community are grateful that we're trying to create a more sustainable fishing space," says Sport Beattie, founder and CEO of Game Rangers International (GRI), WWF's key nonprofit partner on the ground. "They see that we are trying to slow down those people that are plundering and pillaging both fish stocks and wildlife. I think people see and understand that we are here not to stop fishing, but to help it be more sustainable. Our goal is to make sure the lake is protected so it can continue to benefit everyone and not just a handful."
As of early 2020, the lake monitoring project and related community engagement work are bearing fruit. Rangers have been able to respond to illegal incursions on the lake, and the project, through GRI, has undertaken a community outreach program, hosting discussions and launching a weekly radio broadcast that has reached more than 15,000 children across Zambia with lessons about water safety and the importance of sustainable fishing. Such efforts "have contributed to helping keep people a bit safer on the lake," Beattie adds.
When Mweetwa began working for the park's Marine Unit in 2018, she had never used a computer before. Fast-forward to 2020: As one of the six female community rangers who run the control room, Mweetwa is now a seasoned pro. Every day, the 21-year-old's first task is to review the videos captured by a network of thermal imaging cameras spread across the lake's more than 110 square miles.
Kafue National Park is Zambia's largest—about 8,600 square miles, or roughly the size of New Jersey—and poachers have taken advantage of its size and its relatively small ranger force for years, killing animals for bushmeat, elephant ivory, and other uses. And this poaching doesn't just hurt wildlife. A recent study of Zambia's South Luangwa National Park found that in a single year, wildlife tourism added $14.8 million to the communities around the park and another $23.4 million to the regional and national economy. Any loss of wildlife to poaching—even in Kafue, where wildlife tourism is still small—can mean real economic hardship, if at a much smaller scale.
Lake Itezhi Tezhi, where the monitoring project is based, is an especially vulnerable border for the park: Poachers move back and forth across the water with legitimate fishers, hiding their weapons under fishing nets.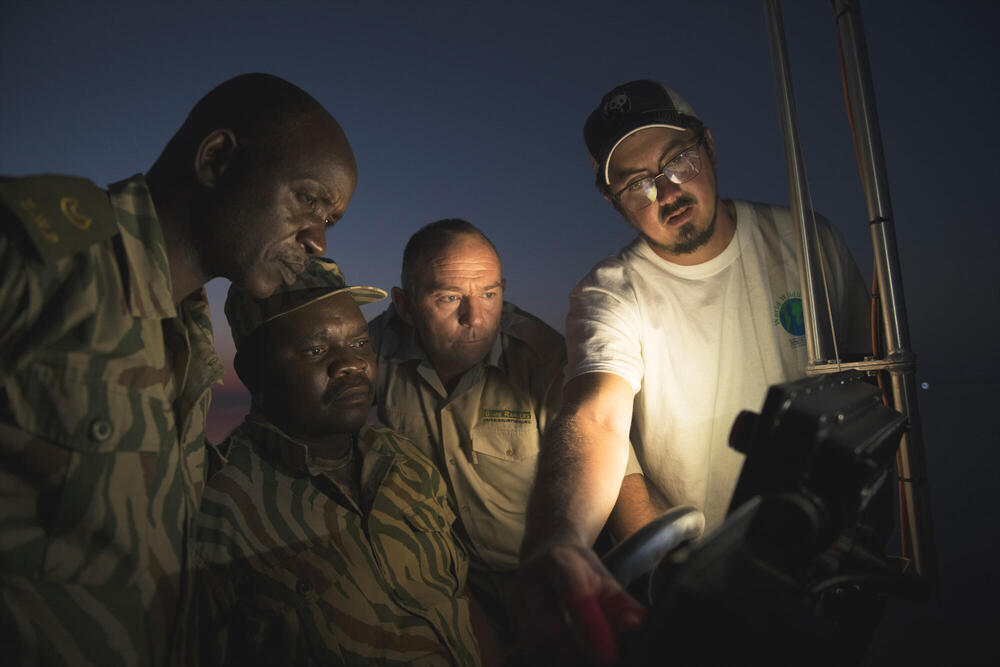 The park is home to about 6,500 elephants, rare antelope like sable, vulnerable carnivores like lions and wild dogs, and endangered pangolins. Elephants in particular are targets for poachers. Historically, aerial surveys revealed the highest density of elephant carcasses around the lake, where herds gather to drink.
"When I see an animal carcass, it's like someone puts a thorn in my flesh," says Charles Mbao, head of DNPW's antipoaching unit in Kafue, which works with the Marine Unit to protect Kafue's wildlife. "I look at that animal. I see its beauty. The life it has lived. And now it's gone. These crimes are done by a few. They benefit a few. The animals belong to all of us."
In the past six years, Mbao's team has recovered nearly 50,000 pounds of bushmeat from poachers. They have also removed thousands of snares, which kill indiscriminately, slowly, and without the telltale sound of a gunshot. Over the same period, GRI has supported the DNPW's apprehension of more than 1,000 poachers and confiscation of more than 500 weapons.
"The stakes are higher than ever before," says Beattie.

"These crimes are done by a few. They benefit a few. The animals belong to all of us."

Charles Mbao Department of National Parks and Wildlife
And it's hard to keep up. There are around 300 rangers patrolling the greater Kafue landscape, which includes the national park and adjacent community-managed lands. But according to recommendations of the International Union for Conservation of Nature (IUCN), there should be one ranger for every 20 square miles. For the greater Kafue landscape, that would mean 1,274 rangers, more than four times the current number.
Given human resource constraints, the new cameras on Lake Itezhi Tezhi may just be both game changers and life savers for Kafue's animals, for those who protect them, and for local communities.
Between April and November 2019, once the cameras were fully operational and the team trained, the Marine Unit's analysis of FLIR camera footage led to the apprehension of 32 poachers found in the park illegally. That's compared with 27 apprehensions in all of 2018—a 160% improvement on the 2018 apprehension rate, GRI calculates, and all without increasing patrols. Park authorities think that the thermal cameras—installed as part of a groundbreaking collaboration with WWF, thermal imaging giant FLIR, and leading IT and networking company Cisco—will eventually more than double the area the rangers can protect.
In over 30 years as a ranger, Mbao has seen more than his fair share of ravaged carcasses, has been shot at more times than he can recall, and has arrested more poachers than anyone else working in the park. "When I joined the department, you could go 10 days without hearing a gunshot," he says. But as recently as two years ago, "we were hearing them on almost every patrol."
The first time Mbao was in the Marine Unit control room, a grin spread across his face as he began to realize what the cameras' ability to monitor the park 24/7 could mean for people and wildlife.
Since the installation of the cameras, the small building housing the control room has become a focal point for the rangers and park employees who, when on duty, live in a constellation of small dome tents around it while the rest of their base camp is under construction. Initially, the control room was the only brick-and-mortar building at the base, with electricity, a flush toilet, air-conditioning, and a server room that emits a constant hum. Next to it, a 100-foot-high structure that looks like a cell phone tower sparked rumors among the local fishers of "eyes in the sky." It's also given the unit some extra swagger as they polish their boots: The tower and control room are part of something big, and the rangers know it.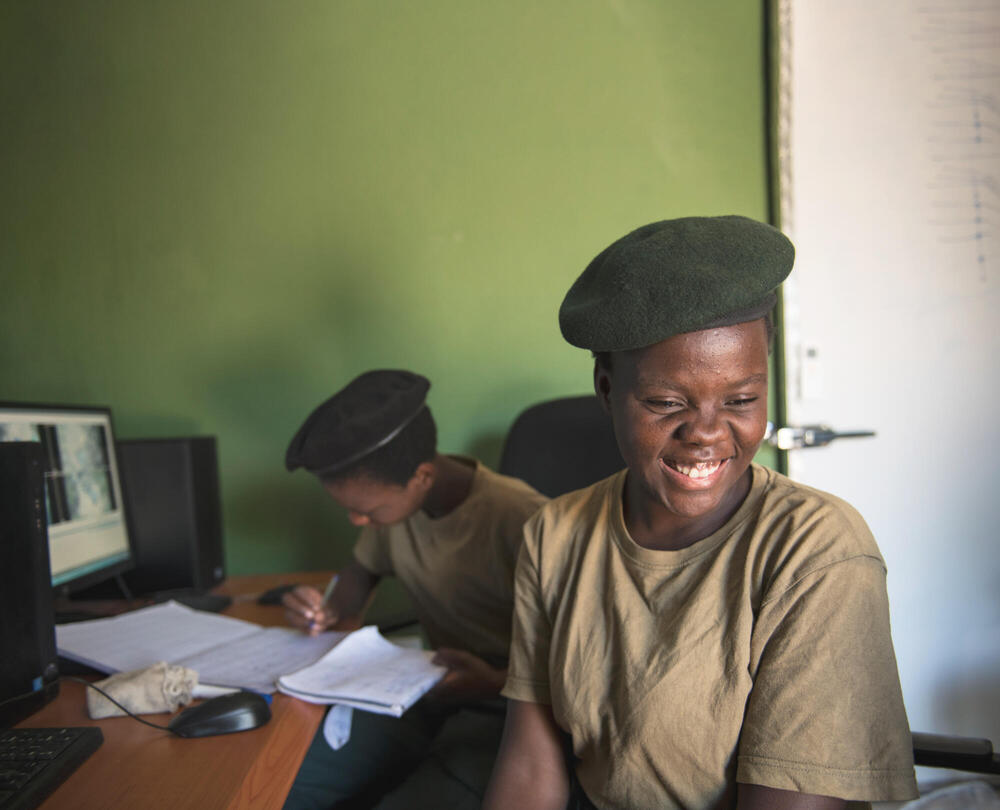 The cameras work by capturing images based on the relative heat emitted by subjects in their range, which extends from Musa, where the control room is, to the northernmost tip of the lake. The tower is in a particularly strategic site, and three more towers—two on islands and one on the other side of the lake—have been positioned to maintain connectivity. Directional antennas transmit the video feeds back to the control room, working the way any cell phone tower does. Just a few miles of virtual fence now secures nearly 186 miles of porous shoreline. Every single lake crossing is recorded and analyzed, and valuable data is now starting to emerge.
"We've never had the kind of information we're getting from these cameras," says Mbao. "What we are seeing will change how we do things forever."

The project in Kafue is an example of conservation beginning to leverage the "internet of things"—the network of physical devices that are connected to the internet and each other so they can exchange data. The system can help keep people and wildlife safer by detecting incursions before poaching incidents occur and picking up trends and patterns that can help the antipoaching teams become more effective in how they deploy their scarce resources. It's also increased the perception that illegal activities are risky, says Beattie.
"Conservation should protect the value of all life, including human life. The cameras will help achieve that."

Brian Chilambe Geographer, WWF-Zambia
"We haven't even thought of all the applications, which is one of the most exciting things about this work," says Colby Loucks, vice president for wildlife conservation at WWF. He is wading through the lake's warm shallows to join WWF conservation engineer Eric Becker on a docked boat where Becker is installing a mobile FLIR camera on a 12-foot mast to the left of the steering wheel.
"The technology," he says, "is developing all the time, so we're talking about how we can use new sensors to measure data to support improved wildlife management, offer more security for park staff and local fishers, and provide temperature and rainfall data to help communities better manage their crops. We're even looking at implications for helping people adapt to climate change. That's what's so exciting," he adds, "that this one system can help us provide a holistic approach to making conservation directly benefit both people and wildlife."
Becker is installing the new camera on the boat so that the Marine Unit can operate at night, when the lake's inky waters, studded with the bare limbs of drowned trees, reflect little more than stars. He is unfazed by the hot sun beating down on the dull metal hull while black mud dries on his bare feet.
"When you get here, you're always customizing and doing something unique," Becker says, as he connects two ethernet cables with a weatherproof coupler. He has now built one of the most advanced wildlife-focused tech infrastructure projects in Africa. He's done it with help from Cisco and FLIR engineers, taking six or seven trips to Kafue from his home base in Florida to get the network of thermal cameras up and running. But his 6'2" frame, bent over a computer screen or MacGyvering a quick engineering fix in the field, is still a novel sight for the rangers.
Becker also installed thermal cameras in Kenya's Lake Nakuru National Park and Maasai Mara National Reserve. Incursions along a high-risk border area of the park, a key black rhino sanctuary, have since dropped significantly. And in Maasai Mara, handheld and vehicle-mounted thermal cameras have helped rangers catch more than 250 poachers over the past four years. "Kafue," Becker grins, "is like Kenya on steroids." (Read more in "Rhino Recovery," below.)
All of this work falls under WWF's Wildlife Crime Technology project, which is inventing the future of conservation one step at a time. Its roots are in a grant from Google that has allowed the team to "think like a tech company," says an energized and hands-on Loucks as he assists Becker with the installation. They've experimented with drones, radar, thermal imaging cameras, and more, "but we've always looked to understand the problem first, then possible solutions."
One of the main challenges rangers face in Kafue and elsewhere is that poaching happens mainly at night. When early testing in Maryland showed how thermal cameras could help rangers see in the dark, it was an obvious avenue of research.
"We thought we were just donating cameras and passing them on to rangers in the field," says FLIR's senior vice president for global product strategy, Jeff Frank. "I didn't understand the integration WWF was doing to turn our cameras into full-on solutions." A visit to the project in Kenya changed that. "Seeing the impact of those donations made it fairly obvious to me that this was scalable with WWF, to a point where we could set a mission like ending rhino poaching in Kenya."
Becker worked with FLIR to adapt the technology for the harsh conditions of places like Kafue, and then Cisco came on board to create the robust network that allows the system to function. It is designed to potentially scale to hundreds of cameras and sensors with just two operators processing the alerts. And although the system may initially be expensive to install, its creators are working to make it much more cost-effective to scale across different projects. In May 2020, for instance, they plan to install the technology in Ngoma teak forest—a community-run area adjacent to Kafue where sensors will help monitor elephant movements.
Today, Patricia Mweetwa manually reviews videos and data, but the machines will eventually take over much of the work. They are programmed to identify and categorize incursions recorded by the cameras, can tell canoes from motorboats, and are learning all the time. Soon, they will be able to send an automated alert to rangers when they record suspicious movements or identify people in trouble on the lake. Initially these alerts will go to the control room, but in time they could go directly to patrols, along with GPS coordinates of the possible illegal incursions, adding a layer of transparency to the project and helping to maximize the impact a small force of rangers can have.
Cayla Yang, Cisco's lead for conservation partnerships and engagements, likes this aspect of the effort. "One of the things we're most proud of is not just the technology, but the impact it's having on the rangers and the people who live nearby," she says.
"The biggest deal about leveraging the internet of things is that everything goes into the server at the control room, where it can be processed, analyzed, and presented to the rangers in a unified way," adds Becker. In addition to catching poachers, rangers can do things like work with collared elephants; they can program the system to send an alert if one strays outside the park and potentially help mitigate human-elephant conflict. And soon, rangers will connect to the system with their smartphones to view the camera feeds and receive automatic alerts.
"We've set up the infrastructure to allow for all kinds of future integration," says Becker. He can watch the cameras from his home in Florida and can troubleshoot many problems remotely, working with the WWF-Zambia office and local technicians.
While Becker labors on in the 100°F heat (a cable has burned out and he needs to find a work-around), WWF-Zambia geographer Brian Chilambe talks about the lake's islands—isolated outposts that magnify the beauty of the park but also its harsh conditions. Wild and hard to reach, the islands where towers have been built are crucial links in the technology chain. Pan tilt cameras on the towers can scan 360 degrees and cover a diameter of almost 4 miles.
Adding range, reliability, and remote sensing to protection efforts means that park rangers will face less risk as they find and stop poachers, that more fish will be available to law-abiding fishers, and that those fishers—if they get into trouble—can be found and helped. "Conservation should protect the value of all life, including human life," says Chilambe. "The cameras help achieve that."
Back in 2018 as the sun set over the golden lake, two fish eagles called to each other through the darkening air. It was time to test the boat-mounted FLIR camera. On the water, the glow from the screen illuminated Mbao's grin as he huddled over the Raymarine touch screen with Beattie and Becker.
"The hotter, the whiter. The colder, the darker," said Beattie.
They found their practice suspects—some colleagues from the Marine Unit—and the picture was clear. To complete the training exercise, Mbao used the digital radio system to call the control room where Mweetwa was on standby.
"What we are seeing on the screen is six people in a motorboat. We'll give you information as we approach. Stand by," he said.
Mweetwa's response? "Marine control standing by."
Rhino Recovery
The pathway to zero rhino poaching in Kenya
The Kifaru Rising Project is a multiyear effort led by WWF and thermal imaging company FLIR, in partnership with the Kenya Wildlife Service, to provide thermal night vision technology and training to Kenya's wildlife rangers. The project—toward which FLIR has committed to donate more than $3 million in equipment between 2019 and 2021—serves 11 sites and bolsters conservation efforts for the critically endangered black rhino's wild population, which currently numbers just 5,400 worldwide (kifaru means "rhino" in Kiswahili).
The project builds on a partnership between WWF and FLIR initiated in 2016 in Kenya's Maasai Mara National Reserve and later expanded to Lake Nakuru National Park and nine more parks critical to rhino recovery. Along with providing rangers with antipoaching tools, the project team is assessing how technology and strategies might be used to prevent human-wildlife conflict and improve community engagement and cooperation.
By expanding the project, the partnership hopes to produce a blueprint for the use of thermal technology countrywide, with the aim of achieving zero rhino poaching in Kenya by 2021.
1
LAKE NAKURU NATIONAL PARK
73 SQ. MILES
Important rhino sanctuary that also shelters flamingos
2
MAASAI MARA NATIONAL RESERVE
583 SQ. MILES
Home to the famous wildebeest migration and Africa's "big five" (elephants, rhinos, buffalo, lions, and leopards)
3
MERU NATIONAL PARK
336 SQ. MILES
Mecca for bird watchers, big-cat spotters, and reptile fanatics
4
NAIROBI NATIONAL PARK
45 SQ. MILES
Small park within sight of the nation's capital, hosting 100 mammal species and 400 bird species
5
OL JOGI WILDLIFE CONSERVANCY
90 SQ. MILES
Private rhino sanctuary that also hosts elephants, Grevy's zebras, and lions
6
OL PEJETA CONSERVANCY
141 SQ. MILES
Rhino sanctuary hosting more than 130 black rhinos and the last two northern white rhinos
7
RUMA NATIONAL PARK
46 SQ. MILES
Park sheltering black and white rhinos and the only protected area in Kenya for endangered roan antelope—also the only park where threatened migratory blue swallows are regularly recorded
8
SOLIO GAME RESERVE
70 SQ. MILES
Private rhino breeding reserve; boasts excellent leopard viewing
9
TSAVO EAST NATIONAL PARK
5,308 SQ. MILES
Largest protected area in Kenya
10
TSAVO WEST NATIONAL PARK
2,728 SQ. MILES
Home to wild dogs, leopards, cheetahs, and 600 bird species
11
SERA WILDLIFE CONSERVANCY
1,310 SQ. MILES
First and only community conservancy in East Africa dedicated to restoring black rhinos
Explore More
About

World Wildlife magazine provides an inspiring, in-depth look at the connections between animals, people and our planet. Published quarterly by WWF, the magazine helps make you a part of our efforts to solve some of the most pressing issues facing the natural world.