A Catalyzing Investment in a Place Called Home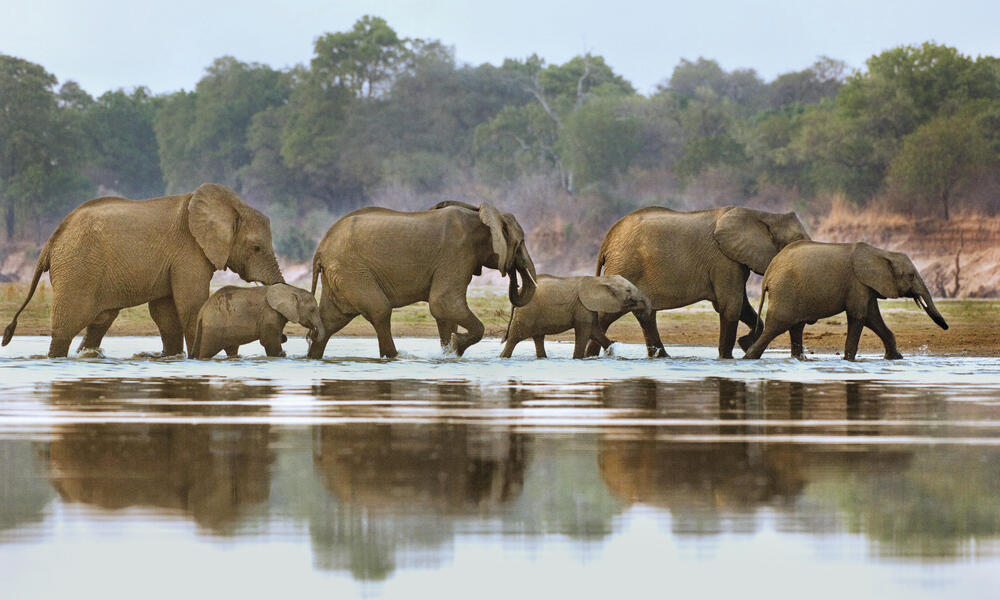 Issue: Winter 2013
Author: Jennifer Hanna
Feeling connected to a place is one of the conditions that defines us most as humans. We may be
born in a place that engenders that connectedness, or we may spend years looking for it. But once we find the place that speaks to us like no other, we become entwined with it. And it is almost certain we will want to become stewards of that place, so we can nurture it like it has nurtured us.
For Neville and Pamela Isdell, that place is Zambia.
Neville Isdell left Northern Ireland for Africa by ship in 1954 at the age of 10. After his arrival on the continent, it took another four days of travel and 2,000 miles on a train to reach Zambia, and the town of Lusaka where his family would settle. On that journey, he experienced natural grandeur of a scope and scale that was, it seemed, otherworldly: mountain ranges, semi-deserts, waterfalls, extraordinary wildlife. "That changes you, forever," he says.
Also arriving in Zambia that year was 8-year-old Pamela Gill. "We lived a bit outside of Lusaka, sort of more in the bush, so nature was the way I grew up," she recalls. "It was part of me."
"I have to say we spend a lot of our time going back to the bush. When we left Africa we went back every year. You can take the child out of Africa, but you can't take the Africa out of the child, right?"

Neville Isdell Chairman, WWF Board of Directors
Although they arrived in Lusaka only four weeks apart, Neville and Pamela didn't meet until they were in their twenties. But when they did meet, the connection was profound; they have now been married 43 years. And while they no longer live in Zambia, their connection to this place, too, is profound—they met here, were educated here and married here, Neville began his career with The Coca-Cola Company here, and they lived here longer than anywhere else in the world. It is the place that gave them so much, and continues to shape their lives.
They wanted to return the favor.
So earlier this year the Isdells made a $2 million gift to WWF. Part of their gift will help support conservation and tourism initiatives throughout the Kavango Zambezi Transfrontier Conservation Area (KAZA), which sprawls across 109 million acres and five southern African countries—Angola, Botswana, Namibia, Zambia and Zimbabwe—and is the largest transboundary conservation area in the world.
But the focus will be their beloved Zambia, where the Isdells' philanthropy will empower communities to manage their own wildlife and engage in tourism and other wildlife-based activities that bolster local economies.

As much as Zambia means to Neville and Pamela Isdell, it was an appreciation that bloomed fully with time and distance.
"We are in a very special, lucky place that we could give to a country that meant so much to us," says Pamela. "And in fact it's taken years—since the time we left there until now—to realize how much it's made an impression on us, how much it meant to us, that early life there. And that's why it's so wonderful we're now in a position that we can try and help, because Zambia gave us so much."
But that's only one part of the motivation behind the gift. In addition to the desire to make a commitment to a country that did very special things for both of them, the Isdells—along with WWF—share a palpable wish to breathe new life into the global profile of Zambia, particularly from a biodiversity standpoint.
Industry

Copper and cobalt mining, agriculture and manufacturing define Zambia's economic landscape. WWF's focus will be on increasing nature-friendly opportunities like tourism and sustainable agriculture.

Wildlife

Populations of lilac-breasted rollers, shoe-billed storks, elephants, wild dogs, Nile crocodiles, hippos, and a rich variety of other species make Zambia a haven—albeit one under threat—of global importance.

People

Empowering rural communities to manage and benefit from the conservation of nature is a critical contributor to sustainable growth for the country's 14 million people.

Land

Best known for the world-famous Victoria Falls, Zambia's 290,000 square miles encompass savannas, extensive miombo and mopane woodlands, and wetlands near Lake Bangweulu and beyond.
"Zambia, to me, is one of the last undiscovered frontiers in Africa for conservation, particularly for animals," says Neville. "Certainly, it is significantly over-poached, and it is also significantly under-touristed. The two are clearly related."
But as he points out, about a third of the country is already under some form of protection—either as game management areas or national parks. Combined with Zambia's small population density—14 million people—and the new government's commitment to tourism and wildlife, the perfect conditions could be looming to create the world's next great go-to place for ecotourism. And so it is no accident that a significant portion of the Isdells' gift will be used not only to empower local communities to become vested stakeholders in Zambia's conservation sector, but also to enhance and improve the effectiveness of conservation policymaking in Zambia at a national level.

The Isdells, for their part, return to Africa every chance they get. "I have to say we spend a lot of our time going back to the bush," Neville says. "When we left Africa we went back every year. You can take the child out of Africa, but you can't take the Africa out of the child, right?"
And while the conservation of Africa is a cause Neville and Pamela enjoy pursuing together, they are both quick to note that the more important point is that we should all just do something.

"I think that the most important thing we must realize is that everyone—even just one person—can make a difference," says Pamela. "And remember that you don't have to be anybody important. We need one person here, and one person there, standing up for nature. And the more people we have like that, working together, the more positive it will be."
Explore More
About

World Wildlife magazine provides an inspiring, in-depth look at the connections between animals, people and our planet. Published quarterly by WWF, the magazine helps make you a part of our efforts to solve some of the most pressing issues facing the natural world.