In-Depth
Primeiras e Segundas
Along Mozambique's coast, a new sanctuary offers opportunities for people, the economy and wildlife
Issue: Winter 2013
Author: Alex MacLennan
Photographer: James Morgan
Call Them Ishmael Crafting a new kind of sanctuary along Mozambique's coast
As our boat bangs up to the beach on Ilha de Mafamede through a jostle of bright sky, rushing waves and choppy blue-green water, Ishmael Saïd is the first to hop out.
At 66, Ishmael is spry and full of energy despite the bumpy hour-long ride. With gray sprigs in his hair, a scraggly beard, and the wiry arms of an athlete, he laughs as we straggle out of the heaving boat into the surf, helping us grab bags and ordering people around with jokes and hearty slaps on the back.
Mafamede is a tiny island, and as we begin to unload our gear, he sparks a playful competition with John Guernier, Primeiras e Segundas program manager for the CARE-WWF Alliance, to see who can lug the most supply tubs the short distance from boat to campsite in the shortest amount of time. As they jostle, Ishmael's face breaks into a grin and John tugs his ever-present cap lower to shade his eyes from the sun.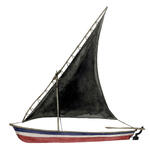 THE CARE-WWF ALLIANCE
Primeiras e Segundas is Mozambique's first "Environmental Protection Area"—a designation fought for by WWF for nearly a decade and declared by the government of Mozambique in November 2012. The coastal marine reserve covers more than 4,020 square miles, including the 10 islands of the archipelago, the swath of ocean separating them from land, a scattering of estuaries and rivers, and territory lying about 12 miles inland.
Since 2008, WWF and CARE have been collaborating to develop marine sanctuaries here, working with coastal households that rely on fishing for their livelihoods. The focus of the CARE-WWF Alliance is to balance the diverse needs of many kinds of people with the health of the ecosystems on which they rely. It's a great partnership: CARE has deep expertise in enhancing human livelihoods, and WWF in conserving productive biological diversity on and and in the sea.
Now that Primeiras e Segundas has been formally established, WWF and CARE are working together with government and communities to translate 10 years of scientific studies, community engagement, ranger programs, and education into a legal, broadly implemented management plan. The CARE-WWF Alliance is listening to, training, and seeking new opportunities for fishermen up and down the coast, as well as for the farmers inland.
We'd met Ishmael earlier that day in the small port town of Angoche, an ancient Muslim trading center that sits on the Mozambique coast. There, Ishmael had put a welcoming arm around each of us in turn, asking myriad questions about us and our mission to Mafamede in a blend of Portuguese, English, and his native Makua.
Most days, Ishmael is a farmer and spear fisherman. On this trip, he had agreed to serve as translator and guide for a small team of WWF and CARE staff as we met with other fishermen to learn about the impact the area's changing landscape and declining fish catch is having on their lives.
Setting Up Camp
On shore, we count at least 60 men arrayed in casual clumps or working the ropes of fishing nets, and it is immediately clear that Ishmael will be an invaluable partner; his garrulous nature and easy laugh draw multiple fishermen into the fold. Mafamede is ringed by a coral reef that supports an astonishing, but dwindling, array of marine life. At less than a third of a mile long, it boasts coral-strewn beaches, tidal flats and hardy succulent plants, but the real beauty is the marine life, which draws fishermen from Angoche and other nearby villages to set up overnight fish camps.
Unfortunately, the island increasingly draws fishermen from much farther afield as well, and current Mozambican law has not yet given locals exclusive access to their traditional fishing grounds. That is part of why we are here—to harness momentum and support new laws that could secure a rights-based approach to managing the area's fisheries.
As we set up our camp for the night, the island's two "turtle rangers" (funded by the CARE-WWF Alliance), trot over to greet us. They speak up excitedly, explaining that a green tartaruga (turtle) crawled ashore just the day before to dig out a nest and lay her eggs.
We drop our tools and follow the rangers to the island's southern end, where they point to a shallow depression in the sand. Proudly, the rangers display the loose circle of sun-bleached shells and chunks of coral they used to mark the nesting site. As we crouch in the windswept sand around the nest, they point out the already-fading flipper tracks that head back out to sea.
"We will guard this nest until the eggs hatch and the turtles are safely in the water," the rangers tell us. "But," they add, "the fishermen are all being respectful of the nest."
It feels like an auspicious start.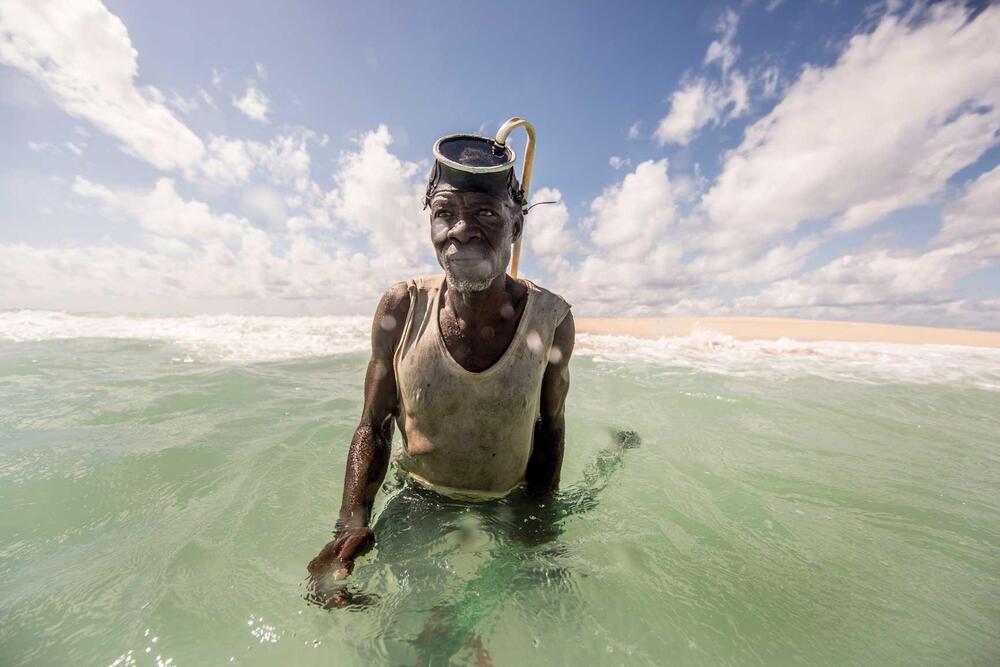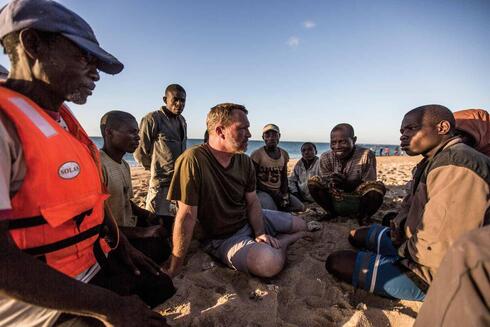 Fishing in Mozambique
Soon, Ishmael takes us for a longer stroll down the beach, identifying shells, coral, turtle bones and, happily, signs of other active turtle nests. Along the way, we stop to speak with small groups of fishermen as they take short breaks from hauling glittering masses of fish, made up of dozens and dozens of species, onto the beach. In the first net we look into, John points out anchovy, whiting, mackerel, goat fish, toothpony, kingfish, grunts and croakers, along with young snapper, sweetlip, and grouper. "All kinds of fish are good," the fisherman tells us with a thumbs-up signal when we ask after his catch.
Among the common styles of fishing in the area, seine fishing is one of the most labor-intensive. Crews of 10 to 15 fishermen paddle or sail a short distance offshore, drape a weighted seine net (also called a dragnet) across a stretch of water, return to shore and then, in a painstaking choreographed effort, pull the net ashore over the span of a few hours.
In the 10 minutes it takes us to walk the entire length of the island, we see fishermen hauling in nets with holes large enough to allow smaller fish to escape, as well as others fishing with fine mosquito netting—a practice that has been banned since before the country gained independence from Portugal in 1974. Mosquito nets are banned because the tight mesh collects more fish, smaller fish, the non-target species called bycatch, and juveniles of larger species — all of which undermines the fishery's ability to regenerate.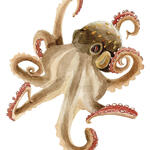 REACHING THE GLOBAL MARKET
For the CARE-WWF Alliance to succeed in Primeiras e Segundas, partnerships with companies that buy and sell fish from the protected area's artisanal fishermen are imperative. One such partner is Diamante Mariscos, a company that collaborates with artisanal fishermen and sells local shrimp, lobster, and octopus to national, regional, and global markets.
According to Sorajakshan Sugunanandadas (known as Soraj), one of three owners and the primary on-site manager at Diamante Mariscos, "We sell local fish mostly to European Union countries. Italy and Portugal buy the octopus and shrimp. But the lobster goes to Dubai."
Soraj, originally from India, works closely with local fishermen to create a mutually beneficial way to make a living while fishing sustainably. The company is engaged in early talks with WWF and CARE about the possibility of artisanal farming of sea cucumbers in the waters around Mafamede.
"We buy whatever they bring in," says Soraj. "With today's realities, it's harder and harder for them to earn a living. But when they cannot fish—because of weather or just an unlucky day—we pay them anyway. And when they do find fish, they pay us back a little bit. We work together. They say I am Mozambican," he finishes with a smile.
Pointing to the mosquito nets, Dan Mullins, director of the CARE-WWF Alliance and a key member of our expedition, emphasizes, "That's one of the reasons we are working here.
Dan has close-cropped sandy hair and a quick smile. The son of an Iowa farmer, he has lived in Africa for 30 years and is now based in Maputo, Mozambique's capital. "We need to understand the challenges these local fishermen are facing, and help them see the opportunities that protecting their native fishing grounds provide," he says. "We're here to see how fishing is conducted on the islands, what the fishermen are seeing in terms of catch, and what they fear—or hope to see—as we develop the Primeiras e Segundas management plan," he concludes, before stepping up to a tall fisherman in a fraying baseball cap.
Dino Francisco stands a good head taller than most of the 12 men he leads as captain of a seine fishing crew from tiny Praia Nova, a village on the nearby coast. With a bright smile, he confirms that his crew uses nets designed to let juvenile fish slip away, and assures us that his crew doesn't directly fish the reef—practices he learned from CARE-WWF community rangers supported by the national government. When he was a young boy, Dino tells us, his grandfather taught him to fish. He joined a fishing crew when he was just 14 years old. Now 23, he says he is proud to have risen to the level of captain.
We ask him about today's luck with fishing and how things have changed since he was first starting out as a young fisherman. "Today, the weather is changing, and we don't know what kind of catch to expect," he answers. "When I was young, there were a lot more fish. I don't know why there are less fish now."
"In years past," he remembers, "even the fishermen netting off the beach were getting hundreds of different species of fish, but not anymore." While we talk, his crew finishes hauling in a net and he directs them back into the boat for one more round of fishing as night sets in and the stars appear.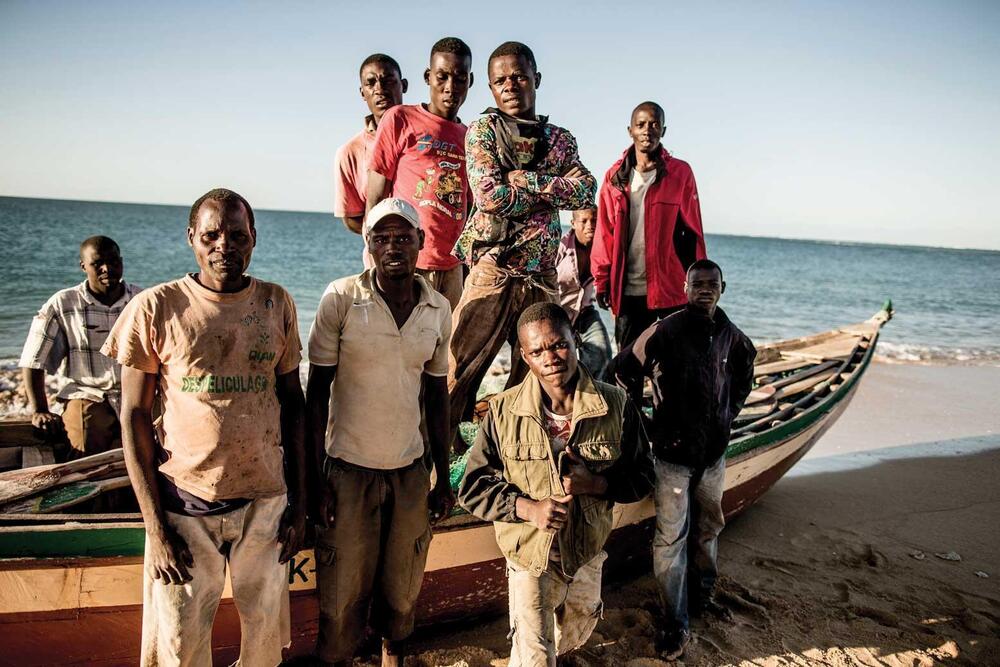 Up and down Mozambique's coast, fishermen cite the need to feed, clothe and educate their families as their most important goal

Julieta Lichuge, Head of Parks and Reserves for Mozambique's Ministry of Tourism. Julieta sees tourism as a central pillar of a vibrant future for Mozambique's people and wildlife.

Koti woman on Ilha Catamoio, a mangrove island in Angoche Bay. While happy to be photographed, most women we met in rural areas declined to share their names.

Dino Francisco, captain of a fishing crew from the small beach community of Praia Nova, just north of Angoche and the bay.

Miguel Massunda serves as the director for District Services for Economic Activities for Mozambique's Angoche district.

Dan Mullins, director of the CARE_WWF Alliance, has lived in Africa for more than 30 years, and leads the team's effort to advance the connection between protecting nature and helping meet people's needs.

Omari Asani, Ishmael's cousin. Like Ishmael, he is primarily a farmer a few miles inland, but the two share a house in Angoche to be closer to fishing opportunities.

A Koti woman of the mangrove island community of Catamoio. Members of the Koti ethnic group speak a variant of Swahili, rather than the area's more prevalent Makua.

Ussene Ahmadi Amore, a fisherman on Ilha de Buzio in Angoche Bay, dreams of attending high school to become a teacher or journalist.

John Guernier grew up in Africa and Australia. As program manager of the Primeiras e Segundas program, he works at many levels to forge a mutually beneficial plan for the area's people and wildlife.
Hard Truths and Open Minds
As we turn to head back to our camp for the night, two men from another fishing crew approach Ishmael and ask him why we are on the island. When they discover we are with CARE and WWF, they ask if they can raise a few concerns.
Ishmael motions to Dan and the men to sit down together on the beach and talk. "We saw you speaking to the other captain, and we have concerns about fishing nets," First Captain Jordao Aputal says, brushing his hand through the quickly cooling sand. "Your rangers tell us not to use mosquito nets, and we know they catch too many fish. But if we use nets with bigger holes, we don't really catch many fish, and our families don't have enough to eat."
A crowd of about 15 fishermen gathers around their captains in a loose half-circle, and after introducing himself to the newcomers, Dan explains how catching a few more small fish with mosquito nets today will mean local fishermen and their children won't have enough in the future.
"We aren't trying to limit the catch in terms of overall amount," he clarifies, "just trying to let juveniles grow up to be able to spawn. You can catch them when they are bigger," he promises.
"It takes a far-ranging team effort and many, many years of consistent determination to make positive strides forward in conservation."

Caroline Cook Deputy Director for WWF's Coastal East Africa Program
At that, he receives a few nods and Ishmael reiterates the message in Makua for those who don't speak Portuguese.
The two turtle rangers rejoin us and talk about how the ban on using mosquito nets is the law of Mozambique. Though they are called "turtle rangers," the men do much more than watch for their shelled charges. Throughout their two-week stints on the island, the rangers monitor fishing activity and carry on conversations just like this on a daily basis. Slowly, they say, more and more fishermen are coming to understand the importance of protecting fishing for the long term—and looking to groups like ours for help in figuring out how.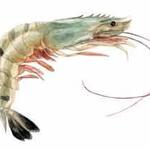 GOOD FOR THE FISHERMEN AND FOR FISH
At the local fish market in Mozambique's capital, Maputo, shoppers are greeted by fish sellers hawking their wares: gray-striped prawns in sizes from finger-length to foot-long, huge barracudas and groupers, tawny mussels and glistening, tube-like calamari.
"Artisanal fishers catch 85% of the fish in Mozambique," says Maria Domingues, WWF-Mozambique's shrimp and marine program officer. "But the pressures on these fishermen are increasing every day. In Angoche, for example, a few years ago there were only 10,000 fishers; now there are 12,500. As the concentration grows, we are looking at ways to help the fishermen and protect the fishery—like working with fishermen to help them travel to distant fishing grounds that are under less pressure."
Another challenge, according to Maria, is that it now takes fishermen more time to catch the same amount of shrimp as they used to, so they just stay out at sea longer. "This," she explains, "means the shrimp population is receiving the same amount of pressure. So we changed the rule: Rather than control the amount of shrimp caught, we limit the amount of time a boat can fish. So, ultimately, fewer shrimp are taken with each fishing trip— and the fishery gets a break"
Initially, many of the fishermen shake their heads in disagreement about the importance of limiting fish catch—and they reiterate the need for fish today, even given the threat to fishing "tomorrow." It is a tough, open, and honest exchange of ideas and concerns. But the conversation goes on.
Dan tells the group about a research study that showed commercial fish populations were thriving around Mafamede just 15 years ago, and then mentions another study—at Quirimbas National Park in northern Mozambique—that demonstrated how creating no-take zones in certain fishing areas had led to greater catches in ensuing years. John Guernier leans in to add that "when we established test sanctuaries down the coast, they delivered good results in a short amount of time, with higher biodiversity and abundance recorded in as little as a year. We even have fishermen lining up now, right on the edge of the sanctuary boundaries, because they know these are the best places to fish."
More and more heads begin to nod in agreement. Dan listens as the men share that many fishing families must also farm to make ends meet. He talks about how the CARE-WWF Alliance can help them find ways to increase agricultural productivity, so that they can make a living even if they stop fishing with mosquito nets. It begins to seem clear to everyone—especially the younger fishermen, who have the most to lose—that something must be done to protect and sustain their way of life.
Striking a Balance for Survival
As a few men begin to drift away, Captain Jordao reiterates that the fish they catch today are a source of food for their families, and the extra money they earn buys rice or books for school. Drawing in the sand, Dan explains the intersection between conserving the fragile ecosystem and strengthening the livelihoods of the communities that depend on the area's resources.
He explains how a management plan will help protect fishing areas and rebuild stocks, and how fishing communities will be empowered to make decisions that preserve their resources. He also emphasizes that ensuring more fish for fishermen like them is "the same work as protecting the fish and other ocean resources."
In the chilly evening air, Dan looks into the fishermen's faces and invites them to take part in the process of developing the new management plan.
In the deepening darkness, three fishing crews continue to pull in their nets, while others begin to drift back to their cook fires or to check on the last catches of the long day. Before the discussion ends, however, Ishmael makes a final point: "Since the start of WWF and CARE's work here, you can really see some positive results. The project is helping our understanding of the ocean and how to keep it healthy. The number of fishermen here has been growing in recent years, so we need to understand how to protect the oceans, so people can survive."
As we walk back, Dan confirms what Ishmael has said. "We must have community natural resource management committees for all the legitimate users of Primeiras e Segundas. They need a formal vehicle to effectively co-manage their resources with the government, investors, and groups like ours. It's about helping people forge the right path via putting the power in people's hands."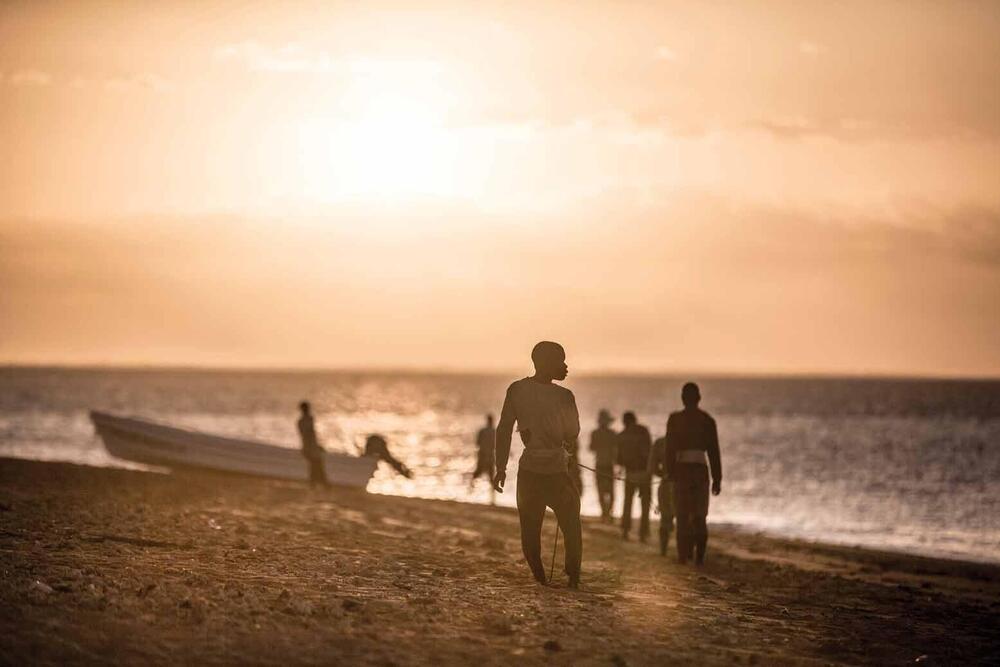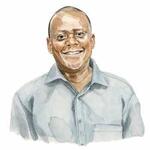 DOMINGOS GOVE: LOCAL AND BEYOND
Domingos Gove declares that the ocean is in his blood. He remembers with fondness how he and his sisters once roamed their seaside Maputo neighborhood, threading their way through mangroves to collect the mussels they sold in town. The connection serves him well today, as he leads the marine program for WWF's Coastal East Africa initiative.
As a marine biologist and native son, Domingos has witnessed the decline of marine life along the coast firsthand, and points to overfishing as a prime factor impacting the quality of life of Mozambique's people. "These communities are very poor," he says. "Some people go to the beach and wait for one small fish to feed themselves and their family for that day. If they don't have that fish, they don't eat."
Domingos explains that an underlying problem is the prevalence of illegal, unreported, and unregulated fishing in the Mozambique Channel and all along Africa's coast. At the same time, he cites successes, including Mozambique's new fisheries law and the expanded role of coastal countries in intergovernmental organizations such as the Indian Ocean Tuna Commission—changes he says will protect tuna and other resources while bringing the region more socioeconomic benefits.
A Plan for Land and Sea
As the various camps quiet down, we return to our own small collection of tents. Stretched comfortably on the woven mat he brought along (and which serves as the de facto heart of our camp), the ever-talkative Ishmael offers to tell us a little bit about his life in coastal Mozambique.
"I came to Angoche in 1974," he begins. After growing up in Nuarro, a few hours north on the coast, he made his way south looking for work. Now, he says, his livelihood is like that of most people in the area: "I am a fisherman and a farmer."
He is not alone. Some 60% of Mozambique's 21 million people live within 60 miles of the coast—and the population is growing. And like Ishmael, nearly everyone near the coast relies on both farming and fishing to survive.
This reality is still relatively new. According to Ishmael, "A long time ago, when I was young, one part of the population had jobs in companies, another group were only farmers, and yet another were only fishermen. [Now], the majority of the population must practice fishing in addition to other activities. That means the fish resources are decreasing sharply. Before, the situation was more balanced, because people could survive just by farming or working at a job."
Ishmael's story shines a sharp light on the many tasks ahead of us in Primeiras e Segundas. Over a bowl of curry and rice cooked on a camp stove, John Guernier talks about the arc of the project. Despite the many challenges in Mozambique—including an economy still struggling in the wake of two wars over the past 40 years—John offers hope that our efforts will produce a gradual restoration of the balance of resources.
As the Primeiras e Segundas program manager, John knows it's essential to collaborate with stakeholders throughout the local communities, in the government, and at companies. "To succeed," he says, "we must understand many things: the local people's needs, the traditional rights to fishing areas, the status of the fisheries, and the pressures affecting all parties. In the near term, we are working to assemble the right mix of partners to get a smart, sustainable management plan in place."
He ticks off the tasks in order: "First come the communities and local fishing and farming associations—securing their exclusive rights to control their lands and traditional fishing spots, raising their concerns to government officials, and gaining their commitment to put long-term benefits on equal footing with the pressures of the day. Then we need the right partnerships with government and a few small industries, plus the support of conservation and humanitarian groups—like WWF, CARE, and other international groups—to forge a path forward on land and in the sea."
Turtle rangers prepare dinner at their semi-permanent campsite. Rangers take two-week shifts on the island, monitoring fishing and marine activity, and educating the fishermen they meet.

Dan Mullins, director of the CARE-WWF Alliance, joins Ishmael and an ebbing and flowing circle of fishermen to discuss fishing, family duties, and the balance between immediate and long-term needs.

On any given day, more than 60 men and eight fishing boats will make multiple fishing trips from Ilha de Mafamede, a single island less than a quarter-mile long.

Muslim prayers are a regular part of many fishermen's days, and time is cleared for religious devotion.

Arrayed in a neat line, a team of fisherment take shifts to help one another for the long job of hauling in their nets.

As night falls, a lone fisherman escapes the crowded fish camps, and makes his way to the small island's version of land's end.

Not all fishermen honor the national fisheries laws about proper nets. Here, mosquito nets deliver a large, but damaging, catch.

With no man-made lights on the island or along the horizon, dinner nad evening camaraderie take place around scattered fires.

Dawn. Many young men learn fishing at the feet of their fathers or grandfathers, and join the crews of boats as soon as they are large enough to man the oars and nets.
While the management plan is targeted to be completed by next year, WWF and CARE are taking the long view. "On the ground, projects like this take decades," John says of the timeline for success and the need to sustain committed efforts. But with that cautionary statement, a spark reenters his eyes. "I can see it," he says. "If we can create a plan that includes the farming and fishing associations, local entrepreneurs, international companies, and government at every level, we actually have a pretty good shot."
A New Day on Mafamede
A thin, early-dawn light breaks over the island and we rise to see fishermen long back at work. Two crews are already hauling in the day's first catch from pre-dawn fishing expeditions. While they pull at the seemingly endless knotted ropes that tether them to the nets out at sea, we pack our tents, tarps and gear, and gather over sandwiches and coffee to bid farewell to the island.
As we motor away into the bright morning, Ishmael points the way to his favorite polvo (octopus) hunting site. Mafamede shrinks in the distance. Looking back, we can see Captain Dino and his crew load their boats full of precious cargo before setting off for home.
A Sacred Forest Cultivating educators in a coastal forest
Aïcha Oussuf Assane steps out of a scratched-up, dented truck onto a broad wash of sandy soil near where the Potone Sacred Forest meets the waters of the Angoche bay. She is a community-based conservation leader, here to speak to the CARE-WWF team about protecting her home—a landscape that encompasses a dry coastal forest, salt flats, mangroves, estuary waters, and many villages.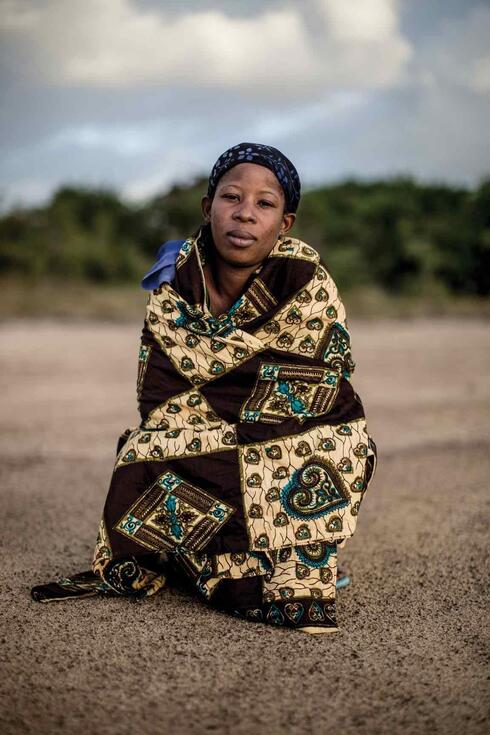 As Aïcha describes it, Potone is a place filled with stories of the people who have lived there from ancient times, tales of traditional healers and the spirits of ancestors. She lives in an area of the forest known as Sicubir, on higher ground than the mangrove-ringed sand where she now sits wrapped in a long, richly toned cloth. In her warm voice, she shares a message of hope for Potone.
"When I was young," she explains in her native Makua language, "I heard stories that our forest was a place filled with animals. It was home to leopards and monkeys that lived in the bush—even lions." A brief look of sadness passes across Aïcha's unlined face as she describes how, over the years, the forest resources and species have disappeared.
"The climate has become harsher," she says. In Potone, the water table has dropped and some traditional agricultural practices including clear-cutting, post-harvest burning of fields, and slash-and-burn agriculture where there is less and less forest to slash—have damaged the ability of farms to yield sufficient crops for food and income.
Today, the situation is slowly improving, thanks to the efforts of Aïcha and other members of the Potone Community-Based Natural Resource Committee. This local organization is working with the CARE-WWF Alliance to more sustainably manage the natural resources upon which community livelihoods depend.
The Alliance is working with farmers through more than 23 farmer field schools to test different methods of crop rotation and mulching, as well as the resilience of various crop varieties. The schools produce "farmer-educators," who in turn share their knowledge with their peers, seeding an organic process of understanding and acceptance of new ideas. This process, called conservation agriculture, aims to increase the yield of crops such as cassava and pigeon peas, which would potentially reduce the number of farmers forced to turn to fishing for sustenance, and thereby alleviate pressure on already stressed fish stocks.
"We maintain the Potone reserve and prohibit the cutting of trees. We are teaching good practices, especially in relation to helping people avoid using fire to clear fields," Aïcha says. In her work, she and other leaders explain to farmers in their communities that "when you burn away the leaves and wood from the surface, they can't feed the soil, and it remains poor for growing crops like cassava. Animals burn, trees burn. Then we are suffering."
But then her eyes soften into a smile. "Now," she says, "there are groups working on agriculture and others working on mangrove replanting. All have the same objective of conserving our resources. And there are already animals returning."
Aïcha looks out across the rumpled hills that hold her family's land, open grasses, thickets of forest, and small farms of carefully cultivated cassava and other crops. "The resources that I know and love are the ones I'm protecting here in Potone. That's what makes me happy today."
---
The CARE-WWF Alliance was founded in partnership with the Sall Family Foundation in 2008 and continues to thrive thanks to their longstanding support. Our joint work is also generously supported by USAID, several anonymous foundations and many others.
Explore More
About

World Wildlife magazine provides an inspiring, in-depth look at the connections between animals, people and our planet. Published quarterly by WWF, the magazine helps make you a part of our efforts to solve some of the most pressing issues facing the natural world.