History of Nepal Conservation
Small country, big impact
Even though Nepal only covers an area roughly the size of Iowa, its intrepid approach to protecting the environment has made it a conservation giant. As WWF-Nepal celebrates its 20-year anniversary, here's a look at some of the country's biggest environmental achievements.
A Living Laboratory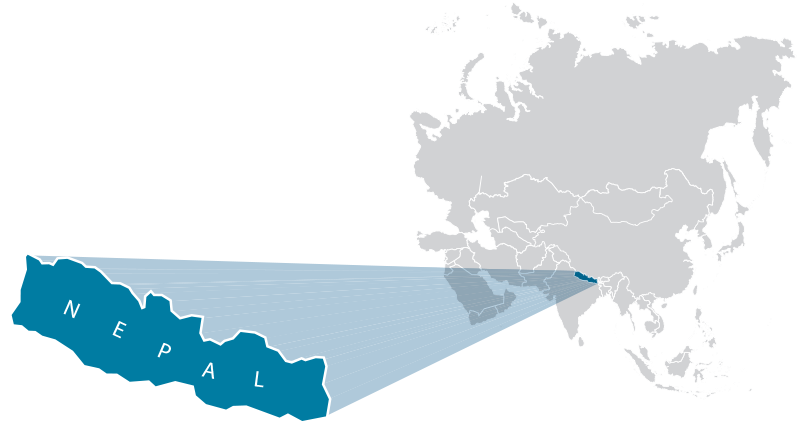 Together, Nepal and WWF have implemented major conservation innovations over the past two decades—and influenced the world. Here, a few of those initiatives, as well as a sampling of other regions where WWF is helping implement them.
Piloting new antipoaching technology
Namibia
India
Northern Great Plains
Expanding community stewardship
Indonesia
Namibia
Bolivia
Protecting natural wildlife corridors
Northern Great Plains
Southern Africa
The Amazon
Human-wildlife conflict mitigation
Alaska
India
Bhutan
Nepal's Conservation History (1957-2014)
1950
1957

Wildlife Conservation Act is the first act to identify the importance of protecting wildlife in Nepal.
1960
1967

WWF starts working in Nepal when it launches a rhino conservation program in Chitwan Valley.

[Late 1960s] First rhino conservation units are set up to start protecting depleted rhino populations.
1970
1973

Nepal establishes Chitwan National Park, the country's first national park.

WWF grants $38,000 to the Smithsonian to study tigers in Chitwan, allowing scientists to successfully use radio tracking for the first time.

National Parks and Wildlife Conservation Act provides for the conservation of natural areas and wildlife and sustains the welfare of the people.

27 mammal species, 9 bird species and 3 reptile species are given legal protection under the National Parks and Wildlife Conservation Act.
1980
1980

Department of National Parks and Wildlife Conservation is set up as a separate entity under the Ministry of Forest and Soil Conservation.

1982

Royal Bardia National Reserve is officially formed.

1985

WWF expands conservation programs in Asia, showcasing the new Annapurna Conservation Area, the largest protected area in the country.

1988

Royal Bardia National Reserve becomes Royal Bardia National Park, Nepal's largest national park.

Nepal now has 10 national parks, 3 wildlife reserves, and 6 conservation areas, a system which covers more than 13,000 square miles—an area larger than the US state of Maryland.
1990
1991

WWF begins antipoaching work with Nepal. WWF-Nepal and the Department of National Parks and Wildlife Conservation seek to identify deterrents to tiger and rhino poaching in the national parks. Antipoaching units are formed in Chitwan and Bardia national parks.

Community-based antipoaching units were originally set up to reduce the level of poaching of tigers and rhinos, but quickly became involved in monitoring the trafficking of other wildlife species and their products. Today there are more than 400 units working throughout the country.

1993

WWF-Nepal office is established in Kathmandu.

Forest Act empowers the government to hand over forest areas to local communities for management as community forests.

Rural communities play a huge role in protecting Nepal's forests: about 18,000 community forest user groups have been established throughout the country since 1980.

1996

Maoist insurgency begins. Much of the country's conservation work is derailed as resources are redirected to the conflict.

1997

The government of Nepal declares Kangchenjunga, the world's third-highest mountain ecosystem, as a special conservation area.

Kangchenjunga means "the five treasures of snows." The mountain landscape is home to more than 250 species of birds and animals, including snow leopards.
2000
2001

In the Terai Arc of the Eastern Himalayan lowlands, WWF spurs progress toward the ambitious goal of creating wildlife corridors linking 11 protected areas between India and Nepal.

2006

Maoist insurgency ends, and Nepal's rhino population is drastically lower than before the conflict.

Following the historic handover of Kangchenjunga Conservation Area from the government to the local community, a helicopter carrying WWF staff members Dr. Chandra Gurung, Dr. Harka Gurung, Jennifer Headley, Yeshi Choden Lama, Matthew Preece, Dr. Jillian Bowling Schlaepfer and Mingma Sherpa, as well as other conservation leaders, crashes in Nepal, killing all 24 passengers on board.
2010
2011

After years of antipoaching progress, Nepal reports 365 days of zero poaching.

2012

Nepal loses only one rhino to poaching.

Hariya Ban Program launched.

2013

Nepal and India embark on the first-ever joint tiger survey covering the entire Terai landscape and using a common methodology.

WWF-Nepal celebrates 20 years.

2014

Nepal celebrates another 365 days of zero poaching.

Nepal launches The Generation Green.
Explore More
About

World Wildlife magazine provides an inspiring, in-depth look at the connections between animals, people and our planet. Published quarterly by WWF, the magazine helps make you a part of our efforts to solve some of the most pressing issues facing the natural world.