In-Depth
Life in Nepal
How a tiny, mountainous country became one of the world's biggest conservation successes for wildlife—and for rural communities with pressing health needs.
Issue: Winter 2014
Author: Jill Schwartz
Photographer: James Morgan
Standing Tall Walk a day with a community health volunteer in rural Nepal
At high noon, Devi KC is still deep in the daily chores she started at sunrise: brewing tea and cooking a meal of rice, lentils and spinach for her husband and teenage son; pumping and hauling water from the nearby well; harvesting hay from her field; and sweeping road dirt from her front porch.
Despite a long mental list of tasks to complete before she goes to sleep at 10 p.m., Devi changes out of her well-worn green sari and plaid scarf and into a fresh dark-blue sari that shines in the light and sets her apart from others in her remote village. She grabs a small bag and walks with authority down a short, dusty dirt road to reach the home of a family in need of her help.
After meticulously washing her hands and forearms, she heads down the dark hallway of the home and enters the dimly lit bedroom of a tired-looking woman who has a tiny baby cradled in her arms.
Devi is there to do a basic checkup of the baby, whom she delivered a week earlier. Sitting on the edge of the bed, she takes the infant's temperature, checks her heartbeat and examines her skin. All is well, she tells the mother, who smiles—momentarily—with relief. Devi, the mother of two grown children, can relate.
Helping others—young and old—get and stay healthy is only one of the responsibilities Devi has taken on in her village, where she serves as a community health volunteer. She is 35 years old, and one of approximately 50,000 people trained in the fundamentals of everything from sanitation and nutrition to modern hygiene.
Devi lives in Khata, within the long and narrow Terai Arc landscape that reaches across nearly 20,000 square miles of northern India and southern Nepal (about 9,000 square miles are located within Nepal). The region holds endangered one-horned rhinos, elephants and the world's largest concentration of tigers. Communities here rely directly on the forest for food, water and shelter, as well as a place to pray, collect firewood and earn money. This is especially true for women, who dominate the rural landscape as many of the men in their lives travel to other countries to find work.
When asked what has motivated her to volunteer for the past 14 years, Devi says, "I want my friends and family to live long lives." But she is also motivated by her concern for the trees and water that surround her. She knows that people who are unwell can't take care of the land. And if they are not good stewards, then the natural resources they need to survive will be gone. Or too polluted to be of use.
Yet in spite of how crucial forest resources are to people, Terai forests are under pressure. Trees are unsustainably harvested to provide wood for heating and cooking or to create spaces for growing crops and grazing livestock. One of Nepal's approaches to addressing this and other threats is empowering people—particularly women—to be good stewards of the land.
"If people are not healthy, they won't have the energy for things like protecting the environment," Devi adds. "I do not get money for doing any of this, but it gives me great satisfaction. I know people in my village appreciate it."
Devi prepares rice, lentils and spinach for her husband and son. The family will eat from this meal for much of the day.

Wearing the blue sari that conveys her training, Devi cradles a baby she delivered a week earlier, checking the infant's temperature, heartbeat and other vital signs.

With so many men working in cities or other countries, women often run not just their households, but also their farms and communities.

Although Devi's husband is with her in this photo, he regularly travels to find work, leaving much daily life in Devi's hands.

After driving from their village and climbing over a fence they built, women from Jalpa's group head into the forest to pull up invasive weeds.

A farmer in Madhuban Model Biogas Village, where WWF has helped introduce biogas stoves and organic farming practices.
Modern Medicine
The health issues Devi deals with are relatively basic, yet critical. She spends a lot of time teaching people in her village about hygiene. "I tell them," she explains, "wash your hands thoroughly. Take off your rings and bangles, scrub soap thoroughly from the tips of your fingers to the top of your elbows five times on each arm." With each description, Devi mimics the actions at her water pump.
She teaches them to brush their teeth daily, to trust modern medicine rather than rely solely on traditional guruwa healers, to use a toilet instead of the street or woods, and to drink water that has been tested for arsenic and bacteria. She also tells them about nutrition.
After her house call to check on the baby, Devi walks a half-mile to the two-story concrete building that serves as the village resource center. Its pale salmon walls house two rooms for holding workshops; several stacks of old books and brochures, most related to health or the environment; and a bare-bones yet functional health clinic.
The clinic is a comparative luxury. In most rural communities in Nepal, the only health care is offered by struggling health centers and mobile "health camps," which are set up once or twice a year. Doctors from urban areas come to the countryside and see patients for several days. Prior to their arrival, community health volunteers like Devi share the most pressing health issues with the doctors, in order to make the most of the limited time and be sure the right medications will be on hand.
WWF steps in the rest of the year, working with, or through, numerous partners to offer advice on everything from basic health to family planning, emphasizing the importance of women's wellness and enabling couples to have the numbers of children they want, when they want them. All of this under the umbrella of helping ensure that people and the planet can thrive.
On this day, in a shaded area next to the resource center, two dozen women sit on benches and listen to Devi. Their silence as she speaks, as well as the direct eye contact they offer her, are clear signs of her authority. Devi is somebody they trust. She is a woman who took the initiative to learn how to make her life and her surroundings more sustainable. They seem eager not just to learn from Devi but also to be more like Devi—to be as physically and mentally strong as she is, as environmentally mindful as she is, and as confident.
Today's lesson is on the importance of eating vegetables. Devi urges them to eat cauliflower, spinach, eggplant and whatever else is in season so they have more energy. And she explains that doing so is easier than they might think. They don't have to walk or bike miles to get to the outdoor markets that sell produce. They can grow healthy food in their own backyards. That's why, after the meeting, Devi hands each of them several small vegetable plants to grow at their homes. There is a happy buzz in the air as they walk away.
Shikha Shrestha

Shikha Shrestha

When she was young, Shikha Shrestha recalls, a man told her that her dream of becoming a conservationist was a dead end. She was a woman, he said, and women weren't meant for
environmental work.

Now 44 years old, she's made a career out of proving him wrong. While earning a degree in botany, Shikha conducted research in a number of Nepal's forests—and became close with women in rural villages. Now, as the gender and social inclusion coordinator for the USAID-funded Hariyo Ban Program, she works full time to empower those women in conservation work.

The five-year initiative—managed by WWF in partnership with CARE; the National Trust for Nature Conservation; and the Federation of Community Forestry Users, Nepal; and in collaboration with the government and other key partners—aims to protect Nepal's forests while improving the livelihoods of its poorest communities, including many from marginalized ethnic groups. To help them take on a more active role in conservation, Shikha supports technical and leadership trainings, discussion forums, and a range of other activities at more than 450 Community Learning and Action Centers.

Through those activities, which have reached more than 12,000 people, Shikha isn't just living her own dream: she's seeing it become a reality for other women in Nepal.

Chandrakala Budha

Chandrakala Budha

Courage and a deep commitment to conservation. Chandrakala Budha has both in spades. The 36-year-old community mobilizer convinced her neighbors to lay down their arms in order to save tigers, rhinos and other wildlife in Nepal's Bardia National Park.

The temptation to poach a high-value species for the lucrative illegal wildlife trade is hard to ignore in many communities where people eke out a living from the land. Chandrakala's solution was simple: remove the tools that enable the crime.

Her first attempts to persuade people to give up their ancient rifles and homemade muskets were met with ridicule, verbal abuse and threats. The tide turned when villagers handed over two rifles to local authorities—a gesture that was widely noticed and celebrated. The initiative slowly gained momentum. Today, nearly 50 guns have been surrendered under Chandrakala's leadership.

"I could have sat and waited for change to happen," she says. "I chose to stand up."

Now, Bardia's wildlife is thriving. Tiger numbers in the park are estimated to have tripled since 2009, due in no small part to the courage of women like Chandrakala Budha.

Kabita Kunwar

Kabita Kunwar

Kabita Kunwar's passion for wildlife began at her own doorstep. She grew up just outside Nepal's Chitwan National Park, and the Bengal tigers, one-horned rhinos and other wildlife roaming its forests were practically next-door neighbors. An eco club at her school offered Kabita a place to pursue her deep appreciation for those animals through a variety of conservation projects and awareness-raising campaigns.

Her biggest opportunity as a wildlife advocate, though, happened outside the country. In 2010, Kabita was one of two students selected to represent Nepal at the International Youth Tiger Conservation Forum in Vladivostok, Russia. In addition to discussing tiger conservation with other youth delegates and the Russian media, she delivered a statement from the delegates to multiple heads of state—including Nepal's president—who participated remotely from St. Petersburg.

At present, Kabita is preparing to pursue a medical degree, but her heart is still deep in the forest. In February 2014, WWF-Nepal launched The Generation Green, a five-year initiative that will use environmental mentorship programs, scholarships, contests and projects to encourage the new wave of environmentalism sweeping through Nepal's youth. The program aims to reach 500,000 16- to 26-year-olds. Kabita, now 20, was one of the first to enroll.

Jalpa Bista

Jalpa Bista

Two dozen women, ranging in age from 20 to 60, get their marching orders for the afternoon from Jalpa Bista: using a hatchet or your hands, rip the invasive plants out of the forest floor. Jalpa joins them as they fan out to weed, their colorful saris brightening the landscape. This will take time. Weeks or even months. But they know they can do it. The fence in the distance—made of tree branches and barbed wire to deter unwanted grazing—is proof. Under Jalpa's leadership, the women created the fence around the 220-acre site in early 2013, shortly after being granted permission by the government to manage this tract of land in the Karnali River corridor.

"We are an all-women's group because we want to show that women can do these things," says Jalpa, a 45-year-old who is raising four children while her husband works in Saudi Arabia. There are already 800 women-led and women-only forest user groups in Nepal. As the number of men moving abroad for work continues to rise, that number is likely to increase.

Jalpa and her group work in the forest once or twice a week, making time between many other chores. They are proud of their work, and they know they will benefit from it in the future as they sustainably harvest jamun, sisau, teak and other wood.

Yeshi Choden Lama

Yeshi Choden Lama

For a petite woman, Yeshi Choden Lama had a big laugh, one that burst out of her, loud and spontaneous. It delighted people, drawing them into her circle of joy. And it was complemented by a sharp intellect and an absolute devotion to her life's work—saving the biodiversity and cultures of the Himalayas.

Yeshi was a true daughter of the Himalayas, spending weeks at a time in some of Nepal's most rural and remote places to further WWF's conservation mission. She nurtured the Sacred Himalayan Landscape, and went to extraordinary lengths to serve local communities by finding solutions that respected ancient ways and fulfilled pressing needs. The English and Tibetan books she authored on medicinal plants and traditional Himalayan healers bear testament to her dedication. She was a wife, a mother and a beloved colleague at WWF-Nepal.

Yeshi remains an inspiration to WWF and to a new generation of Nepali conservationists. Her life inspired an annual Young Conservation Leader Award that recognizes outstanding young conservation leaders rising from the grassroots.

Yeshi Choden Lama worked at WWF from 1997 until her untimely death in a helicopter accident in 2006. That tragic crash also took the lives of other WWF staff, close friends and conservation allies.
Devi's work fits into a larger tradition of community leadership on a variety of issues, including conservation—a high priority for the government of Nepal. In fact, the country has given its people the opportunity to drive conservation, asking them to lead, coordinate and execute much of its on-the-ground conservation work. For example, the Nepali people have been granted the right to manage and restore several tranches of government-owned forest land, and approximately 35% of the population has chosen to do so.
That huge percentage of society now works together in Community Forest User Groups, or CFUGs. Members of CFUGs learn how to bring overused or otherwise threatened forests back to life, as well as how to sustainably harvest wood for use in their homes and to sell in both local and larger markets. And they've done so on nearly 4 million acres of forest land.
The government's support of conservation efforts is a huge boon to people like Devi, whose journey to where she is today was also aided by WWF. Through workshops led by WWF—often in cooperation with partners like CARE and the Family Planning Association of Nepal—Devi and more than 10,000 rural residents have learned about the importance of good health.
Bhaskar Bhattarai, a senior field project officer at WWF-Nepal, reiterates Devi's perspective on the conservation-health connection: "We need to address the people's most immediate needs first. Their primary need is health. They are sick, not eating well. They want relief soon. If we can help them with these issues, then they will have the strength to care about other things, like conservation—something that does not have a short-term payoff like taking medicine, but is very important."
Twin Paths to a Thriving Nepal
Better human health, of course, is only the starting point. WWF believes that a healthy environment requires a healthy community to take care of it. Which is why projects on conservation and improving people's well-being occur side by side.
There is a tremendous need for this kind of work. In rural Nepal, only 13% of households use an appropriate water treatment method (defined as boiling, bleaching, straining, filtering or solar disinfecting) before people drink water. Less than 25% of homes use biogas cookstoves—which are fueled by gas derived from livestock dung and human waste—while most people rely on the less environmentally friendly wood or coal. And only 38% of households have their own toilets. Devi feels fortunate to live in a village where new toilets have been installed behind many of the homes.
To help remove pressure on the forest and secure cleaner waters, WWF subsidizes the cost of constructing toilets and biogas plants. In the process, community members get both health and environmental benefits, as well as learn that protecting the environment is a means to gain time back in their day. In many developing countries, women spend more than eight hours a day traveling six to nine miles just to get water. But the more they use water filters in their homes, the less time they spend going to the far reaches of the village to find clean water. And the more they use biogas stoves, the less time they spend walking to the forests to gather wood.
Devi helps protect a local forest, too. She is part of a group that maintains a 125-acre forest around a Hindu temple on a distant hill. She was inspired to help create that group in 1999, when the forest was stripped clean by people stealing wood to sell for profit. At the time, she could see the temple from her home—an unfortunate fact, considering that when she moved to the community a year earlier a stand of woods had completely blocked it from view. The community successfully petitioned the Nepali government (which owns the land) for the authority to plant trees there and manage them for sustainable harvest.
That kind of intimate connection between people and nature is at the core of conservation in Nepal, so in addition to educating communities about how to sustainably manage their forests, WWF also works with people to fight the devastating impacts of wildlife poaching and provides training and equipment to stop the spread of fires.
"The success of the WWF-Nepal program largely depends on the participation of local people," says WWF-Nepal Senior Conservation Program Director Dr. Ghana Shyam Gurung. "Conservation work has to be supported by and benefit them, and be done with their help. That's why we call our work 'conservation with a human face.'"
Women's empowerment is the last piece of the puzzle. In developing countries, it's a WWF priority to ensure that women have the power to make decisions about what happens in their lives, homes and communities. This is particularly important in Nepal, where many women are single-parenting because their husbands have had to emigrate to find work. Programs like the workshops attended by Devi are part of the effort to invest women with greater influence.
It's been widely reported—and a range of studies show—that empowering women is essential to successful conservation. Women are often more risk averse than men, and thus more likely to make decisions that minimize risks for their families and communities. Women are more willing to change their strategies in response to new information. Additionally, if female farmers had the same access to resources as male farmers do, the number of hungry people in the world could be reduced by up to 150 million.
Shubash Lohani, director of sustainable landscapes for WWF's forest program, reiterates the point. "Women are responsible for doing most of the work in rural communities," he says. "They are the ones collecting firewood or fodder from the forests or fetching water from the faraway spring. Given how connected women are to nature, they are the most knowledgeable about natural resources and their connection to better livelihoods. Communities without empowered women are missing the backbone that strengthens them and helps them climb out of poverty."
All of the work Devi does in her community, with national organizations and global conservation groups, comes down to a simple fact: she loves and values the natural world. Her connection to it dates back to her childhood, when she walked through the forests and chased monkeys on her one-hour walk to school. Now she wants to give a healthy environment back to her neighbors and country—and with it better opportunities for her children.
"From the time I get up in the morning until about 10 at night, I am connected with nature," she says, as her husband and son gather around her at the end of the day. "Me and nature—we have a good relationship."
Additional reporting by Trishna Gurung and Sarah Wade. Illustrations by Grafilu.
Changing the Guards How a whole country rallied behind protection of Nepal's Wildilfe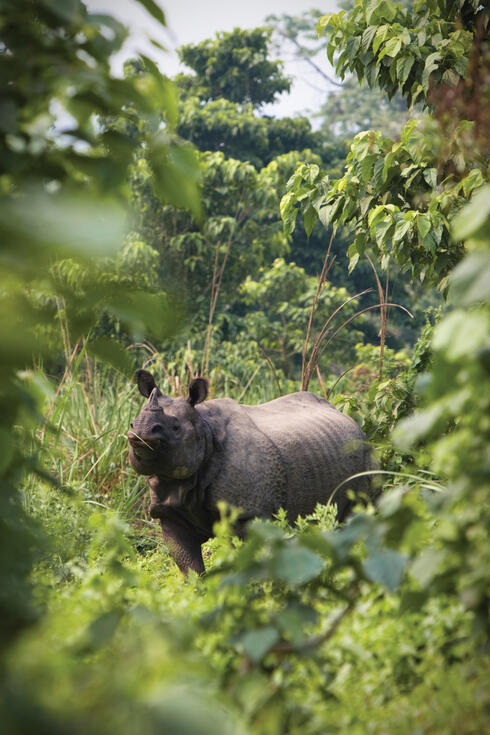 When Ramchandra Tripathi* entered Bardia National Park on January 14, 2013, he came at noon, and didn't bother with stealth. An arrest warrant that had been issued in 2008 for Tripathi, a notorious rhino horn smuggler, was still in effect, but he assumed nobody would touch him. Tripathi had grown up in a nearby village, and he'd bribed and bullied his way past anyone who opposed the poaching jobs he was commissioning from cash-strapped locals. He'd even hired an assassin to hunt down the ranger who had filed the case against him.
He certainly didn't expect to find himself surrounded by more than 200 villagers eager to turn him in. But that was what happened after a community-run antipoaching squad spotted Tripathi strolling past park headquarters and quietly called for help. He's now serving a seven-year prison sentence.
Tripathi's capture is a striking indicator of how far Nepal has come in its fight against the poaching and trafficking of endangered species. The country has now celebrated two 12-month periods of zero poaching incidents—one in 2011 and another in 2014.
That's a tremendous departure from the past. The illegal wildlife trade is a global pandemic tainting almost every major transportation system and generating an estimated $8-$10 billion each year. Just 10 years ago, Nepal was one of the industry's messiest epicenters: an escalating civil conflict between the government and Maoist rebels had engrossed the country's leadership and forced many soldiers to abandon their stations in the national parks they normally patrolled.
Stripped of such protection, Nepal's forest parks—already difficult to monitor before the conflict—became an ideal place for men like Tripathi to do business with little fear of interference. So they did, and wreaked havoc. "[In] 2002, 37 rhinos were poached [in Nepal]," says Diwakar Chapagain, WWF-Nepal's wildlife trade monitoring deputy director, recalling the worst year on record. "Almost every day…we heard news about rhino poaching."
By the time the conflict ended in 2006, the country's one-horned rhino population had been nearly halved, from an estimated 612 in 2000 to fewer than 375 in 2005. This led to a widespread sense of urgency about the species' plight and the need to tackle wildlife crime from a new angle—one with a heavier emphasis on trade.
"It is not just the poachers who kill [these animals]," says Anil Manandhar, WWF-Nepal's country representative. "Wildlife crime involves a wide network, from local villagers who are lured with money to kill rhinos and other endangered animals, to traders and middlemen both in Nepal and from outside the country. These traders give poor villagers $1,000 to $2,000 [to shoot a rhino]. That is a whole year's or two years' income."
Middlemen, Manandhar adds, are also the key link in the supply chain: they funnel the poachers' goods into the international markets through border smuggling or business in the nearest big city. To help target those activities, in 2006 WWF-Nepal established a Wildlife Trade Monitoring Unit that added wildlife trade experts to its ranks—including Chapagain, who had two decades of government experience.
Such changes, along with other collaborations and partnerships between WWF and the Nepalese government, translated into a bigger, more dynamic communication network than the kind Tripathi had been easily stepping around. The new system spanned top-tier intelligence agents, local government and conservation officers, and members of the more than 400 community-based antipoaching squads that WWF supports throughout the country. For those individuals, the network has meant more information, shared more quickly and more safely. For several hundred poachers and middlemen, including Tripathi, it's meant a jail sentence.
And for Nepal's rhinos, tigers and other valuable wildlife, it's meant forests where zero poaching is the new, blissful status quo.
*Nepali authorities do not release the names of arrested parties. Ramchandra Tripathi is not the middleman's real name.
Written by Sarah Wade

Explore More
About

World Wildlife magazine provides an inspiring, in-depth look at the connections between animals, people and our planet. Published quarterly by WWF, the magazine helps make you a part of our efforts to solve some of the most pressing issues facing the natural world.