President's Letter: Conservation with a Human Face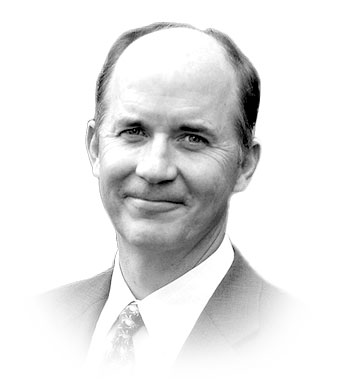 "In 2013, in the midst of a global scourge of wildlife crime, Nepal was the sole country to achieve zero poaching of elephants, tigers and rhinos. It's an inspiration for the rest of the world to follow."

Carter Roberts
President & CEO, WWF
Conservation brings innovation to life. The world constantly changes around us. At our best we quickly reinvent the way we work to match that shifting reality. No place better epitomizes the impact of determination and resilience in response to change than Nepal.

I first met Anil Manandhar on September 25, eight years ago, at the end of a long hallway in the yellow brick airport in Kathmandu. It had seemed my plane couldn't get there fast enough. I'd received an emergency phone call just 48 hours earlier: a helicopter had crashed in the mountains surrounding Mt. Kangchenjunga, killing all 24 people aboard. Those lost included the leaders of WWF's Eastern Himalayas program and a host of conservation leaders from Nepali society.

Anil is a burly guy, tough as nails but with a poet's soul. Even though we had just met, already we had something in common: we both should have been on that helicopter. We had been left off the itinerary at the last minute. Anil took me quickly to the government officials in command to discuss the search and rescue, which turned into a search and recovery. Then with grieving families and staff we navigated an excruciating week that ended with a series of ceremonies and funerals in traditions both ancient and modern—from animist to Buddhist to Hindu to Mormon. Each service sought to honor the life of a unique individual, and find meaning in the lives and the world they left behind.

All had dreamed of conservation rooted, in the deepest possible way, in communities, where natural resources are owned and managed locally for the benefit of all. Mingma Sherpa, the indomitable head of our Eastern Himalayas program, who died in the crash, called it "conservation with a human face." He never forgot that real people must be part of every decision made and every solution proposed amidst the landscapes and spectacular megafauna we seek to save.

It is bittersweet irony that our friends lost their lives on the way home from a remarkable ceremony that transferred the management of the Kangchenjunga Conservation Area from the government to local communities. The genius in the vision of Mingma and his colleagues is that they built programs that enabled communities to take big ideas—like biogas stoves or compensation schemes or antipoaching efforts—and modify them for use at a cost and in a form that could be replicated at the scale needed. It was innovation that was flexible—a key ingredient often overlooked in sustainability.
Local, common wisdom held that our Nepal program would fail in the face of such immense tragedy. We knew better. Just two weeks after the crash I called Anil and asked him to become the new leader of our Nepal program.

Anil picked up the torch of conservation on behalf of his lost colleagues, and keeps it burning in their names. More than that, he and his team have wrought wonders. In just eight years, forests in critical corridors of the Terai Arc have rebounded. Maps show the visible restoration of corridors and pug marks of tigers appear again in areas we thought were lost. Tiger populations have tripled in Bardia National Park. Villagers have installed 8,000 biogas stoves, sparing the forests by using dung to create clean fuel. Families reclaim hours once spent cutting and hauling fuelwood—hours now free for generating income. Elimination of constant wood smoke in homes has led to improved health. This is truly conservation at its best—conservation with a human face.

Conventional wisdom says you can't accomplish conservation in a country with a less than stable government. I disagree. If we deploy our imagination, our conviction and our deep community ties—along with astonishing people like Anil and his team—the potential for success is limitless. For example: in 2013, in the midst of a global scourge of wildlife crime, Nepal was the sole country to achieve zero poaching of elephants, tigers and rhinos. It's an inspiration for the rest of the world to follow.

Your contributions and support help fuel the work of people like Anil. You give WWF's extraordinary staff around the world the wherewithal to tip the odds in Earth's favor, by helping communities create and implement solutions that last.

Carter Roberts
President and CEO
Explore More
About

World Wildlife magazine provides an inspiring, in-depth look at the connections between animals, people and our planet. Published quarterly by WWF, the magazine helps make you a part of our efforts to solve some of the most pressing issues facing the natural world.