Taking Responsibility for the Future
WWF Board of Directors Member Wang Shi on promoting conservation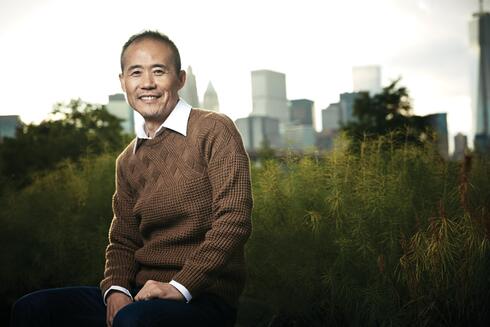 Wang Shi is one of a select group of mountaineers in the world to have achieved a feat known as the "7 + 2": scaling the highest peaks on seven continents as well as trekking the two poles. But climbing mountains isn't enough for Wang, founder of the largest residential real estate development company in China.
"I must take responsibility for the future," he says. "Otherwise, my success isn't worth anything."

Wang's path to conservation champion was not an obvious one. "I was born in a city in China," he says, "not in a rural area. But one summer break when I was young I went to my mother's homeland in the mountains, which was very rural, and I loved it. When it came time to go back to the city, I refused. But as to focusing on the protection of the land, on conservation—that didn't come until I was older."
He is more than making up for lost time. The company Wang founded, China Vanke, pioneered green home construction in China and continues to define the industry. All new Vanke properties achieve at least a one Green Star (the Chinese green building standard) rating, and more than half of all buildings in China with the highest-possible Green Star rating were built by the company. Wang was also one of 80 private-sector entrepreneurs who cofounded the Society of Entrepreneurs and Ecology, China's largest environmental network.
After Wang had become an established businessman, he met Dr. Pan Wenshi, known as "Father of Panda" in China and widely considered the country's premier panda biologist. It was Dr. Pan who first encouraged Wang to utilize his high profile and good fortune in service to conservation. On the morning Wang was leaving to trek the South Pole, Dr. Pan handed him a letter to read on the airplane. The letter suggested that Wang use his influence in China to promote the protection of the environment.
"I must take responsibility for the future. Otherwise, my success isn't worth anything."

Wang Shi
Member, WWF Board of Directors
"Climbing mountains and being close to nature is my passion—but to be honest, at the time I really had no idea how to take responsibility for nature, or how to promote protecting the environment," says Wang. "But helping publicize the adventures I went on, to bring the message of conservation to as many people as possible? Yes. Absolutely. It's the least I can do.
When Wang joined the WWF-US Board two years ago, the plight of the snow leopard wasn't really on his radar. But after learning more about the elusive "ghost of the mountain"—a species that is classified as endangered and finds some 60% of its historical range in China—he was game when WWF approached with a proposal to help further their conservation.
He was also surprised—but intrigued—that WWF hadn't taken the predictable tack of suggesting he support panda conservation, given the animal's high profile in China.
"I love pandas, and they are certainly an iconic symbol of conservation," he says. "But not as many people know that snow leopards are apex predators—the top of the food chain. If snow leopards were to disappear, the whole ecosystem would be thrown out of balance. Focusing on snow leopards was a really smart idea."
Wang may also have appreciated the snow leopard suggestion because he and they have something in common: their affinity for high places. The cats live in the rugged mountains of central Asia at altitudes between 9,800 and 17,000 feet. And Wang is never more at home than when he is in pursuit of the next summit.
He's now planning an expedition to track, and hopefully collar, snow leopards as part of his support of WWF's work to conserve the species. But much like a snow leopard—the only large cat that doesn't roar—you won't hear about it from him. Wang Shi may be well known as an environmental philanthropist now, but he still prefers to let his commitments to the future speak for themselves.
Explore More
About

World Wildlife magazine provides an inspiring, in-depth look at the connections between animals, people and our planet. Published quarterly by WWF, the magazine helps make you a part of our efforts to solve some of the most pressing issues facing the natural world.