A Tradition of Giving Back
One family's commitment to conservation
Issue: Winter 2015
Author: Brie Wilson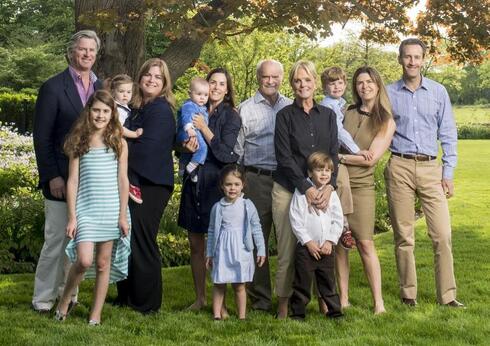 Five generations after his great-great-grandfather founded Chicago's Marshall Field and Company, one of the world's first modern department stores, Marshall Field V makes philanthropy his life's work—helping people, communities, and nature by giving his time to a number of organizations, including WWF. But perhaps his most important legacy is the family who shares his commitment to making the world a better place.
It's a warm, sunny day in Lake Forest, Illinois, a suburb north of Chicago. The sky is nearly cloudless; the grass a sea of green. It is a perfect day for playing outdoors, which is exactly what Marshall Field is doing with his grandchildren in the backyard of his daughter's home.
The family has gathered for the Memorial Day weekend. While Marshall blows bubbles with two young grandsons, his wife Jamee joins daughters Jamee Field Kane, Stephanie Field Harris, and Abby Field Gerry in playing with the other grandchildren.
Nature Lovers
It's clear the Fields relish being outdoors.
"We grew up in nature," says Jamee Jr. "We have a farm about an hour north in Libertyville. We used to live there during the summers and spend all our time outside, walking up and down the stream in the woods. Mom planted a garden with us every year. Dad would take us fishing in a rowboat," she recalls.
"I decided WWF would be my [philanthropic focus] because the organization has a unique thing going for it. In order to make any difference in conservation, you have to be big—bigger and better. You have to coordinate on a global scale and WWF is the only organization that can do it."

Marshall Field *
A self-described "fishing nut," Marshall cites a lifelong love affair with nature as the driving force shaping his philanthropy. "I was into nature from the 8th grade on because I spent so much time fishing." He remembers reading Rachel Carson's Silent Spring, which really opened his eyes to the plight of our planet—but at the time, "there was nowhere to turn if you wanted to do something about it."
Then he got involved with WWF. In the early 1970s, Marshall's stepfather was on the board of The Conservation Foundation (which affiliated itself with WWF in 1985) and he asked Marshall whether he would be interested in getting involved in the environmental movement. Marshall joined WWF's Board of Directors in 1973, and over most of the ensuing years has served in a variety of roles on WWF's Board, National Council, and other volunteer committees.
One Wild Life
For Marshall, giving back is something that started generations ago and was reinforced by his own father, who passed away in 1965. "I inherited, if you will, five generations of people saying you should help other people. So it was never a question growing up: You give back. The same goes for my children."
WWF has been and continues to be Marshall's foremost philanthropic focus. "I decided WWF would be my number one because the organization has a unique thing going for it. In order to make any difference in conservation, you have to be big—bigger and better," he says. "You have to coordinate on a global scale and WWF is the only organization that can do it."
During his time with WWF, Marshall has been the driving force behind a number of conservation projects, including efforts to protect and restore tiger and monarch butterfly populations. Two trips to witness the monarch hibernation in Mexico have fueled his passion for protecting the remarkable species, which has seen declines of more than 80% over the past two decades. He's currently leading an effort to restore critical habitat along the monarch's migratory route through the US. "To me, the monarch butterfly is next to the bald eagle in terms of importance to nature in the Western Hemisphere."
He's helping inspire others to support WWF's work, too. "Well, if I'm interested in it, I'm going to try and get other people interested. Because in the long run it's the number of people that are yelling with the same voice that is going to make a difference."
Jamee Field shares her husband's commitment to conservation. While his interests are global, hers veer toward the local. "Marshall thinks big. I believe in the backyard," she says, motioning to the green expanse where their children and grandchildren play. Jamee currently serves as a life director on the board of the Lake Forest Open Lands Association, which helps preserve and restore landscapes in their community. She has also been involved with The Nature Conservancy in Illinois and, as daughter Jamee recalls, "spent years restoring the remnant prairie in the backyard."
But she credits her husband for much of her conservation focus. "I really attribute it to Marshall. I grew up downtown. The minute I married Marshall, at 23, we were at the beach and he's showing me sand fleas. He really opened up a whole new world for me."
Committed to Conservation
The next generation is equally engaged. Jamee Jr., Stephanie, and Abby all serve on WWF's National Council. When asked why they chose to volunteer with WWF, all three daughters credit their parents' interest in conservation and their father's decades-long involvement.
"I got involved with WWF because of my dad and all of his work over the years," explains Stephanie. Abby agrees: "It was definitely Mom and Dad's influence. At first, it was Mom's interest in restoring our prairie and local conservation. And then, as we got older, we traveled together on WWF trips with both of them. It felt like a natural progression to get involved with WWF—not only because my family was involved, but also because I could see how important it was."
Before starting a family with her husband, John Harris, Stephanie spent four years helping WWF engage young adults in conservation. And in 2007, Jamee Jr. spent six months helping WWF set up a marine preserve and develop sustainable economic activities in Tanzania's Mafia Island Marine Park. She now sits on the Lake Forest Open Lands Association board as well.
It's easy to think that someone as dedicated as Marshall would push his children to support his favorite causes. But the reality is quite the opposite.
"He never pushed us," Jamee Jr. says earnestly. "He certainly said, 'I love WWF and if you're interested in joining, let me know.' But he never said, "I really would like you to get involved.' If I suddenly said dance was my thing," she adds with a grin, "that would be okay, too."
House Rules
For a child growing up in the Field family, only a few things were nonnegotiable, and one was helping others. Thinking back on her childhood, Stephanie recalls, "Our parents taught us in no uncertain terms: You give back. It is only through luck that we are where we are today. It is our job and our duty. And it is an example we need to set for our own children."
This focus on philanthropy has had a tremendous impact on the entire family. Stephanie muses, "The greatest thing my father did was teach by example. He would get up every day and he'd go out and help these organizations like it was his job. Even with the amount of money he has been able to give, his real legacy is his work ethic and commitment. Far more than what he has given himself, what matters to my father is how he has been able to raise awareness and do so much more."
The other nonnegotiable when you're a member of the Field family? Fishing. Every child expresses a love for the pastime—except Stephanie, who admits she doesn't enjoy fishing quite as much as her siblings do. Abby's husband, Lloyd Gerry, is an avid outdoorsman and fisherman (and a member of WWF's National Council as well). "Salmon fishing is a little cold for me," Abby confesses, "but I love going to warm places to fish. My husband and I got together on our first date because of fishing. And we went fishing on our honeymoon."
Every member of the family has fishing stories to tell. For Marshall's son, Marshall VI, fishing brought father and son together: "When I was really young, we fished together. And we still do. We have fished all over—salmon in Iceland, marlin in Costa Rica, and sailfish in the Bahamas."
One of the more famous family stories is of the time Marshall stopped a round of golf at the famed course in Augusta, Georgia, to fish a pond along one of the fairways. "I said 'This is like a 12-pound bass, I've got to go.' It was the biggest bass I'd ever seen in my life, so that's what I did." Asked if he caught the fish, Marshall admits with a chuckle, "No, that fish just laughed at me."
Legacy First
Marshall and Jamee's grandkids range in age from six months to 22 years. And there are already signs that the apples won't fall far from the tree.
The eldest, Marshall VI's daughter, is in college and interested in philanthropy. Abby's children share the family's love for nature. Stephanie's daughter has an interest in rescuing sea turtles and sells lemonade to raise money for WWF; her son wants to help great white sharks. Jamee Jr.'s children are only one and three years old, so she is "starting them with a love for nature first." When they are older, she plans to take them on family trips, the way her parents did, and get them involved in volunteering and community projects.
Each member of the family has his or her own idea of what being a Field means, but all feel a responsibility to make the world a better place.
Marshall says that, from the beginning, he set out to leave Chicago "slightly better than when I got here." Despite the admission that he hasn't "figured out how yet," he continues to fight the good fight. In the process he has inspired his wife and children, and likely his grandchildren and future generations, to give back not just to Chicago, but to the world.
Memory Lane
The family is incredibly close. Hugs are shared often, as are jokes and colorful tales. Many of these stories center around family trips.
When the kids were younger, Marshall and Jamee took the family on an adventure every August—to Africa, Alaska, the Galápagos Islands. Jamee Jr. recalls, "We didn't go to Disney World or a resort in Mexico. We went around the world and saw places few people have the opportunity to see. Places that revolved around nature."
These trips had an impact. "Taking a family trip every year expanded my view of environmental and humanitarian issues," confirms Abby.
During a trip to Mexico, they had the opportunity to see whales off the Pacific coast of the Baja Peninsula and witness monarch butterflies hibernating in the mountain forests there. Jamee Jr. recalls vividly that the flapping of butterfly wings "sounded like thunder"; Abby calls the whale experience one of her favorites of all time.
generation conservation
For more than 50 years, WWF's work to protect the future of nature has brought people together, including families like the Fields, who pass on their love and support for our mission from generation to generation.
What unites these families is a passion for helping others and protecting life on Earth.
It is because of their remarkable generosity, and yours, that we are able to continue our work throughout the world—protecting species, ensuring the flow of fresh water, restoring forest habitat, keeping oceans clean and healthy, addressing climate threats, and finding ways to feed a growing population.
Every day, we are reminded of the power of people to transform the world for the better. We are tremendously grateful for the unwavering commitment of all of the families, small and large, who are helping WWF do just that.
Explore More
About

World Wildlife magazine provides an inspiring, in-depth look at the connections between animals, people and our planet. Published quarterly by WWF, the magazine helps make you a part of our efforts to solve some of the most pressing issues facing the natural world.