Botswana's Freshwater Oasis for People and Wildlife
In the middle of the Kalahari, the world's largest inland delta is an oasis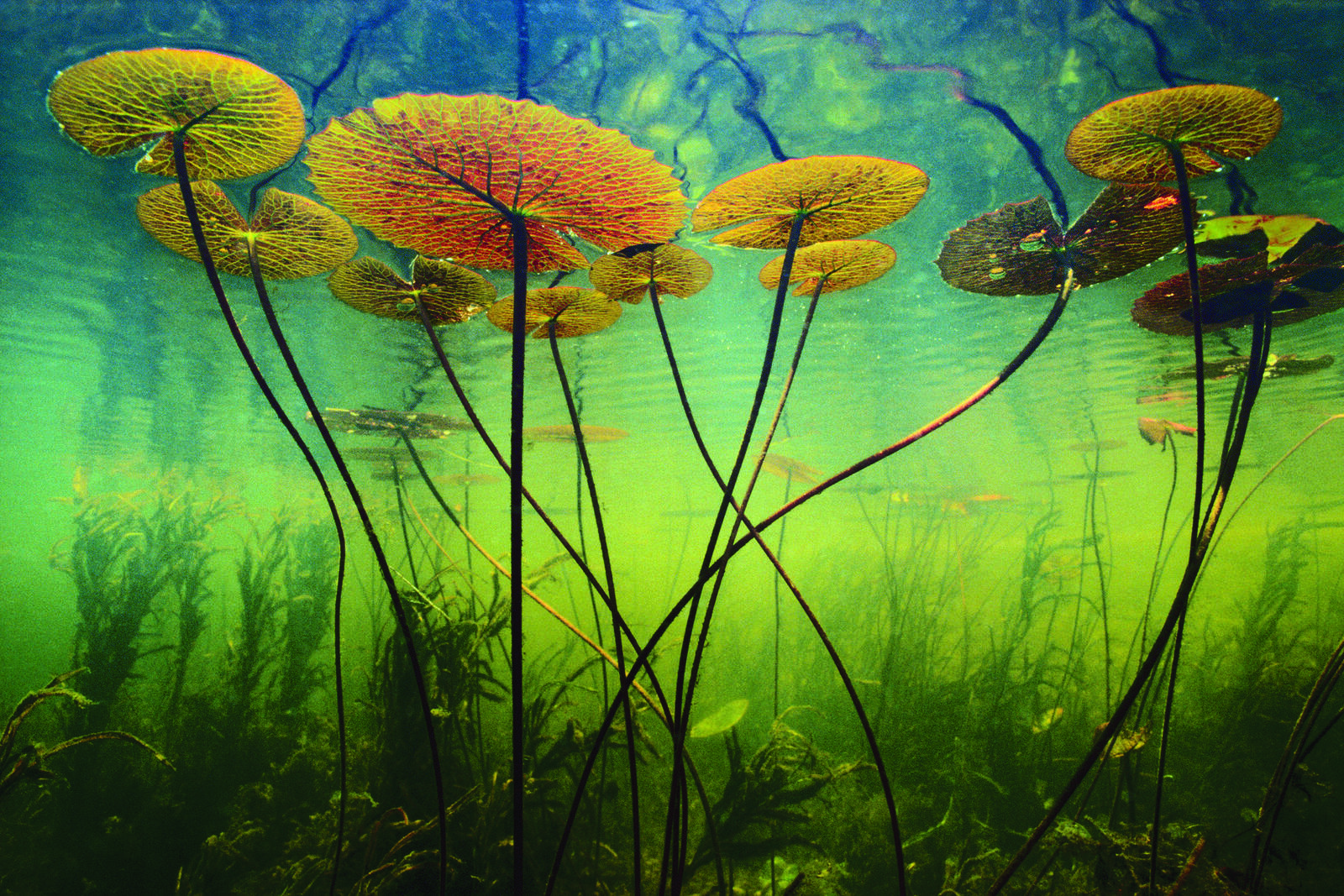 Issue: Winter 2015
Photographer: Frans Lanting
Photographer Frans Lanting was visiting Botswana's Okavango Delta when he noticed an intriguing detail in a lagoon: a cluster of water lilies whose long, slender stems were anchored in desert sand. He slipped under the surface to investigate. "Looking up," he said, "I saw that the lilies symbolized the essential wonder of the Okavango: This great wetland…is really just a thin sheet of water stretched across [the] Kalahari [Desert]."
The water itself is an anchor on a much vaster scale. Starting as rain over Angola every October, it flows south through Namibia and into Botswana, where it enters the Panhandle—a narrow stretch of the Okavango River—before spreading across 6,000 square miles of wetlands.
"It's the biggest inland delta in the world," says Morris Mtsambiwa, executive director of the Kavango Zambezi Transfrontier Conservation Area (KAZA), which spans parts of Angola, Botswana, Namibia, Zambia, and Zimbabwe.
Lying within KAZA, the delta is a key source of fresh water that attracts a dizzying array of wildlife. Crocodiles and hippos slip into its pools during Botswana's driest summer months. Elephants, antelopes, black rhinos, and white rhinos feed on its lush vegetation. Cheetahs and wild dogs chase down prey that gathers there to drink.
The delta also supports thousands of people, including some tribes who have lived in the region for thousands of years. "Both the natural and cultural heritage of the Okavango are very rich," says Mtsambiwa.
That is the essence of the Okavango Delta: a thin sheet of water with deep ecological and social value. And incredible beauty, down to the roots.
Explore More
About

World Wildlife magazine provides an inspiring, in-depth look at the connections between animals, people and our planet. Published quarterly by WWF, the magazine helps make you a part of our efforts to solve some of the most pressing issues facing the natural world.