In-Depth
Bristol Bay
Stunning natural beauty, abundant wildlife, millions of salmon, and a proud corps of local protectors make Alaska's Bristol Bay a treasure on a global scale
Issue: Winter 2015
Author: Ben Goldfarb
Photographer: Paul Colangelo
At 40 minutes to midnight on a tranquil June evening, with a pale light lingering in the Alaskan sky, Robin Samuelsen noses his battered pickup truck onto Kanakanak Beach to see if the kings have come in.
Samuelsen, a stout 64-year-old with a thatch of white hair and a voice like a revving snowmobile, rattles over black rocks, growling greetings to fellow fishermen. This beach, the prime fishing spot in the gritty port of Dillingham, will never appear on an Alaskan postcard: To Samuelsen's right, a slumping riverbank oozes mud; to his left, the Nushagak River churns like a dirty chocolate milkshake.
But what the Nushagak lacks in snow-capped mountain scenery, it makes up in fish. Every June, some 40 million sockeye salmon surge shoreward toward the Nushagak, the Kvichak, and other rivers that feed Bristol Bay, the vast arm of the Bering Sea that produces 40% of America's wild seafood. Though Bristol Bay is renowned for hosting the world's largest sockeye runs, four other salmon species thrive here too—and it's king salmon, prized for its size and sumptuous flesh, that Samuelsen wants.
Samuelsen parks at the first net—a string of white floats, perpendicular to the beach, culminating in an orange buoy 150 feet offshore. Will Chaney, Samuelsen's son-in-law, fastens the net to the truck's trailer hitch, and Samuelsen drives up the beach, tires spitting mud, the green mesh emerging behind him. The first net holds only two chum salmon, a less desirable species; but when Chaney and Samuelsen haul in their next net, they find a female king, long as a man's arm, scales flashing purple in the waning light. "Beautiful hen, full of eggs," grunts Chaney as he hefts the fish into the truck.
In Bristol Bay, salmon trump everything: day jobs, sleep, health. A few years back, Samuelsen had surgery for an aneurysm and suffered two strokes on the operating table. Contrary to doctor's orders, he was fishing 10 days later. "It's like being a basketball player in the playoffs," he explains. "You don't quit in the middle of the fight."
Samuelsen, like all of Bristol Bay's residents, knows something about fighting. A decade ago, his once-obscure corner of Southwest Alaska gained notoriety via the Pebble Mine, a copper and gold mine proposed for Bristol Bay's headwaters that, according to the Environmental Protection Agency, would likely inflict grave harm on the region's fisheries. Meanwhile, out in the waters of the bay proper, oil and gas drilling—and the possibility of a catastrophic spill—remained a near-constant threat.
For years, locals like Samuelsen have battled to stave off the industrial development that would jeopardize their culture and livelihood. But though Samuelsen is no less vigorous than he was in 1965, when he captained his first boat at age 14, he knows the next generation of fishermen must finish the fight. In villages throughout the bay, leaders are crafting a sustainable new vision for the region's fisheries, economy, and environment. Bristol Bay rose to prominence through its opposition to mining and drilling—yet the bay's future will be defined not only by what its people are against, but by what they are for.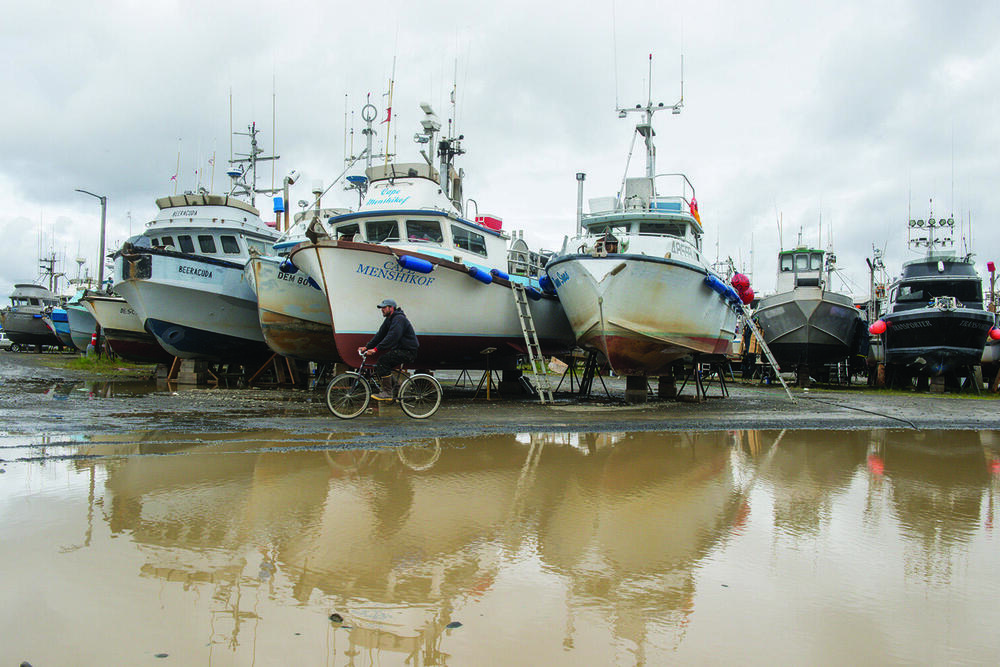 From the air, Bristol Bay's sprawling watershed is an endless, rolling quilt of black spruce and brown muskeg, dotted with occasional moose and grizzlies. What you notice most, though, is water: the shimmering wetlands, the intricate crosshatching of streams, the glinting rivers winding toward the ocean. This is a porous landscape, one where surface water and groundwater mingle freely, where the connection between land and sea is etched in blue upon the tundra.
If rivers are Bristol Bay's arteries, salmon are its red blood cells. Each fish functions as a nutrient conveyor belt, carrying the nitrogen and phosphorus in their bodies dozens of miles upstream, nourishing everything from eagles to alder. Belugas and orcas hunt offshore, lynx and wolverines roam the hills, and waterfowl and shorebirds from four continents descend on the area during their migrations. Lake Iliamna, a 1,000-square-mile body of water nestled near the region's headwaters, hosts one of the planet's only populations of freshwater seals.
"So many of the places we work have been polluted, deforested, mined, or destroyed," says Margaret Williams, managing director of WWF's Arctic program. "Bristol Bay is one of the few truly intact ecosystems left in the world."
Bristol Bay's salmon nurture not only flora and fauna—they support an intricate human ecosystem as well. The bay's sockeye fishery is worth $1.5 billion each year; add in other fisheries, like pollock and halibut, and that figure climbs to $2 billion. Just as important, over 4,000 locals, including many native Yup'ik and Dena'ina, rely on fish, moose, and other subsistence foods for 80% of their protein.
"When you hear about people catching fish, everybody's aches and pains go away," says Kim Williams, executive director of a tribal association called Nunamta Aulukestai, or Caretakers of the Land. Williams, a lifelong subsistence fisher with gray-streaked hair and a ready smile, eases open the door of her smokehouse, a plywood-and-tin shack where she blares public radio to ward off bears. Glowing red slabs of salmon flesh hang drying across wooden beams.
"We're a seasonal people," she says, pinching a strip to assess its progress. "If you came here in the fall, everybody would be talking about moose. If you came in the early spring, it would be ducks and geese. Our lives revolve around these events."
Yup'ik locals like Williams aren't the only folks who depend on Bristol Bay's bounty. A mile away, at the Dillingham boatyard, the bay's commercial fleet is gearing up for the season. Around the mud-spattered yard, hundreds of boats—the Katanya, the Hammer Time, the Dreamboat—stand poised on blocks and barrels, their crews circling like anxious satellites.
Thankfully, all the last-minute welding and net-mending seems more invigorating than panic-inducing. "Most important thing is that we have fun on the boat," says Snooks Moore, a 71-year-old captain from Homer, Alaska, sporting bright red fingernails in the cabin of her boat, the Razor's Edge. Moore has been fishing here since 1984; this year, she's back aboard despite breaking her pelvis in a hiking accident. "I've tried to quit twice, and I just can't do it," she laughs. When Moore someday hangs up her Xtratuf boots, her granddaughter Monica will inherit the captain's chair.
For Heather Talbot, a third-year captain with rooster-tail feathers threaded into her strawberry-blond hair, fishing is a different sort of family affair. Talbot's parents say they conceived her aboard their boat, the Silver Kris, and she served as crew when she was 16 years old. After her father died in 2008, Talbot doubted her own ability to captain the vessel, and the Kris sat mothballed. She eventually gathered her courage, and on the 2013 summer solstice she set sail for Bristol Bay's southern reaches. There, Talbot fished for 17 hours straight—and scattered her father's ashes. She also kissed the first salmon of the season and returned it to the bay.
"I believe in the magic of what's happening here," she says. "It's a way of thanking the fish for coming back year after year, for providing for me and my family. We can model what sustainable fisheries look like."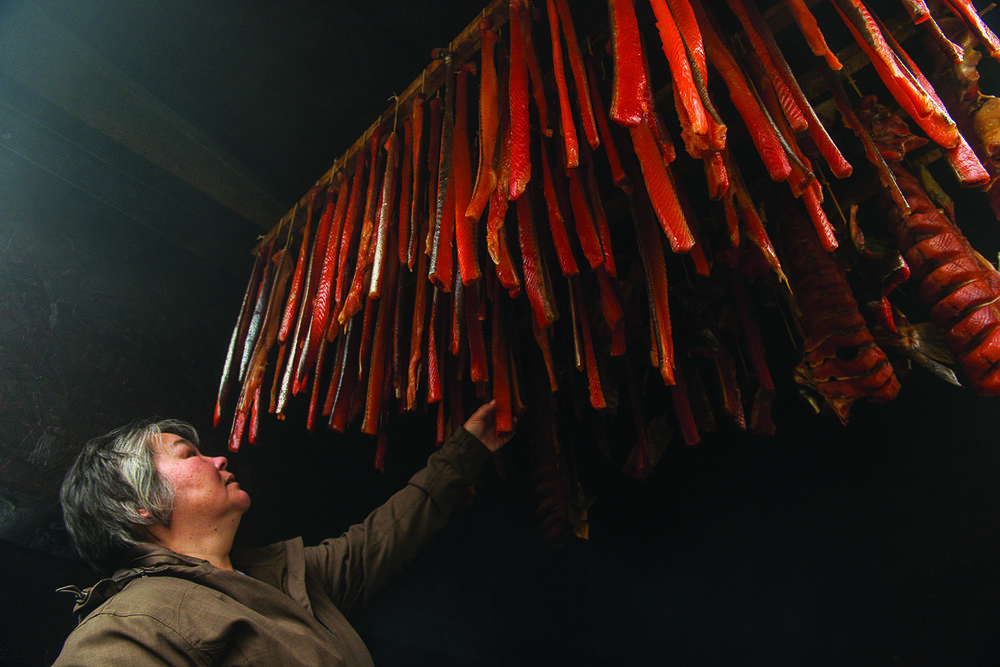 Protecting Bristol Bay's abundance has not been easy. The bay's waters were first leased for offshore oil drilling in 1988. But after the 1989 Exxon Valdez spill demonstrated just how badly oil and water mix, Congress included Bristol Bay in a drilling moratorium. Then, in 2007, President George W. Bush reopened the bay for drilling. "Everybody who was concerned about offshore drilling thought we had already won," says Dorothy Childers, associate director of the Alaska Marine Conservation Council (AMCC). "Local people had to take up the torch again."
To counter the threat, WWF, AMCC, The Pew Charitable Trusts, Nunamta Aulukestai, and the Alaska Independent Fisheries Marketing Association launched what came to be known as the "Fish Basket Coalition," an inclusive collaboration that supported protecting the bay. After years of advocacy—and some political turnover—Fish Basket's work paid off. In December 2014, President Obama permanently withdrew Bristol Bay from consideration for offshore drilling, calling it "too precious for us to be putting out to the highest bidder." Robin Samuelsen, a longtime proponent of conservation, received a signed copy of the proclamation. And in September 2015, he personally thanked the president when Obama became the first sitting US president to visit the American Arctic and see Bristol Bay with his own eyes.
Nonetheless, the battle for the bay rages on. Though offshore drilling is seemingly vanquished, another threat lingers: Pebble Mine. According to an EPA assessment, the mine would destroy up to 94 miles of salmon streams and 5,350 acres of wetlands, lakes, and ponds at Bristol Bay's pristine headwaters—and that's even if Pebble doesn't suffer a disastrous toxic spill, a fate that has befallen similar mines. Furthermore, constructing North America's largest open pit mine in the Alaskan wilds would require a tangle of invasive infrastructure, including roads, pipelines, and a power plant big enough to serve Anchorage.
Little wonder, then, that Samuelsen, like 85% of Bristol Bay's commercial fishers and 82% of its residents, opposes Pebble. "We have our culture to protect, and we're not going to give it up," he says outside his smokehouse the day after his trip to Kanakanak Beach. At a nearby table, Samuelsen's wife, Judy, joins strips of salmon with white twine. A fragrant wisp of cottonwood smoke twists from the fire pit beneath the drying racks. "If we gotta meet 'em in Anchorage, we'll meet 'em in Anchorage," he declares, his voice rising. "If we gotta meet 'em in DC, we'll meet 'em in DC. If we gotta go to a foreign country, we'll go to a foreign country."
It's no idle boast. In 2010, a group of Native leaders traveled to London to express their opposition to Anglo American, the mineral giant that owned half the mine. The gambit helped: In 2013, Anglo pulled out. Rio Tinto dropped its stake six months later, leaving Canadian corporation Northern Dynasty Minerals as the sole owner of the troubled project. Then, in February 2014, after an exhaustive review of the mine's potential impacts, the EPA took steps to potentially nix Pebble altogether under Section 404(c) of the Clean Water Act. The agency received over 1 million comments about its proposal, with 98% of those that came from Bristol Bay residents favoring the protection of the bay.
"You don't realize how special your life is until a giant corporation tries to take it away," says Apayo Moore, an artist and activist from the village of Aleknagik who grew up fishing with her father near Dillingham. "The fight is still ours. We have to keep going."
"WWF was an invaluable partner in providing additional capacity to in-region organizations—like Nunamta Aulukestai—to build community and village support for protecting Bristol Bay, and a longer-term branding initiative to support a sustainable economy into the future. WWF also played a key role in educating the US government about the importance of the region."

Anne Henshaw, PhD Program Officer, Oak Foundation
In some respects, Bristol Bay is rich beyond measure: Look inside Samuelsen's freezer, overflowing with salmon strips, moose burgers, and huckleberries, and it's clear why he rejects industrial development. Still, the region faces daunting challenges. It is disconnected from Alaska's road system, so provisions have to be flown in, which explains the $6.37 gasoline and the $8 milk. Unemployment spikes to 20% in winter, when fishing jobs dry up. Pebble Mine may not be the answer, but, says Kim Williams, "I recognize the fact that we need economic development."
The obvious solution is to supercharge the value of Bristol Bay's signature industry, the salmon fishery. For decades, the bay's salmon were crammed in a can and sold at bargain-basement prices. Lately, though, more fishermen are treating their salmon with care—and profiting as a result. Back in the Dillingham boatyard, Robert Buchmayr, a Seattle-based captain with ice-blue eyes and a dark brown mane, clambers onto the Okuma, a boat that features the latest in salmon-handling technology. A chute conveys the fish straight from the net to the deck to avoid bruising, and a tank belowdecks preserves Buchmayr's catch by floating it in refrigerated seawater. He also bleeds each salmon dry as it comes aboard, improving flavor. "We've sacrificed sheer production for quality," Buchmayr says. "Now we get 40 to 50 cents more per pound."
While innovation has boosted the fishery's value, not all locals can afford the Okuma's equipment. Many cash-poor Bristol Bay residents have sold their fishing permits, and it's almost impossible to buy back in: These days, a permit will cost you around $150,000, says Norm Van Vactor, CEO of the Bristol Bay Economic Development Corporation. Wandering the boatyard, you'll meet nearly as many doctors, lawyers, and retired Boeing executives as Natives. Each year, estimates Van Vactor, about 15 Bristol Bay residents lose their permits when they sell them, move out of the region, or face financial difficulty.
Van Vactor wants to reverse those trends. His group is devoted to enhancing the value of the region's fisheries and is working with vessel manufacturers to develop a safer, more cost-effective new boat that watershed residents could buy from manufacturers at heavy discounts. Last year, the group also funneled seven up-for-sale permits to Bristol Bay residents by guaranteeing their loans and providing business training.
"Young people here remember their parents sitting around the dinner table saying, 'How are we gonna make our boat payments?'" says Van Vactor in his Dillingham office, gripping a coffee mug inscribed with the word "prosperity." "There's a lot of education we need to do to get kids back into this fishery."
Still, it's hard to construct an economy on a foundation as volatile as salmon. Fish stocks and prices fluctuate, and massive runs can flood the market, inflicting financial pain. A growing chorus of leaders is calling for the bay to sustainably diversify its economy. In the watershed's interior, two promising initiatives are demonstrating how that might work.

© Paul Colangelo/WWF-US
On a flawless afternoon 75 miles east of Dillingham, Rick Murphy stands waist-deep in the crystalline Nonvianuk River, coaxing a gleaming rainbow trout into his net. Arctic terns flutter over the wind-whipped river. "C'mon, buddy, we're trying to set you free," coos Murphy, 18, as he pries a garish fly from the fish's mouth and eases the trout back into the river.
Though Bristol Bay is synonymous with commercial fisheries, recreational angling and tourism make up a $100 million industry. Prized game fish like rainbow trout and char feast on salmon eggs and juveniles, and wealthy fly-fishers flock to well-appointed lodges to pursue them. But because most fly-fishing guides hail from out of state, these windfalls don't help Bristol Bay's residents.
That's where the Bristol Bay River Academy comes in. Each year, the academy—cofounded in 2008 by a local conservationist named Tim Troll and an Ekwok village tribal chief named Luki Akelkok—provides a dozen local youths with a week-long crash course in fly-fishing and guiding—from tying leech patterns to serving customers. Though most students have never before picked up a fly rod, the 12-hour days force them to learn in a hurry. By the third afternoon of the course, which is a joint program of the local Bristol Bay Heritage Land Trust and Trout Unlimited, Murphy was catching trout on flies he'd tied himself. "That was one of the best feelings in the world," says Murphy, who's working as a classroom aide at a preschool while working on his GED.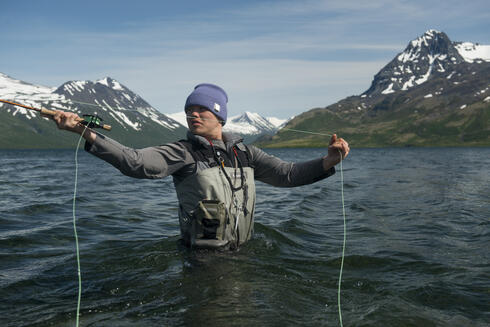 And the academy generates more than just happy memories: The Alaska Sportsman's Bear Trail Lodge in King Salmon employs five former students. Co-owner Nanci Morris Lyon claims academy alumni are among her most requested guides. "The way they can relate to people, the stories they can tell about this place, is something you can't put your finger on," Lyon says.
The academy isn't the bay's only promising initiative. In a tiny village called Igiugig, Christina Salmon (her real, and propitious, name) stands among rows of squash, zucchini, and tomatoes in a sweltering greenhouse. Outside, hyperefficient wind turbines shaped like giant eggbeaters whirl in lazy loops. Volunteers squirt water into herb boxes. Squint, and you could be in a Portland co-op.
To be sure, life in Igiugig isn't idyllic: Biting bugs are so ubiquitous that the school's mascot is the No-See-Um (motto: "Small But Mighty!"), and the village's remote setting adds thousands of dollars to residents' fuel costs. Yet Igiugig also harbors a culture of self-reliance that has transformed it into an environmental leader. "We've never been a community that's looked for handouts or help," says Salmon, who at age 32 is one of the village's council members. "We take care of our people."
While most local kids dreamed of the NBA, Salmon's childhood passion was recycling: In high school she went door to door, explaining to bemused elders how to discard their copper, batteries, and electronics. Though Christina and her sister, AlexAnna, left Igiugig to attend college, they returned eager to improve villagers' lives. Over several years, the savvy Salmon sisters went on a grant-writing spree. From the state, they earned funding for the greenhouse, which sells villagers cheaper and fresher produce than they could buy at a grocery store. From a renewable energy company, they got a run-of-the-river hydropower system that generates cheap electricity. They received the turbines from the California Institute of Technology. The village plans to someday meet its energy needs without fossil fuels.
After finishing up in the greenhouse, Salmon and her husband, Jeff Bringhurst, wander down to the sandy shore of Lake Iliamna to escape the flies. Bringhurst wades into the lake's shallows, fills a cup, and gulps. Iliamna is so clean that the town's residents can drink its water unfiltered. Bringhurst wipes his beard. "By the fall, it starts tasting a little like fish," he acknowledges, grinning, before he and Christina climb into their truck. They have pigs to feed.
Today, Bristol Bay's future remains undecided: Not only does the threat of Pebble Mine remain, but the region is warming faster than practically anywhere else on Earth. Trees have supplanted shrubs, snow has dwindled, and salmon that once migrated close to shore now congregate in the cooler depths. The Bristol Bay in which Robin Samuelsen grew up will not be the version that his grandchildren inherit.
As long as the bay has its defenders, though, it will have its fish. Last year, two of Samuelsen's six grandkids testified in Washington, DC, against Pebble Mine. "I went back later and all the secretaries were ranting and raving about them," Samuelsen says fondly over a steaming bowl of creamed sockeye.
Every year, Samuelsen gives away a third of his subsistence catch—to relatives, to neighbors, to the old and infirm. In Bristol Bay, this is how you welcome strangers, how you repay favors, how you express love. Says Samuelsen, the warm Alaskan light filling his kitchen, "Our gold mine's already out there in the water."
Explore more of this issue's coverage of Bristol Bay:
Explore More
About

World Wildlife magazine provides an inspiring, in-depth look at the connections between animals, people and our planet. Published quarterly by WWF, the magazine helps make you a part of our efforts to solve some of the most pressing issues facing the natural world.