Into Africa: Photographs by Frans Lanting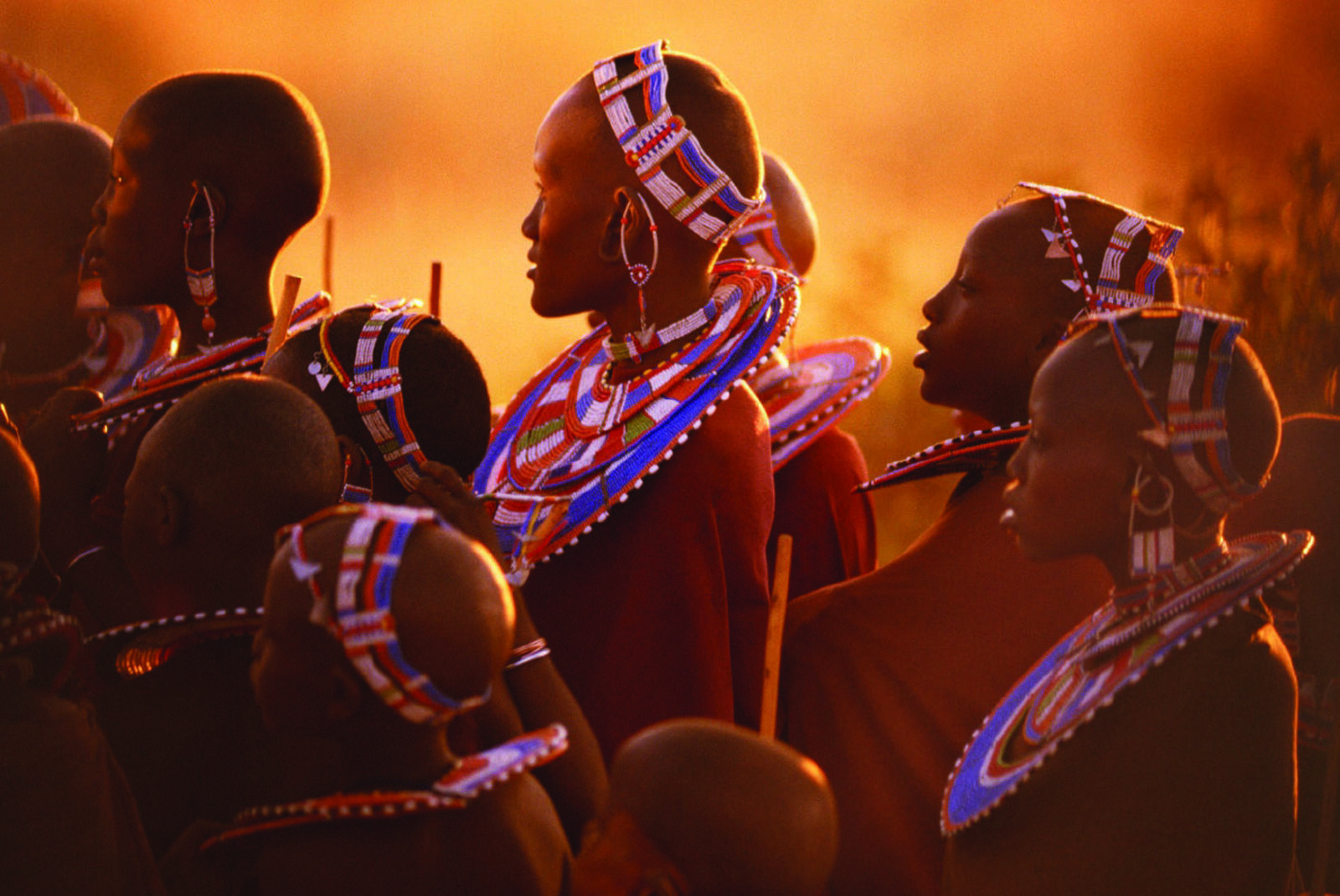 Issue: Winter 2015
Photographer: Frans Lanting
Frans Lanting has traveled to remote locations all over the world—from the Amazon to Antarctica—photographing nature. But he can't escape Africa's siren song.
"Landscapes that evoke scenes from another time, the animals who accepted me into their lives, and the people who have guided me into experiences that have shaped my life—for all those reasons, Africa will always resonate with my soul," he says.
In collaboration with his wife, videographer Chris Eckstrom, Lanting now shares this intimate connection through Into Africa, an exhibition at the Smithsonian National Museum of Natural History in Washington, DC. The exhibit pulls from images and stories collected during more than 30 years of work on the continent, and speaks to Lanting's many roles as photographer, conservationist, WWF contributor, and advocate working to protect the places he loves.
"I have been privileged to document [these] wild places and wild creatures," he says, "and to share the results of my work with people who may never have the chance to crouch before elephants at a water hole or roam with lions through the African night."
Created in partnership with National Geographic, Into Africa can be seen at the Smithsonian through summer 2016.
Above
Grasslands :: Primeval Plains
Maasai Women, Tanzania 1988
The savannas of eastern and southern Africa are crucial habitats for large mammals as well as people dependent on livestock for their livelihoods. Grasslands are also popular destinations for international tourism, an important component in many local economies. The Maasai people have long been an integral part of the East African savanna landscape. They've tended their herds in coexistence with wildlife, which they refer to as "God's cattle."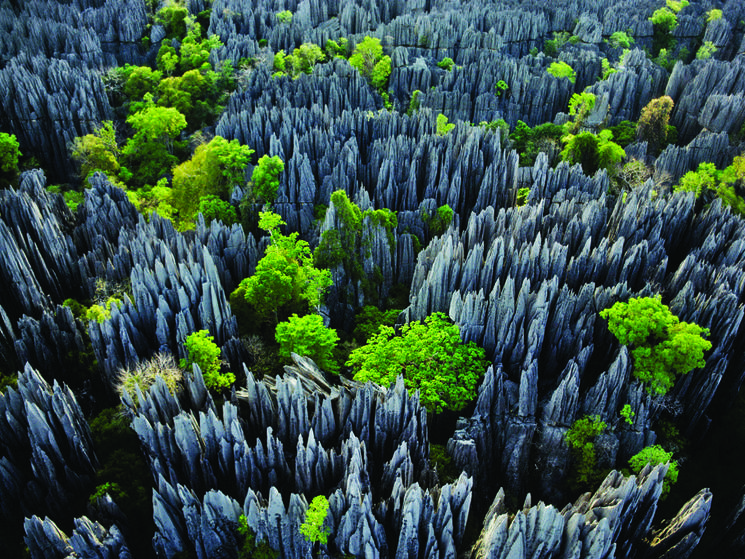 Islands :: Gondwana's Ark
Limestone Pinnacles, Madagascar 1985
When Madagascar drifted east from the continent of Africa 160 million years ago, it carried an ark of plants and animals that now survive nowhere else on Earth, adding a special urgency to conservation efforts there. Tsingy de Bemaraha, a labyrinth of limestone pinnacles up to 100 feet tall, is equally unique. Over time, the vast landscape has been eroded by water into fantastic spires with hidden caverns below.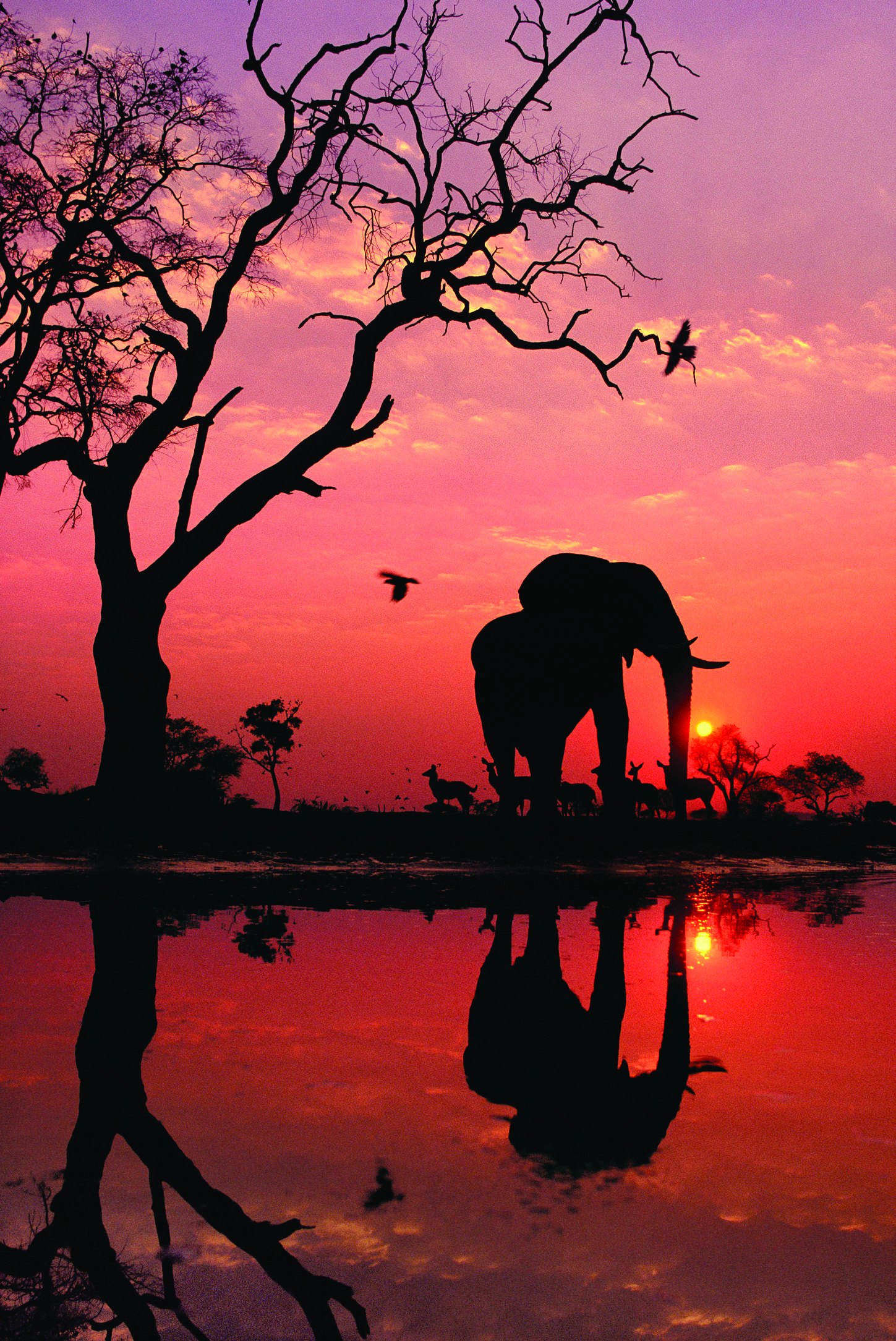 Wetlands :: The Gift of Water
Elephant at Dawn, Botswana 1989
Rivers originating in the highlands of Angola and Zambia feed lush inland deltas and floodplains across southern Africa. During my yearlong sojourn in the Okavango, I often stayed out to explore the world of the African night. Sometimes I would return to a favorite water hole before dawn to watch elephants move around me like shadowy shapes. One morning I created this image of a large bull with a herd of thirsty kudus on the horizon.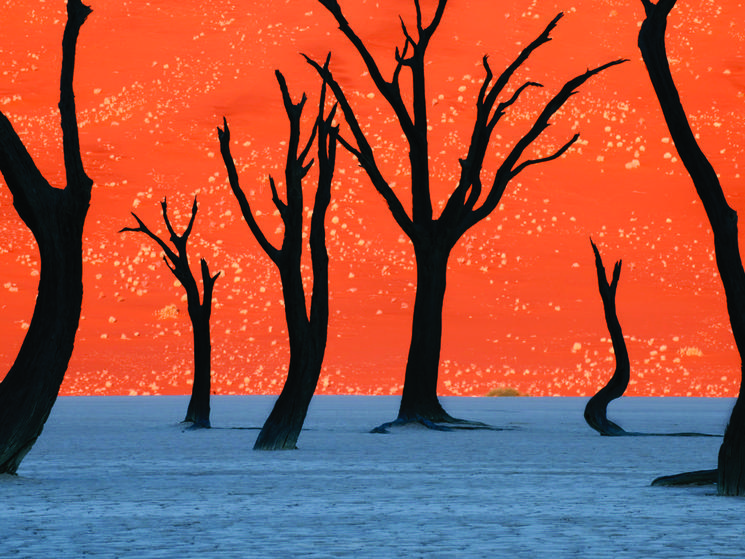 Deserts :: The Sands of Time
Ghost Trees, Namibia 2009
The interior of southern Africa is a desert rimmed by mountain ranges. Low human population densities and a lack of arable land are inspiring new approaches to utilizing wildlands and wildlife. A river once flowed through this remarkable place in the dunes of Namibia, but it changed course, and the trees that once flourished here are now just sculptural skeletons on a rock-hard clay pan.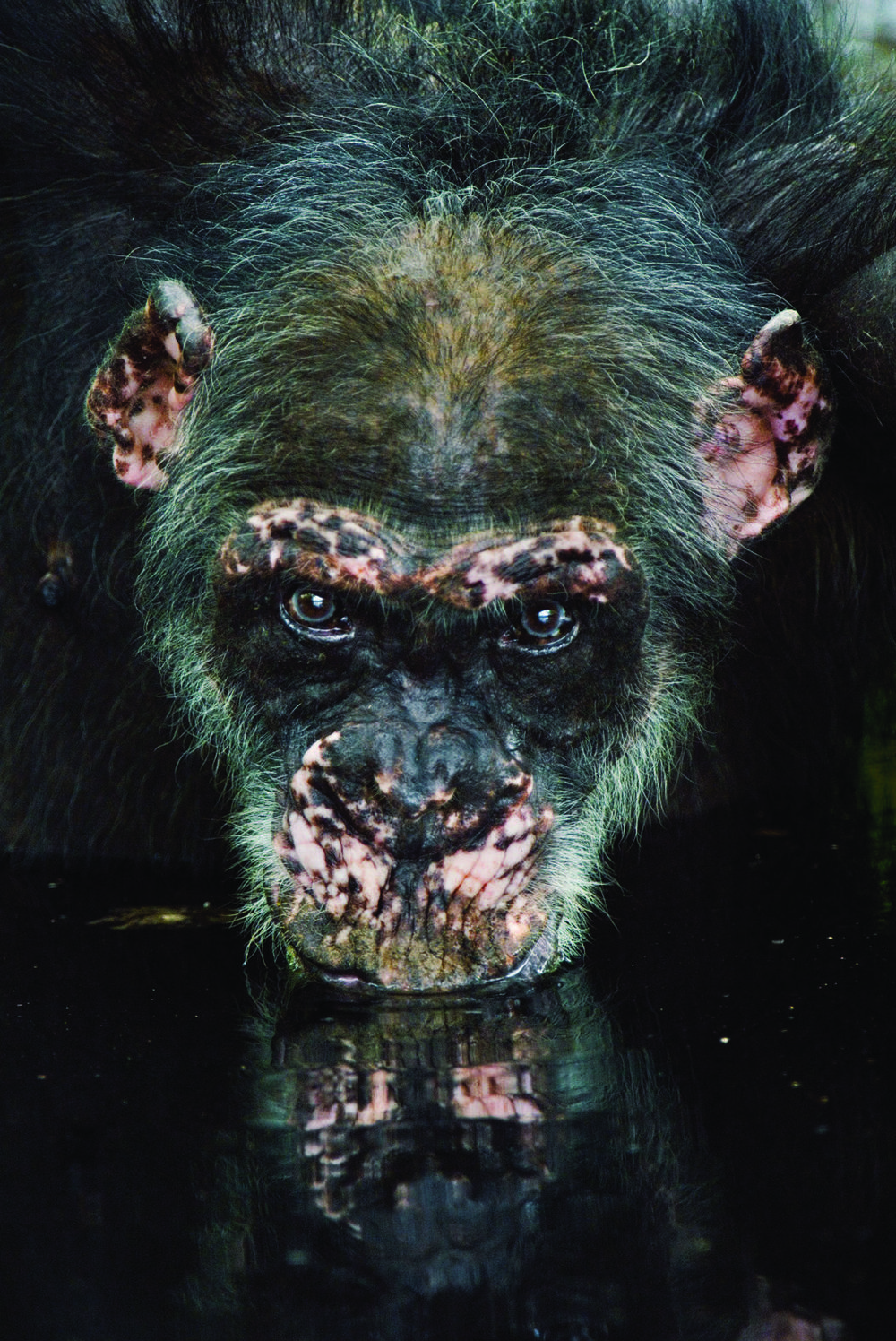 Forests :: The Infinite Tapestry
Chimpanzee, Senegal 2007
The tropical woodlands and jungles of Central and West Africa are lungs for the world: They contribute to oxygenating our atmosphere and storing carbon, both crucial to mitigating climate change. They are also realms of great biodiversity, including chimpanzees. The oldest chimp in this group was in his 40s, an advanced age for a chimp in the wild. After working with these chimps every day for two months, we recognized many of them as individuals and saw, over time, that they recognized us as individuals as well.
Explore More
About

World Wildlife magazine provides an inspiring, in-depth look at the connections between animals, people and our planet. Published quarterly by WWF, the magazine helps make you a part of our efforts to solve some of the most pressing issues facing the natural world.