WWF Board Member Bill Reilly on the Worth of Water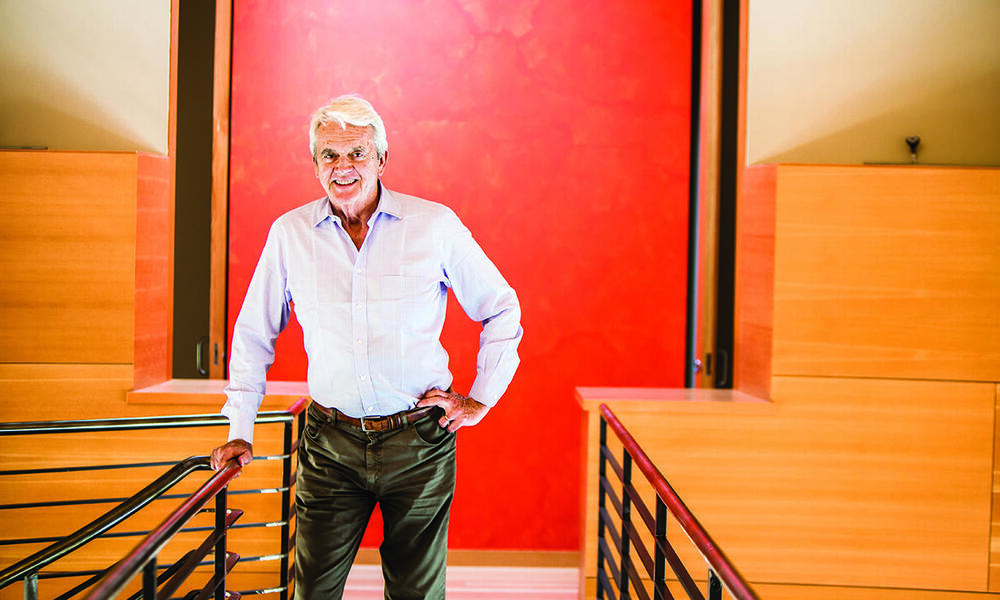 When Bill Reilly's father worked on ships as a young man, he developed a romance with the sea. During family vacations in Massachusetts, Bill and his dad would often take the ferry from Newport to Jamestown, just to stare at the waves. And though he ultimately became a land-use policy professional, his love for the water has never wavered.
When Reilly moved with his family to the Rio Grande Valley in Texas at age 10, he came to appreciate water in a whole new way. He had friends who lived in what are now known as colonias—rural settlements that typically have no infrastructure to deliver fresh water or handle wastewater and sewage. He witnessed firsthand the health risks and other challenges that came with a lack of access to clean water. It was a lesson that stayed with him.
"When I was at EPA, I put a lot of money into the Great Lakes, the Chesapeake Bay, and the Gulf of Mexico. That was important to me. And one of my proudest achievements at EPA was helping secure an annual $50 million for colonias in the last [President George H. W.] Bush budget."
Because Reilly has been at the nexus of the American conservation movement for more than four decades, he has been on the front lines of a remarkable transformation in the practice of the discipline.
"There's every reason to think that we can—if we make it a priority—solve our environmental problems and challenges. That's what we've done since the late '60s, and that's what we'll continue to do."

Bill Reilly WWF Board of Directors chairman emeritus
He got his start on the President's Council on Environmental Quality, working under WWF founder and chairman emeritus Russell Train, whom he calls "my mentor, and a man who has mattered so much to me." Reilly would go on to follow in Train's footsteps as EPA administrator and at WWF. He headed the Conservation Foundation and oversaw its merger with WWF; he led the American delegation to the UN Earth Summit in Rio de Janeiro when he was EPA chief. And he has had an indelible impact on WWF for 30 years and counting, serving as president and CEO and Board chair, and continuing his devotion to the organization today as chairman emeritus.
"The progression of the environmental movement I have seen is certainly one of scale," Reilly says. "The sophistication and sensitivity to economics is vastly improved. The analysis of commodities and their impact on the environment, as well as solutions for the same, have become incredibly important—and that's really a credit to the modern WWF, more than any other organization I can think of."
Reilly has also observed an evolution in the philosophy of conservation.
"In the early days of the environmental movement there was somewhat of an assumption of moral correctness vis-à-vis crass self-interest and material concerns," he says. "And that has largely yielded, I think, to a respect for facts and a sense that you can't rely strictly on everybody wanting to be green or politically correct if you're going to achieve your objectives."
Reilly also points out that using morality as the linchpin of one's argument implicitly suggests that your adversaries are immoral—which is never a good idea, because it makes compromise impossible. But that doesn't mean there's no moral dimension at all to the environmental concerns we must come to grips with.
Take climate change, for example: "It is principally a moral issue, because it is undeniable that those who will suffer its effects most keenly are the poor. That's already baked in—whether you believe in the science or not." Which is why he was so encouraged by the encyclical from Pope Francis and its emphasis on "a new and universal solidarity" to "protect our common home."
The encyclical's tone mirrored one of many things Reilly learned from Russ Train: the importance of positivity.
"Russ was not someone who cursed the darkness," Reilly says. "He was always a fundamentally hopeful person. And why not? There's been so much progress in the time I've been involved in conservation. So there's every reason to think that we can—if we make it a priority—solve our environmental problems and challenges. That's what we've done since the late '60s, and that's what we'll continue to do."
Explore More
About

World Wildlife magazine provides an inspiring, in-depth look at the connections between animals, people and our planet. Published quarterly by WWF, the magazine helps make you a part of our efforts to solve some of the most pressing issues facing the natural world.