Brenda Davis on the importance of keeping things wild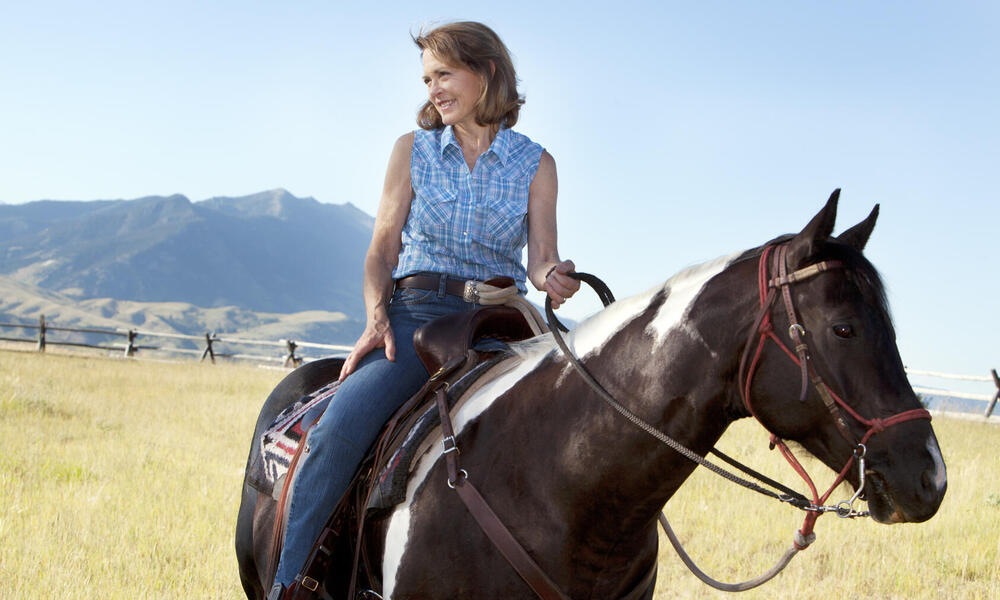 After Brenda Davis's father earned his degree in biology from San Diego State University, he took a job as a park ranger at Point Lobos State Natural Reserve near Carmel, California. Davis was almost three years old when she moved with her family to the reserve, where they lived in the iconic Whalers Cabin (now a museum, it was listed on the National Register of Historic Places in 2007), overlooking Whalers Cove and Carmel Bay.
"My mom did all of our cooking on a wood stove there," she recalls. "My very earliest memories are there, in that Whalers Cabin."
While Davis and her family lived in the Whalers Cabin, her sister was born, and she remembers walking her in a buggy on park trails with her mother. She soaked up every aspect of nature she could. "My father made games of teaching me about the wildflowers, birds, and marine life in the park," she says. "For a young child like me, it was pretty much paradise."
Later, when she was six years old, the family moved to Anchorage, Alaska. It was 1955 and Alaska had yet to become a state. "It was really still kind of a frontier outpost," Davis says. (There was no phone or car for the family's first year there.) Davis grew up surrounded by immense wilderness, raised by parents who put tremendous value on the importance of the natural world. "We lived a remarkable outdoor life, as you can imagine."
And while there was development going on in Anchorage at the time, Davis remembers that people seemed to be more in balance with nature then. "My dad would hunt a moose every fall for us and that's what we lived on," she says. "And we caught a lot of salmon every summer. We'd freeze it and can it and smoke it and eat it all winter. I was at least in my thirties before I could eat salmon again," Davis says with a laugh.
"I know that saving the Northern Great Plains is possible. And we're laser-focused on success."

Brenda Davis WWF Board of Directors
Given the way Davis grew up—immersed in the natural world, guided by a family ethos that prioritized wild places and things—she was probably destined to embrace a career centered on nature.
"The need to protect the natural world has been my focus throughout my academic and professional life, and as a mother to my two daughters," she says. "As I got older, I wanted to understand how human populations were impacting life on Earth. That connection has always seemed to be at the heart of all our environmental problems."
After earning a PhD in ecology from UC Berkeley and working on Capitol Hill in Washington, DC, Davis served in the administration of New Jersey governor Tom Kean, first in the Department of Environmental Protection and then the governor's cabinet.
It was then that she first became involved with WWF, when Governor Kean chaired a national wetlands policy forum in 1987 set up by WWF—"and I've stayed engaged ever since."
Davis eventually retired from Johnson & Johnson, where as corporate compliance officer and vice president of technical resources she was responsible for the company's global environmental strategy. Along with her husband Swep, also an ardent outdoorsperson and conservationist, she has made Montana home ever since. Like Alaska, it is a spectacularly wild place. And like Alaska, it has captured Davis's heart.
She chairs WWF's Northern Great Plains Advisory Committee, helping to shape engagement with a diverse group of stakeholders, including Native American and ranching communities, united in their devotion to restoring these "oceans of grass." And she believes strongly that while the Northern Great Plains ecosystem may not generate as much attention from the conservation community as, say, the Amazon, it is more than worthy of commensurate support.
"The majesty of the Northern Great Plains is undeniable," Davis says. "It is one of only four temperate grasslands left on the planet. The biodiversity here is amazing, and our country's cultural and natural heritage are deeply rooted here. To paraphrase Wallace Stegner, something will have gone out of us as a people if we ever let the remaining prairie be destroyed."
But Davis also believes strongly that WWF, along with our partners, will not allow that to happen: "I know that saving the Northern Great Plains is possible. And we're laser-focused on success."
Explore More
About

World Wildlife magazine provides an inspiring, in-depth look at the connections between animals, people and our planet. Published quarterly by WWF, the magazine helps make you a part of our efforts to solve some of the most pressing issues facing the natural world.