In-Depth
Looking Up
Making a Bahamian lobster fishery sustainable
Issue: Winter 2016
Author: Ben Goldfarb
Photographer: Mac Stone
Spanish Wells, a pastel-splashed port that lies a two-hour ferry ride from Nassau, capital city of The Bahamas, is the kind of languid town where news is both rare and fast-traveling. The island on which Spanish Wells is located—St. George's Cay—is just half the size of New York's Central Park, and its 1,500 residents often forgo cars in favor of golf carts. The lunch hour doubles as an island-wide siesta. Here, the arrival of a fishing boat qualifies as an event—especially when that boat is the New Wrinkle.
The New Wrinkle is among the flagships of Spanish Well's 30-vessel lobster fleet and, on a balmy March afternoon, the teal-trimmed 76-footer has drawn a crowd to the dock. A small army of longshoremen clambers down into the freezer hold to haul out its precious cargo: sleeves of frozen lobster tails, harvested over a month out on the sea. Such marathon trips are standard procedure for Spanish Wells fishers. "When my first son was born, I had left on a trip the day before," says Mike Higgs, a white-bearded, 54-year old salt who's been fishing since he was 15. "I didn't see him for three weeks."
Luckily, Higgs's progeny didn't hold it against him: Two of his sons now work alongside him on the New Wrinkle, as does his brother, Curtis.
The Higgs family is among the 9,000 fishers employed by the $90 million Bahamian lobster industry. A local artisanal fishery as recently as the 1940s, today the industry touches a whopping 45,000 square miles of ocean and includes commercial sales (both local and for export) of more than 6 million pounds of spiny lobster tails each year, primarily to the United States and Europe. Pick up a tail at Costco or The Kroger Co., and chances are a little piece of The Bahamas will be sitting on your plate.
Of course, going global can also confer profound environmental challenges. Just look at the example of the Patagonian toothfish, whose populations in southern oceans plummeted soon after international wholesalers rebranded the fish as Chilean sea bass. But while the toothfish tale is a cautionary one, it also comes with a hopeful coda: After governments ramped up regulations, six separate toothfish fisheries earned a seal of approval from the Marine Stewardship Council (MSC), the most robust international organization that sets seafood sustainability standards. And although the industry still isn't perfect, there's little doubt toothfish are faring better than in the fishery's early days.
And sustainability isn't important merely to fish huggers. In The Bahamas, a growing share of the seafood sector recognizes the economic benefits of MSC certification. Keeping stocks healthy, the thinking goes, can open new markets, satisfy eco-minded consumers, and ensure that there will be lobsters to catch in the future. "If you have that stamp of approval, you'll be able to make more money with less crawfish," says Robert Roberts, co-owner of R&B Boatyard on the Spanish Wells waterfront.
Though Roberts gave up lobstering 10 years ago to run his marine retail and repair shop, he remains as involved in the business as any fisher. In 2009, he and his peers made a strategic decision: to pursue a Fishery Improvement Project, or FIP, aimed at getting the industry up to ecological snuff. A team quickly assembled. Nonprofit conservation organizations, fisheries experts, government agencies such as the Department of Marine Resources, local fishers, and representatives from multiple points of the Bahamian lobster industry worked together to develop a plan, set it in motion, and monitor its progress. And while the road has at times been bumpy, the Bahamian spiny lobster fishery may at last sit on the cusp of being certified as sustainable by the MSC—a designation coveted by fisheries around the world.
The prospect has the country's seafood workers salivating, even as they remain cautious about their certification prospects. In his boatyard office, Roberts leans back in his chair and gazes at the ceiling. "I think it can get done," he says thoughtfully, "but we still have a little ways to go."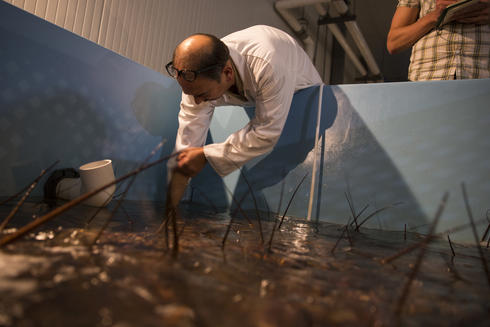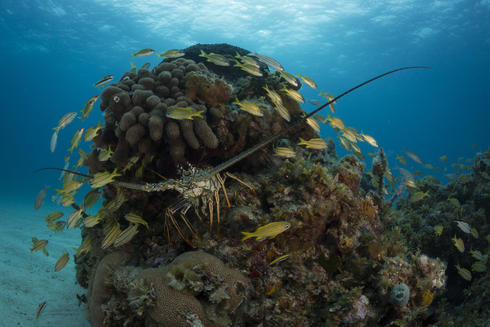 When most Americans consider the lobster, they likely think first of claws. The spiny lobster, however, doesn't actually have any; instead, all 10 of its legs taper to points. What it lacks in pinching power, however, it makes up for in alien beauty. Panulirus argus, which can grow up to two feet long, is bedecked with splotches of purple and orange, salted with white spots along its tail, and abristle with spikes upon its carapace. This is one psychedelic crustacean.
A shrinking minority of Bahamian lobster fishers deploy the sort of wooden traps that you might see stacked on a Maine pier; most favor a tactic called "condo fishing." Among the style's many devotees is Bruno Underwood, an easygoing Spanish Wellsman who wears a wetsuit like a second skin. One pale pink morning, Underwood leaves the dock before sunrise in the Got Nerve, the sleek, 25-foot boat in which he pursues lobster, conch, and grouper. On the bow, a rattling compressor pumps air through a long yellow hose, which Underwood clenches in his mouth before plunging into the gin-clear sea.
Kicking hard with his fins, he swims down to his condo—a slab of sheet metal, about the dimensions of a pool table, elevated several inches above the grassy seabed. The condo, also known as a casita, provides an ideal habitat for lobsters, nocturnal hunters who spend their days hiding from sharks and grouper. It's a low-tech aggregation device that gathers lobsters by exploiting their natural habits. Rudimentary, perhaps, but effective too.
When Underwood slides back the sheet, two big lobsters scurry out from underneath. At this point, fishers must confirm caught lobsters meet the legal minimum tail length of 5.5 inches and let smaller lobsters—called "smalls"—go.
Once that assessment is made, it's time for the harvest. In his right hand, Underwood holds a double-ended implement that culminates in a curved metal hook on one side and a box cutter-like blade on the other. Deftly, he slips the hook beneath the lobster's tail, flipping it over to expose its belly. Then he jabs the lobster's thorax with the blade, killing it instantly—not exactly pretty, but mercifully quick.
Underwood surfaces with the two lobsters dangling by their antennae from his gloved hand. "One time I seen about 130 sitting around on a condo," he says, grinning, as he climbs back aboard the Got Nerve. "Couldn't all fit underneath. That was a sight to see."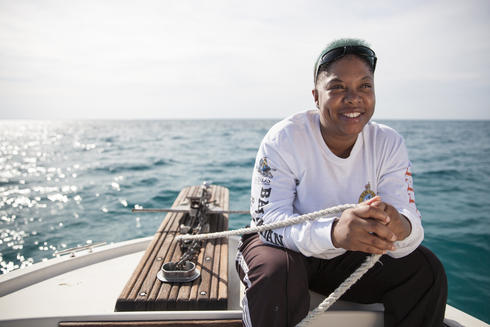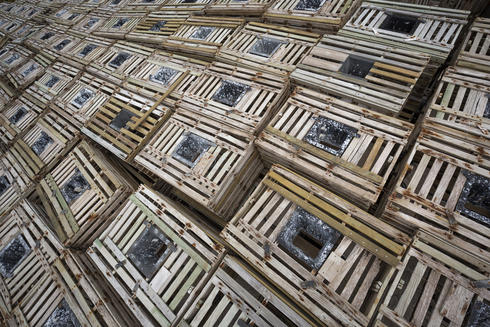 Though Underwood once held a share in a large commercial boat, these days he's a solo act, with just a handful of condos to his name. But the scale of larger operations can boggle the mind: Some boats maintain up to 20,000 condos scattered around the Bahamian archipelago. That's a major challenge for the scientists tasked with managing the catch. "It's hard to marshal the resources to monitor such a vast fishery," acknowledges Lester Gittens, fisheries officer at the country's Department of Marine Resources. "We don't know how many condos there are, or exactly where they're located." Nor is the department certain what impact all that infrastructure has on the marine environment—unsurprising, given that most fisheries lack sufficient data to fully assess their impact.
Such a paucity of information became problematic in the mid-2000s, after Walmart made a commitment to source seafood certified as sustainable by the MSC. The big box giant hoped Bahamian lobster would earn the MSC ecolabel's blue checkmark, but a preliminary analysis of the fishery conducted in 2009 found that it fell far short of the MSC standard. Basic scientific data, which are needed to determine the status of the lobster stock and create important rules for limiting overfishing, were incomplete and out of date.
This meant that if The Bahamas' lobster industry wanted to be MSC certified, it would first have to conduct a Fishery Improvement Project.
WWF's Fishery Improvement Projects are designed to accomplish more or less what their name suggests: making fisheries more sustainable, with the ultimate goal of meeting the MSC standard. We've been working with small-scale fisheries—like the lobster fishery in The Bahamas—for more than 15 years, and WWF is currently implementing these projects in numerous fisheries worldwide, from mahi mahi in Ecuador and Peru to blue swimming crab in Vietnam and Thailand.
"As more fisheries have heeded the call of sustainability and market demand has grown," says Wendy Goyert, senior program officer for WWF's oceans work, "more people are driven to work together to improve fishing practices and management. A sustainable fishery benefits everyone," she adds. "It ensures livelihoods and healthy ecosystems for the future."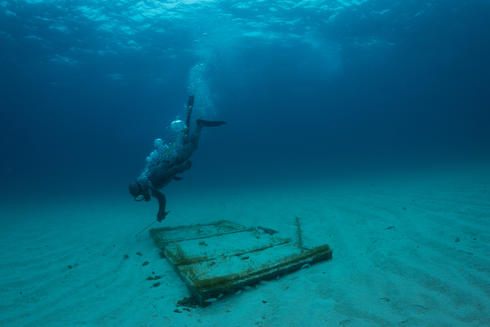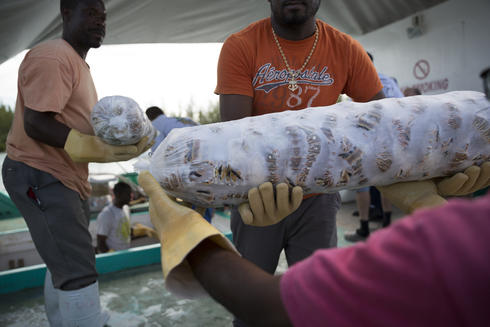 Since WWF helped launch the MSC in 1996, roughly 300 fisheries have achieved certification, and many retailers, such as Kroger, now sell millions of pounds of seafood from MSC certified fisheries each year. The MSC is now its own nonprofit entity, and WWF helps fisheries meet the standard for certification by providing technical guidance to fisheries wanting to improve their practices, and by facilitating connections to the larger market that supports those fisheries' business plans.
After the Bahamian spiny lobster fishery conducted its certification pre-assessment, the industry knew it had work to do. Among the staunchest advocates for reform was Glenn Pritchard, president of Tropic Seafood, the country's largest lobster exporter. "If you have a new company contact you, the first thing they're gonna ask is what third-party certification you have," Pritchard says in a conference room overlooking Tropic's production floor—a cavernous warehouse space packed with stainless steel tabletops and conveyor belts that can process 25,000 lobster tails in a single day. "But with the way we were doing things, this fishery was not going to be healthy 10 or 15 years down the road."
To Pritchard's left, Mia Isaacs, managing director of Heritage Seafood, nods in assent. Isaacs, the elegant, black-haired scion of a commercial fisherman, is Pritchard's staunch competitor—but when it comes to the improvement project, they're partners, jointly committed to remaking their fishery. "At the end of the day, we can still come and sit together and communicate," Isaacs says. "The financial value is extensive, but having your resource here for generations is the real reward."
If the spiny lobster industry was indeed going to meet that vision, Isaacs and Pritchard knew they had to fill in its sketchy science. So the erstwhile rivals formed the Bahamas Marine Exporters Association (BMEA), a coalition of seafood companies that all chipped in to hire independent biologists and support the FIP process writ large. The researchers' first stock assessment, in 2011, showed that overfishing didn't seem to be occurring, and that good numbers of young lobsters appeared to be surviving to spawning age. The second assessment will soon enter peer review—"exceptional," says Isaacs, considering the data gap seven years ago.
Other initiatives soon followed. Fishers agreed to fill out forms certifying their catch each time they returned to port, providing additional data that is fed into the fishery management system. The Bahamas Spiny Lobster Working Group—an advisory panel composed of processors, fishers, government employees, scientists, and nonprofits like The Nature Conservancy (TNC)—worked with consultants to develop a "harvest control rule," a mutual agreement to reduce harvest levels and exports if lobster numbers sink below predetermined levels. The processors also adopted a zero-tolerance policy toward selling lobster tails shorter than the legal limit. If fishers turn in an undersized tail today, even accidentally, its value is deducted from their paycheck.
To be sure, the various stakeholders haven't spent the last seven years singing "Kumbaya." The harvest control rule proved especially contentious. But Felicity Burrows, marine conservation manager at TNC and the FIP coordinator, says the urgency of certification— and working toward proper management of the fishery for many reasons—trumped differences of opinion. "People put their money where their mouths are and came up with a sustainable funding mechanism to support the advancement of the FIP," says Burrows, a native Bahamian. "Our resources are more intact than in a lot of other places. We cannot afford to lose what we've always had."
"From the shores of The Bahamas to your local Costco, people rely on seafood for livelihoods and nutrition. Improving the management of this lobster fishery is a win-win-win for oceans, fishermen, and our members."

BILL MARDON SEAFOOD BUYER, COSTCO WHOLESALE
For all its progress, the lobster fishery may not truly achieve sustainability until it can solve one crucial problem: poaching. Illegal vessels, many from the nearby Dominican Republic, regularly plunder certain areas of the Bahamian archipelago. Although data on illicit fishing is scant, lobster fishers and government scientists agree it's a serious problem. "If poaching remains such a challenge in The Bahamas, I don't see how we'll get certified," says fisheries officer Lester Gittens.
Keith Carroll, a sturdy 52-year-old who bought his first boat shortly after graduating from high school, is among the fishers fighting back against lawbreakers. In a canal behind his New Providence home, his boat, the 55-foot Julie Anne, sits at anchor, waiting for its next trip. Unlike the condo fishers of Spanish Wells, Carroll favors boxy wooden traps, and the rank odor of cowhide bait lingers in the warm air. When Carroll went to sea to harvest his catch back in the mid-1990s, he'd sometimes find all his traps empty—they'd been cleaned out by smugglers.
"Young people don't want to get boats now," Carroll sighs, leaning against his truck. Although a spinal operation has kept him ashore for several years, he fears for his crew—many of the poachers, he says, come heavily armed. "Bahamian fishermen in their own country don't feel safe at night."
In this area, too, the Fishery Improvement Project has gained ground. In 2014, the Royal Bahamas Defence Force, which essentially acts as the country's navy, agreed to spend more than $200 million on new bases and patrol boats to better police the archipelago's waters. The new infrastructure was at least partly a tribute to pressure from processors and fishers—including Carroll, who regularly calls the Defence Force's higher-ups to relay intelligence. With fishers serving as its eyes and ears, the navy made a high-profile bust in early 2016, seizing roughly 7,000 pounds of fish from a Dominican vessel and making it clear to poachers that earlier, seemingly isolated arrests were part of a larger plan.
"We're trying to maintain closer ties to fishing communities as an extension of our capability," says Tellis Bethel, the Defence Force's acting commander. "This is a national concern."
As Bethel acknowledges, the battle against poaching may remain an eternal arms race. Some Bahamian fishers, for instance, have noticed that illegal foreign vessels now show up in large packs to overwhelm the Defence Force. But while The Bahamas will likely never completely eradicate illegal fishing, the new patrol boats and bases—along with active monitoring by local fishers—may sufficiently mitigate poaching and allow the fishery to meet the MSC standard. With better enforcement, more robust data, and improved management measures, WWF's Goyert hopes that the spiny lobster fishery will be able to achieve MSC certification in 2017.
"It was pretty bleak seven years ago," says Glenn Pritchard. "But we see the light at the end of the tunnel."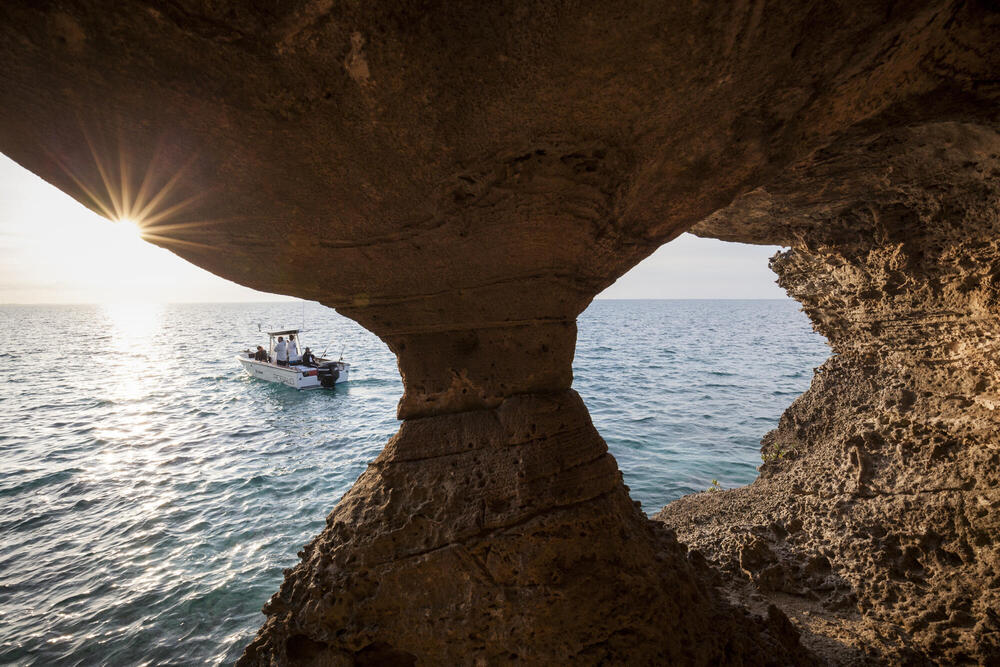 On a golden evening in Nassau, a pair of slightly ramshackle vessels cling side by side to the docks of Potter's Cay, an industrial wharf that lies in the shadow of an elegant bridge. Though a palatial resort glows pink in the sunset across the bridge, it's a world away. As rows of fish shacks begin to open shop, pulses of reggaeton music drift on the maritime air. Aboard one boat, a fisherman uses a machete to hack fillets from a prodigious gray snapper. Men, women, and children congregate around the fish, laughing and talking as the evening cools.
A steady procession of cars—some driven by locals, some by tourists—pull up to the docks to buy seafood for dinner. Quincy Richardson, a tall, lean fisherman with a tiny sprig of beard, lays three enormous spiny lobsters on a table, and gawkers wander onto the deck to admire the catch. Richardson, a musician who records songs on his iPad while he's at sea, hasn't heard of the improvement project, and he's skeptical that he'll see immediate financial benefit. Although he says he hopes to join the international market someday, for now he sells his catch locally, where MSC certification is unlikely to have much impact on price.
But he has no doubt that a sustainable fishery is in his country's best interest. Richardson puts one long-fingered hand fondly on a lobster's orange carapace. "This," he says, with a nod to the lobster, "is our national treasure."
Learn more about fishery improvement projects.
THE FUNDAMENTALS OF FIPS
Fishery Improvement Projects, or FIPs, bring together fishers, industry leaders, researchers, government experts, and nonprofit organizations to help improve the sustainability of seafood and the health of ocean ecosystems. The process for getting a FIP up and running is outlined below.
1

Identification
A fishery that may benefit from a FIP is identified and an analysis of its supply chain—its actions and impacts from bait to plate—is conducted to understand who is involved in the fishery and what market forces might be brought to bear in its improvement.
2

Development
The fishery's performance is reviewed against the Marine Stewardship Council (MSC) standard, which calls for the demonstration of sustainable fish stocks, minimized environmental impact, and effective management. Stakeholders are then recruited to participate in the project.
3

Launch
Stakeholders work together to develop a publicly available workplan for addressing the sustainability issues identified. The work plan must identify objectives, activities, responsible parties, time frames, metrics, key performance indicators, and an associated budget.
4

Implementation
The fishery starts taking action toward addressing its shortcomings and begins tracking and reporting on its progress. This stage requires consistent engagement with regulators, transparent reporting of completed FIP activities, and— if necessary—an update of the work plan to reflect any adjusted milestones and deadlines.
5

Improvements in Practices or Management
FIPs document any modifications in fishing practices, improvements in fishery policy or management, or increases in MSC assessment scores related to management of the fishery or information about the fishery. For example, the establishment of fishing regulations such as a closed season, minimum landing size, or catch quota; fishers adopting new gear to reduce bycatch; or improved data on the impacts of the fishery on the habitat or the ecosystem.
6

Improvements on the Water
FIPs document any verifiable change on the water, such as increased biomass of the target stock, reduced impact on habitats, and reduced bycatch in the fishery, as well as any increases in MSC assessment scores due to these improved outcomes.
Adapted from the Conservation Alliance for Seafood Solutions' Guidelines for Supporting Fishery Improvement Projects
Explore More
About

World Wildlife magazine provides an inspiring, in-depth look at the connections between animals, people and our planet. Published quarterly by WWF, the magazine helps make you a part of our efforts to solve some of the most pressing issues facing the natural world.