In-Depth
Heritage Colombia
After a decades-long civil war, Colombia sets its sights on a peaceful future based on its rich natural and cultural heritage
Issue: Winter 2017
Author: Jill Schwartz
Photographer: Day's Edge Productions
Nelson Barragán is barefoot, burly, and bronzed. He walks into the open-air dining area of his riverside lodge as his new guests are taking the final bites of dessert. They arrived a few hours earlier, and he is here to welcome them.

He turns on an LCD projector at the head of the dining table. A photo of an owl appears on the screen behind him. Then a caiman. A capybara and an anaconda (the largest rodent and the largest boa in the world, respectively). A puma, a jaguar, a heron, a wild pig. Dozens of other wildlife photos follow.

Barragán (pictured, with his brother Julio) has seen all these creatures on the 42,000 acres his family owns in the Orinoco River basin of eastern Colombia, which his guests have come to explore. He and his seven siblings grew up here, on a savanna where two family businesses—cattle ranching and tourism—coexist with nature.

Next Barragán strums a few tunes inspired by the sounds of this place: cattle running across dry earth and rain pounding on the roof during a fierce summer storm; birds singing at sunrise and wind rustling the leaves in the trees.

Then he rests a small guitar, a cuatro, on his hip and begins to sing songs he has written. In one, a man is taken to court by a stork, who charges him with killing wildlife and doing harm to the planet. The man's attorney, a dog, explains that the wildlife was a threat to the man, who, without claws, couldn't defend himself against attack. But the judge, an owl, doesn't buy it; the man, he says, has a brain and should know how to use it better. The owl rules that the man is guilty.

Barragán ends the night by showing the guests a few of his paintings, including one that depicts the courtroom scene from the song.

To the guests, he has put on a show. But to him, it's simply his truth. Barragán is a llanero—a cowboy from this region of Colombia. Music, art, and stories about nature are at the heart of his culture. A harp is just as familiar to a llanero as a lasso or a cattle brand.

"To be a llanero, you have to know how to ride horses and raise livestock," the 53-year-old says in his soft, calm voice. "But you also need to have respect for the land and the wild species that live on it...and you need to use music and stories to share the culture so it lives on."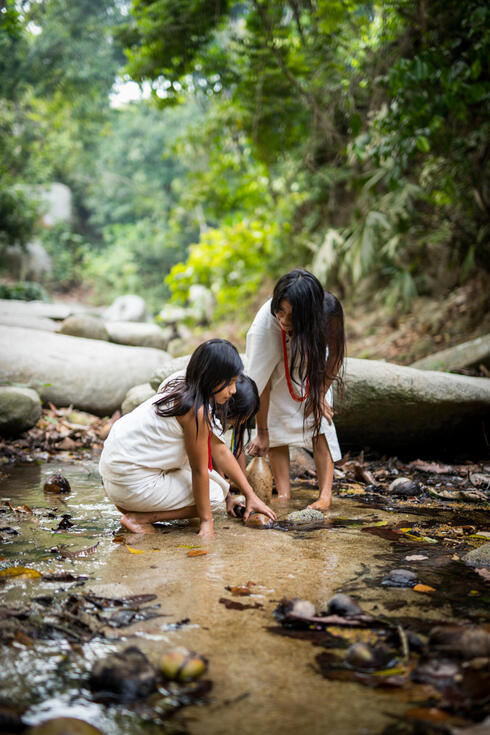 Barragán's respect for the land is so deep that asking him to dig up memories from one specific period of his life leaves him almost speechless. It was in the 1990s. The guerrillas of the Revolutionary Armed Forces of Colombia, or FARC, and other rebel groups were rapidly taking hold of the country, particularly rural areas like the Orinoco River basin. To the FARC, the land was a source of revenue from the sale of timber, oil, gas, palm oil, rice, coca, and other crops.

Like so many, Barragán's family fled the region. More than 7 million people were displaced during the country's 52-year civil war. They escaped to places like the Colombian Amazon, and when those forests became ground zero for FARC-led drug trafficking and other illegal activities, they fled again. And again. More than 220,000 people were killed.

"It was a difficult time," is all he says about the period when he and his family relocated to the capital city, Bogotá.

Without the llaneros and other natives of the region, the Orinoco basin suffered. There and across the country, natural resources were degraded and destroyed by forest fires used to clear the land for crops, toxic spills from coca cultivation and illegal mining, and other illegal or unsustainable activities carried out by the rebels.

After a few years, when fighting in the Orinoco died down, the Barragáns returned to their ranch. But the armed conflict continued to smolder and flare, especially in the Amazon.
A historic peace agreement, signed in late November 2016 between the government of Colombia and the FARC, is designed to put an end, finally, to the conflict. The agreement includes the requirement—met in June 2017—that the FARC hand over its weapons. It also includes a less common measure for achieving peace.

Colombia's President Juan Manuel Santos, along with donor countries supporting the peace process, believes that finding answers to who manages the country's natural resources and how these resources can be used is integral to the peace process.
"Heritage Colombia has the potential to become a groundbreaking model that not only ensures the long-term management of protected areas and their ecosystem services, but also promotes the inclusion of social benefits and the governance systems necessary to make the initiative sustainable across a diverse set of landscapes. The Moore Foundation is honored to work with the government and its partners in designing this initiative."

PAULINA G. ARROYO Program Officer, Andes Amazon Initiative Gordon and Betty Moore Foundation
Disputes over natural resources were often at the center of the conflict. A lack of clarity about land tenure—who owned the for- ests, grasslands, and other natural resources, and how they could be used—allowed the FARC and other guerilla groups, like the National Liberation Army, to exploit the land. They cleared trees to grow coca plants and blocked access to rivers so they could transport illegal crops to the ocean, where they were shipped to other countries.

Colombia's protected areas—national parks, regional parks, and private reserves—were hit especially hard. Nearly 70% of the 60 million-acre system of protected areas was in conflict zones. Illegal activities went undetected in remote areas that were hard to get to by land and so thick with trees that it was hard to spot such activities from the air.

With the peace agreement comes the opportunity to restore the health of the country's protected areas and prevent damage or loss to the many wild wonders that still exist. One of the main approaches to this opportunity is Project Finance for Permanence (PFP), an innovative means for permanently and fully funding protected areas. Through a new PFP called Heritage Colombia, a fund will be created to increase the amount of land in the protected areas system, to ensure the proper management of select places within that system, and to ensure the proper management and governance of select areas both within and adjacent to protected areas. This includes land in the Amazon, the Andes, the Orinoco River basin, and on the Pacific and Caribbean coasts.

The initiative is being led by National Parks of Colombia, with support from WWF, the Gordon and Betty Moore Foundation, the Protected Areas and Biodiversity Fund, the Wildlife Conservation Society, and Conservation International.

WWF was a key partner in a PFP in Brazil that resulted in the long-term protection of 150 million acres of the Amazon. And we are a key partner in a PFP in Peru that seeks to protect another 41 million acres of the Amazon. Adding Heritage Colombia to the mix will help ensure that 14% of the Amazon biome is permanently protected.

"I like to think of Heritage Colombia as 'parks for peace and peace for parks,'" says Sandra Valenzuela, director of planning and development for WWF-Colombia. "Not only will better management and governance of the parks help bring peace to the country, but peace in the country will also help ensure that our parks are healthy for generations to come."
Heritage Colombia differs from other PFP initiatives in two important ways. The first is the inclusion of land adjacent to—not just within—protected areas. By focusing on multiple types of land (including national and regional protected areas, Afro-Colombian and indigenous territories, and forest reserves), Heritage Colombia recognizes that natural resources, as well as the clean water and other services they provide, do not stop at the borders of protected areas. They are part of a larger landscape that needs to be managed as one.

The second is the emphasis on governance—specifically, rules and policies related to who owns the land and how the land can be used. Governance is not always clear in Colombia, yet it is an important issue to address because many communities in the country rely on the land inside and adjacent to protected areas for their sustenance. Without clarity on governance, not only do tensions arise, but better land management is nearly impossible. And without better land management, the long-term health of protected areas is in jeopardy.

Utria National Park, on the Pacific Coast, provides an example of the benefits of both good governance and looking beyond the park boundaries. Utria lies at the end of an hour-long boat ride that is at the end of a 30-minute bumpy drive that is at the end of a two-hour flight from Bogotá.

At more than 150,000 acres, Utria's landscapes and seascapes range from coral reefs to mangroves to rain forests. And the variety of the park's ecosystems is matched by the complexity of governing who lives in, owns, manages, and uses the land.

Three groups of indigenous people live in the park. Three Afro-Colombian communities live just outside the park. The indigenous people and Afro-Colombians have the right to use land and water within the park, as long as they do so in accordance with the guidelines they developed with the parks agency and others—and they have this right even if they do not own the land. In Utria, the indigenous communities own land within the park (they were there long before the park was created in the 1980s) but the Afro-Colombians do not.

Yet despite this level of complexity, Utria is one of the best-managed protected areas in Colombia. That's because the communities and park agency have worked together—and with other entities, such as WWF and USAID—to develop and implement a strategy that clearly outlines who owns what and how natural resources can be used.
Gregorio Urrutia Cáceres benefits from that clarity. He and others in his predominantly Afro-Colombian community, which lies just outside the park boundaries, have the right to use the park. He knows exactly which land and waterways he can use. He also knows what practices he must follow—like respecting no-go fishing zones—to ensure his fishing business doesn't harm Utria's coral reefs or damage mangroves that the parks agency has been working to restore. And he knows that protecting the park also protects his livelihood.

Cáceres has fished almost every day since his father taught him how some 40 years ago, catching albacore, pompano, and black tuna, which he sells and uses to feed his family. For the most part, he says he has always followed good fishing practices. But with the help of the parks agency, WWF, and others, he now uses fishing lines instead of large nets with small holes, which have the unintended consequence of trapping other fish as bycatch.

Cáceres has also developed a small tourism business—mainly offering whale watching trips—in accordance with the mutually agreed-upon guidelines about resource use. Humpbacks travel through this area in the summer, and the number of tourists coming to this remote part of Colombia to see them increased as word got out that Utria was safe, relative to other areas of the country, during the conflict years.

"I am so grateful to the park for helping us," says Cáceres. "Because of their help, we know what we can do and where we can do it. We are now on the right track."

"Managing parks in Colombia can be hard, given all the people who have rights to the land," says Utria park manager Henry Pinzoón Benavides. "But there are so many benefits to working with them because they are such good stewards of the land. They need to be just as much a part of the parks as the park rangers need to be part of the community."

Benavides hopes Utria is the poster child for good governance, especially as Heritage Colombia takes shape.

"I am excited about Heritage Colombia because it is a good way to show how important it is to work together," he says. "We can show that this model works and, therefore, that it should be scaled up."
"I like to think of Heritage Colombia as 'parks for peace and peace for parks.' Not only will better management and governance of the parks help bring peace to the country, but peace in the country will also help ensure that our parks are healthy for generations to come."

SANDRA VALENZUELA Director of Planning and Development, WWF-Colombia
Scaling up that model in order to strengthen Colombia's system of protected areas is not only a key component of the country's strategy for peace and for protecting its natural resources, but also for addressing climate change and other issues. Funders of Heritage Colombia also see it as a means for meeting global goals, including the UN Sustainable Development Goals and the climate goals in the Paris Agreement.

"Colombia has made a promise at the international level to do things like stopping deforestation within our borders," says Colombia National Parks Agency Director Julia Miranda Londoño. "The only way we will achieve this is if we work with local communities through initiatives like Heritage Colombia and if we work with partners like WWF, which has been in solidarity with us and has pushed us to develop good sustainable development and environment strategies."

And with the civil war coming to an end, the country faces new challenges. Industries such as palm oil and natural gas are quickly expanding on land in or near protected areas that had been considered unsafe. People, especially those displaced by the conflict, are also settling in these areas.

"We potentially have a new type of conflict now," says WWF's Valenzuela. "It's a conflict related to how we want to grow."

As for Nelson Barragaán and his family, future growth in the Orinoco River basin means continuing the llanero tradition of respecting the land and its creatures, and passing on its stories. Barragán's family land is part of a larger landscape, where WWF and others hope jaguars and other wildlife will soon be able to roam freely through a corridor of connected private reserves and public protected areas that stretches from eastern Colombia to western Venezuela. In 2008, WWF helped the Barragán family achieve private reserve designation for their land. Through Heritage Colombia, WWF is working with the Barragáns and others to get the remaining land in the corridor designated as protected and properly managed.

"Our land is not an island. I've always felt like our land is part of something larger—something that belongs to everybody," Barragán says. "And I believe we have an obligation to protect it, not to transform it into something it's not supposed to be. We don't need something else. We already have our prize—birds, jaguars, nature. It's why I wake up in the morning."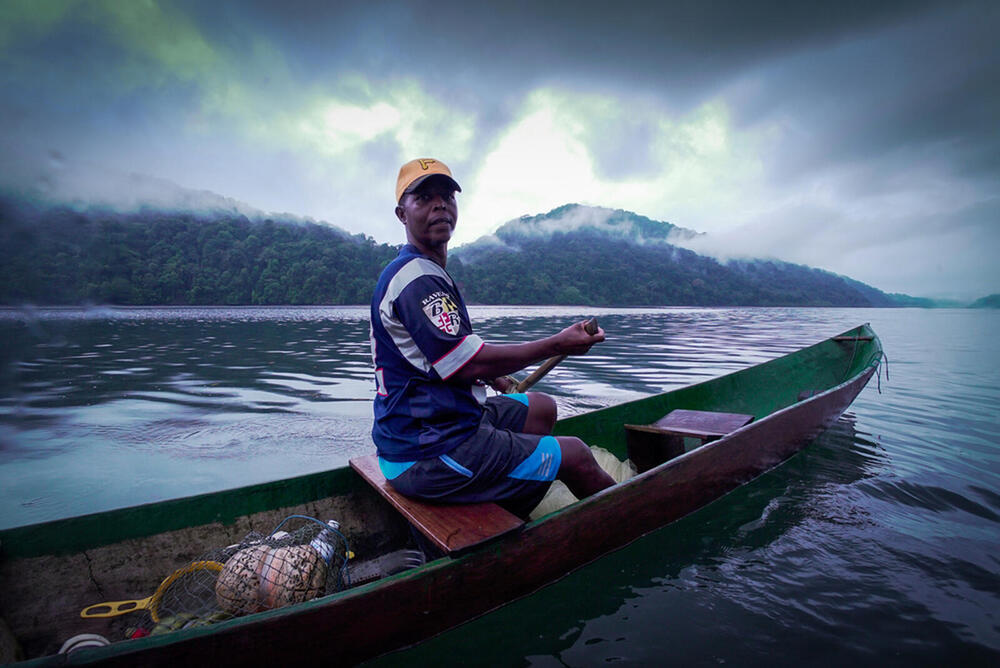 Explore More
About

World Wildlife magazine provides an inspiring, in-depth look at the connections between animals, people and our planet. Published quarterly by WWF, the magazine helps make you a part of our efforts to solve some of the most pressing issues facing the natural world.