Elizabeth Littlefield on putting communities at the center of conservation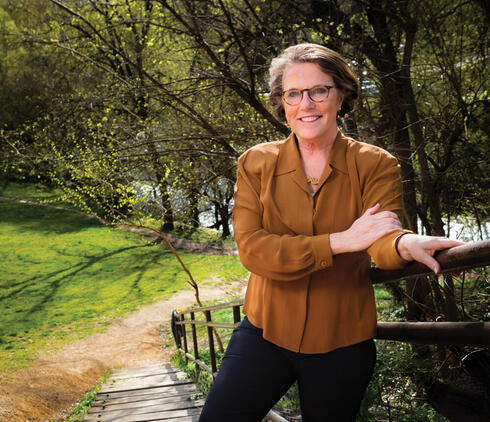 Some have said it takes a village to raise a child. By following her passion for nature, Elizabeth Littlefield found out that it takes lifting up a village to help save the natural world.
Like many of us, as a child Littlefield was deeply drawn to the natural world. As she saw it then, nature was limitless.
"It never occurred to me that in my lifetime we would go from thinking of nature as endless, awesome, and all-powerful to realizing how fragile and threatened it has become," she says. "Changing the way people interact with nature and steward the planet is, to me, the existential issue of our time."
As an adult, Littlefield spent 17 years at J.P. Morgan. A side passion, working with the local homeless community, led to her interest in the microfinance field. She eventually took a leave of absence from her job and spent several years in Africa, helping local communities in places like Mali, Rwanda, and Senegal set up microfinance institutions.
Spending time in such extraordinary natural settings was the beginning of her commitment to ensuring economic security could coexist with the protection of nature. Her two great passions had become one.
In 2010, President Obama appointed Littlefield to lead the Overseas Private Investment Corporation, or OPIC, the US government's development finance institution. She immediately got to work growing OPIC's investment portfolio to $24 billion and focusing it on climate finance and renewable resources and on poorer countries. In just three years, OPIC's investments in renewable energy had grown tenfold and its investments in the poorest places had doubled.
"We must meet the legitimate aspirations of the billions who are moving out of poverty, but we must do so in a way that protects nature."

Elizabeth Littlefield WWF Board Member
But while working on both environmental matters and human development, she began to note how advocates in these two worlds rarely intersect, and how they operate in very separate spheres. She recalls giving speeches that ended like this: "We must meet the legitimate aspirations of the billions of people rising out of poverty into the middle class. But we have to do so in a way that also protects and preserves nature and the health of our planet."
After Littlefield left OPIC, she wanted to take some time off and recharge. She headed to Namibia to study the work of WWF and its partners on community-based natural resource management, its replicability for other markets, and the challenges of managing natural resources while at the same time building livelihoods and a sustainable economy.
What she learned in Namibia was the importance of putting people at the heart of conservation. In order to be successful, all conservation must be designed in close partnership with the communities who steward, and rely on, natural resources.
"I really wanted to understand the community piece of community-based natural resource management," Littlefield says. She wanted to learn what was motivating communities to participate, why they stayed engaged, and how they saw the balance between their short- and long-term economic incentives.
"It was fascinating," she says. "And it just fed my ongoing passion to explore and advance models that support communities while protecting landscapes."
Something Littlefield noticed was the humility with which WWF operated its community-based projects in Namibia. "WWF was playing the supporting role, not the leading role, which I think is one reason these conservancies have been so successful," she says. "It's so important to lift up the work of others—we're all in this together."
One village at a time, one community at a time, one family at a time—it truly takes the efforts of many to build a prosperous and sustainable future for all.
Explore More
About

World Wildlife magazine provides an inspiring, in-depth look at the connections between animals, people and our planet. Published quarterly by WWF, the magazine helps make you a part of our efforts to solve some of the most pressing issues facing the natural world.