Meet a group of catfish new to scientists
Issue: Winter 2019
Photographer: Lesley S. De Souza
The word catfish might call to mind the gray, slick-skinned, long-whiskered catch celebrated by sport fishers. But while it's true that none have scales and all have whisker-like tentacles, catfish are actually quite diverse: roughly 2,900 species are found in freshwater and marine bodies around the world. In February, a group of researchers led by Field Museum scientist Lesley de Souza added six more to that number—all with some pretty funky-looking snouts.
NEW TO SCIENCE
The new species, discovered in South America, are part of the genus Ancistrus and commonly referred to as bristlenose catfish—a name that reflects the feelers on the face of the male fish.
ON THE NOSE
Both sexes have tentacles, but the male's are much bigger, resembling larvae. Since the males protect eggs and larvae from predators, researchers think their larvae-like tentacles may play a role in attracting females.

Ancistrus amaris

Ancistrus leoni

Ancistrus saudades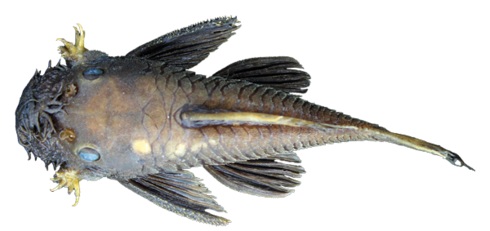 Ancistrus patronus

Ancistrus yutajae

Ancistrus kellerae
LIFE & TIMES
RANGE Amazon and Orinoco river basins in Colombia, Guyana, and Venezuela
HABITAT clear-water creeks, streams, and among rocks or woody debris in rivers
DIET mostly algae; some other vegetation
THREATS loss of habitat to mining, agriculture, and deforestation
ANATOMY
SIZE 3–6 inches long
HEAD SPINES can be expanded in self-defense
BONY PLATES cover the body, offering protection
MOUTH functions like a vacuum cleaner to suck up algae
Explore More
About

World Wildlife magazine provides an inspiring, in-depth look at the connections between animals, people and our planet. Published quarterly by WWF, the magazine helps make you a part of our efforts to solve some of the most pressing issues facing the natural world.