In-Depth
Flow Lines
In southern Africa, a confluence of rivers and elephant migration patterns unites five nations around a shared vision for conservation, tourism, and sustainable development
Issue: Winter 2020
Author: Dianne Tipping-Woods
Photographer: Patrick Bentley
Rivers, streams, and wetlands gush, trickle, surge, soak, seep, and filter their way through the Kavango-Zambezi Transfrontier Conservation Area (KAZA), bringing life to Africa's most ambitious conservation landscape. Like the people and wildlife of the region, the waterways here are unique, diverse, and interconnected. The Okavango River (called the Kavango along the Namibia/Angola border) spills into the famed Okavango Delta; the Zambezi thunders over Victoria Falls; and the Kwando slowly meanders between the two, filling Botswana's Linyanti wetlands before joining the Zambezi.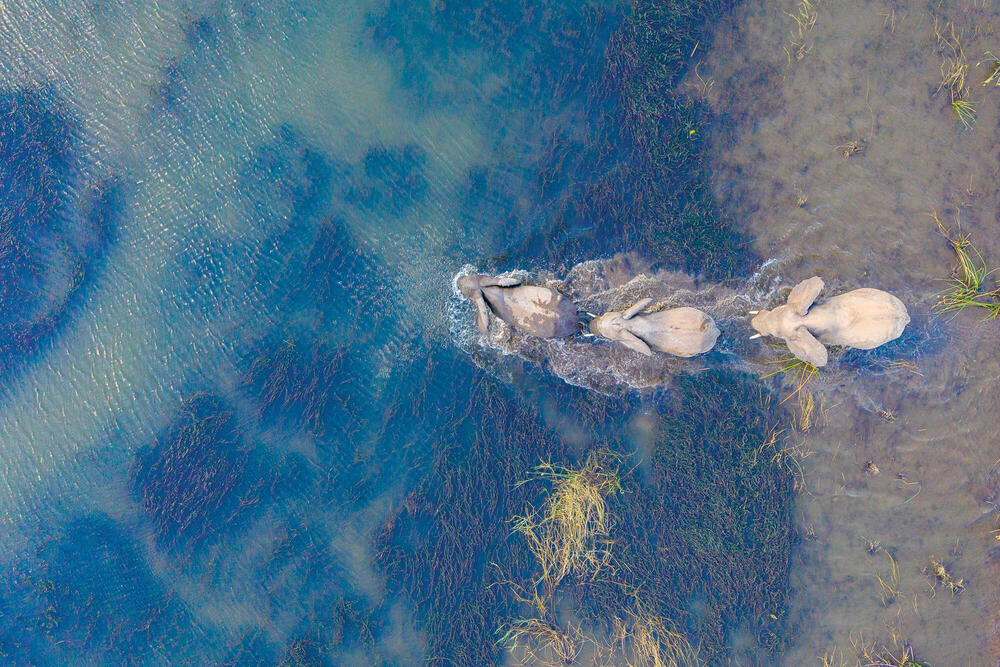 "It's thanks to the water that this area has some of Africa's most remarkable natural attributes, from vast herds of elephants to World Heritage sites," says Mike Knight, KAZA transboundary leader for WWF, which helped establish the conservation area in 2011. "It's critically important to make sure that water in the system keeps flowing."
Shared resources are at the heart of KAZA, which is collectively managed for conservation, tourism, and sustainable development by the governments of Angola, Botswana, Namibia, Zambia, and Zimbabwe. The vision is for conservation to become the region's economic driver, resulting in thriving landscapes where wildlife and human communities coexist.

At 200,000 square miles—roughly the size of France—KAZA is the world's largest transboundary terrestrial conservation area. Along with its chief rivers and their tributaries, it features more than a dozen national parks and a host of other conservation areas—including large tracts of communal conservancies and Indigenous peoples' lands. It also contains rural and urban settlements that are home to 2.5 million people.
"We're not changing our focus from wildlife, but just realizing how key water is to that mission, both for people and the species in the landscape."

Sarah Davidson WWF Director of Water Policy
More than 220,000 African elephants—half the continent's total population—are the giants of this vibrant landscape. They range over thousands of miles and play a profound role in the ecosystem by dispersing seeds, cycling nutrients, and creating grazing areas for grassland species like buffalos and zebras. KAZA is designed to create space for elephants to move as the rivers do, across borders and between protected areas, and to allow other animals—herbivores like lechwe, roan, and sable antelopes and predators like lions, cheetahs, and African wild dogs—not only to survive but to thrive. "If you secure the environment for elephants, you secure it for other species too," says Knight.
But wild animals can be hard for people to live with; they raid crops, kill livestock, and endanger human lives. Farmers know to scan the areas around their kraals (corrals) for predators' tracks, and it is not unusual to see elephant footprints on dusty village paths.
The reality is that KAZA's people and wildlife live together in a sometimes uneasy truce, punctuated by bouts of conflict. Mitigating such conflict, especially with large carnivores and elephants, is key to WWF's efforts here, as are increasing the participation of local communities in natural resource management and contributing to species conservation and transboundary water- and land-use planning.
The vision for KAZA is an audacious one. "KAZA represents hope for Africa's elephants," says Knight, "and for all the communities—human, plant, and animal—that depend on healthy natural systems."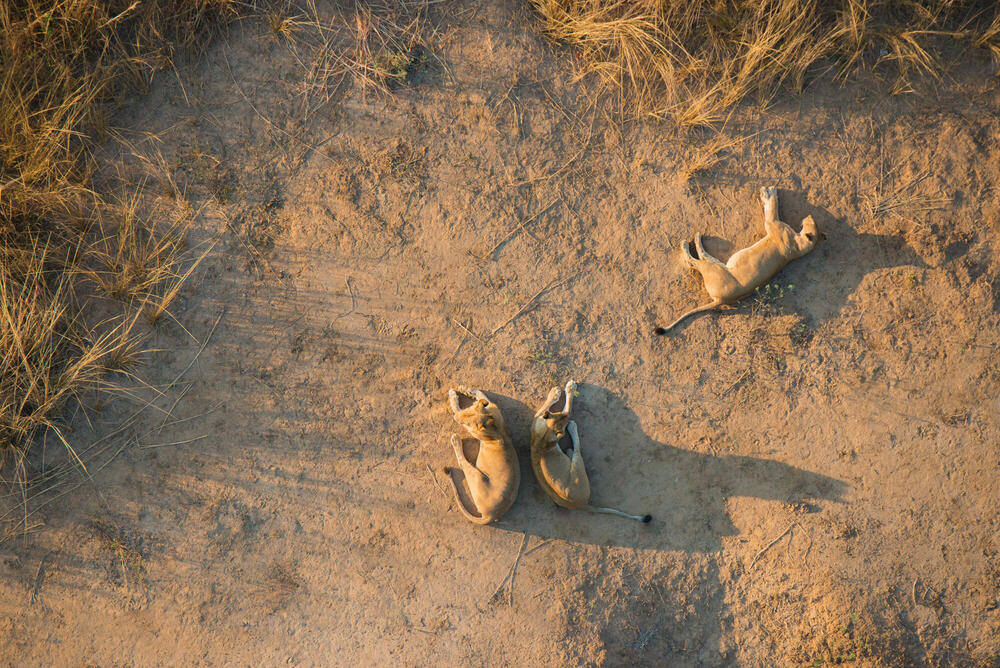 A Conservation Opportunity
"Securing space for elephants is going to have a monumental impact on the opportunities that exist for people living in the region," says Knight. But to flourish, elephants need more habitat than KAZA's formally protected areas currently provide. They also need about 40 gallons of water a day to drink. "They're quite simply running out of space, in part because of how humans have carved up and fragmented the land," he says.
That's why much of WWF's work in KAZA focuses on wildlife dispersal areas. (See "Crossing Paths.") Identified by the member countries, wildlife dispersal areas are strategically positioned tracts of land that connect protected areas so that elephants and other species can travel safely to expand their ranges. One of the most important for elephants is the Kwando Wildlife Dispersal Area, which connects Botswana, Namibia, and Zambia to protected areas in Angola.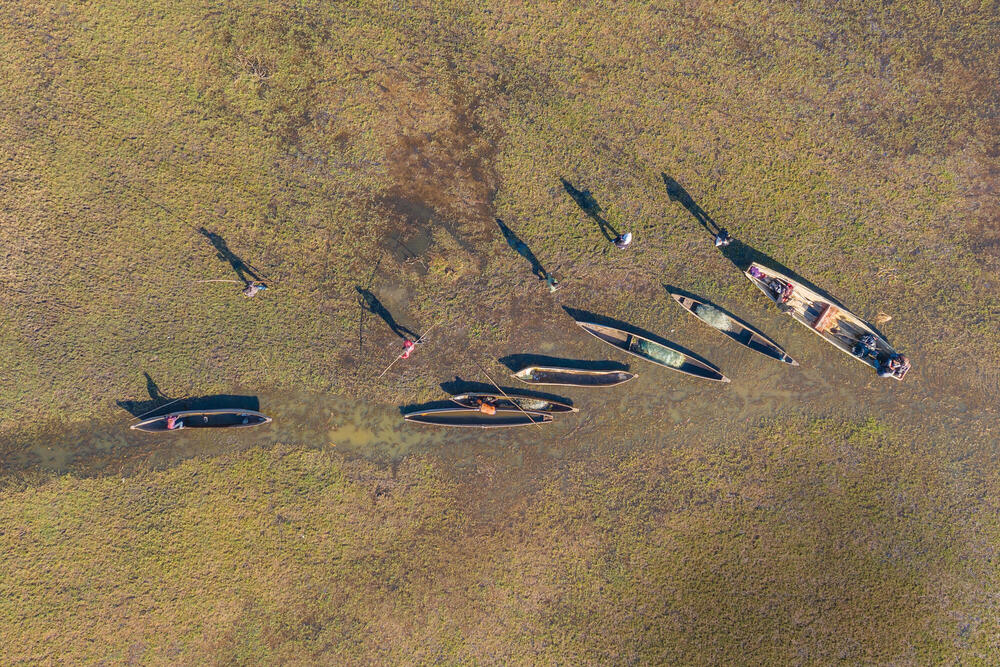 Historically, Angola was part of the natural range of southern Africa's elephants, but due to decades of war and poaching, the country's elephants have mostly disappeared. Infrastructure like roads and fences also deters elephants from moving north from Namibia and Botswana.
Although Angola committed to KAZA in 2006, it's only in recent years that a stable political situation and a willing government have made southern Angola "a conservation opportunity that's waiting to take place," says Knight. He estimates that 30,000–60,000 elephants could move into the Angolan portion of KAZA, having a huge impact on their conservation and potentially relieving pressure on northern Botswana, where elephant numbers are high. Angola is also home to the headwaters of the Kwando and Okavango rivers, meaning it is vital to the region's water flows.
Data from collared elephants shows some are already using the Kwando Wildlife Dispersal Area to move into Angola from neighboring countries. One corridor in particular, on the west side of the Kwando River, is "heavily used by elephants and other species," says Robin Naidoo, WWF's lead wildlife scientist. This is partly because the river creates a natural corridor and partly because of a gap in the border fence between Namibia and Botswana. "It's an area of fundamental importance for KAZA's wildlife," he says.
"In Portuguese [this part of southeastern Angola] has been called a terra do fim do mundo, the land at the end of the Earth," says Antonio Chipita, who works for the Associação de Conservação do Ambiente e Desenvolvimento Integrado Rural, or ACADIR (the Association for Environmental Conservation and Integrated Rural Development), a WWF partner. Chipita describes the area as having some isolated villages, few clinics, fewer hospitals, and very few schools. Most of its residents are subsistence farmers, some of whom moved to the area to escape the worst of the 27-year conflict that began soon after Angola gained independence from Portugal in 1975. Crop yields here are among the lowest in Africa due to poor, sandy soils; most people grow just enough to survive.
Based in the Angolan town of Menongue, Chipita sometimes travels for days on poor roads in this remote area to talk with villagers—many of whom live within Luengue-Luiana National Park—about their challenges, their needs, and their livelihoods.
"We are interested in helping people here have better lives," says Chipita. How do they feel about thousands of elephants potentially moving through their landscape? The views are mixed, he says, adding that villagers have already had conflicts with several elephants, as well as crocodiles, baboons, buffalos, and some predators.
"We don't know what the answers are yet, but we focus on people's needs as a way to start talking about conservation," says Chipita. "People here care about healthcare and food security. Often people say, 'The wildlife is nice, but we're hungry.' You can't argue with that."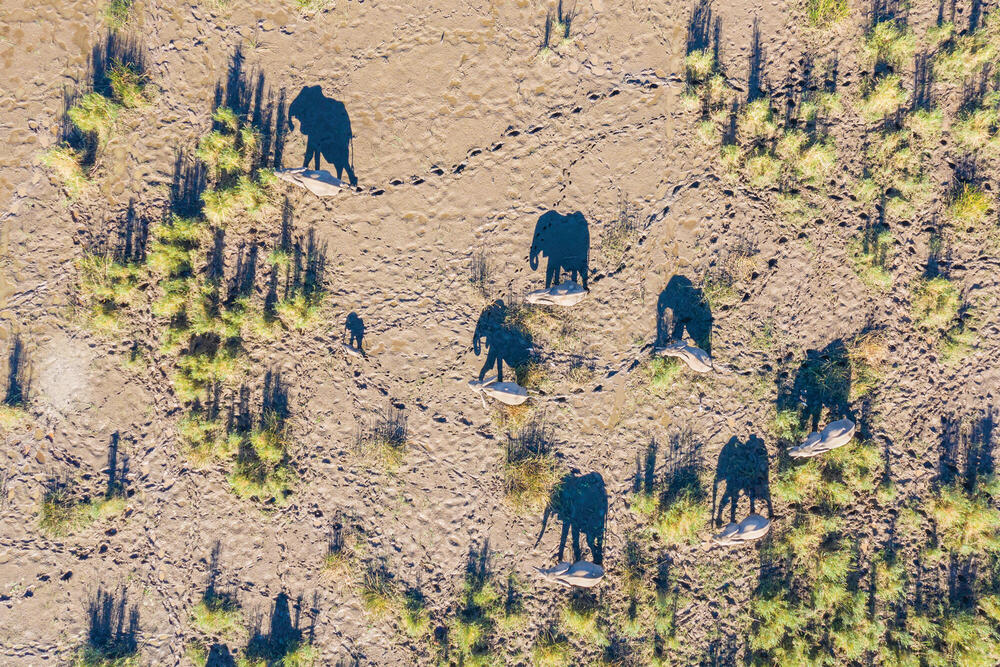 Water for Elephants, Water for All
Water, too, is a fundamental concern. In Luengue-Luiana National Park, Chipita says, villagers rely on the Kwando River for water to drink and wash with, for reeds to build with, and for fish to supplement their diets.
But as mighty as the Okavango, Kwando, and Zambezi rivers are, their flows vary in quantity and quality from year to year. Upstream events—droughts, new hydropower dams, pollution, increased extraction—have an impact on the people and wildlife downstream.
People generally cope by shifting their activities to the rivers in the dry season and during droughts, but animals respond in the same way. In the wet summer months, there are natural pans and streams for wildlife to drink from, but in the dry season rivers are the animals' lifelines, too. Take elephants, says Naidoo: "Research clearly shows that water availability is one of the strongest variables for their distribution ... and as human settlements increase along rivers, the points where wildlife can visit the rivers to drink without encountering people become fewer and farther between."
Not surprisingly, human-wildlife conflicts in KAZA often have a link to water. Jess Isden of WildCRU's Trans-Kalahari Predator Programme, a conservation research unit associated with the University of Oxford, studies these conflicts in parts of KAZA. One village where she works in Botswana, for example, is surrounded by protected areas. In the dry season, animals move out of the protected areas and through the village and communal grazing lands to reach water.
"Often people say, 'The wildlife is nice, but we're hungry.' You can't argue with that."

Antonio Chipita ACADIR
"Every village I have worked in has different approaches to and thoughts around wildlife conflict based on their culture and lived experience," says Isden, a coexistence coordinator for WildCRU. But water—and where it flows in relation to people and wildlife—can increase or decrease the potential for conflict. As climate change affects where and how people and wildlife access water, conflicts are likely to grow.
Climate change has other impacts as well. "The changing seasonality of rainfall is a big thing we're seeing in all countries in KAZA," says WWF's Nikhil Advani, who directs climate change projects in KAZA in collaboration with local organizations like ACADIR. He says that getting real data from people who are living with the consequences of a changing climate is critical, adding that in many cases "it's simply devastating livelihoods." (See "Climate Crowd.") When communities are under this kind of pressure, he adds, their responses can harm biodiversity as they turn to poaching animals for bushmeat and deforesting areas for charcoal production.
"We need to help communities adapt, with a view to helping nature too," says Advani. One way to do that is to increase water access for communities through innovative methods like rainwater harvesting.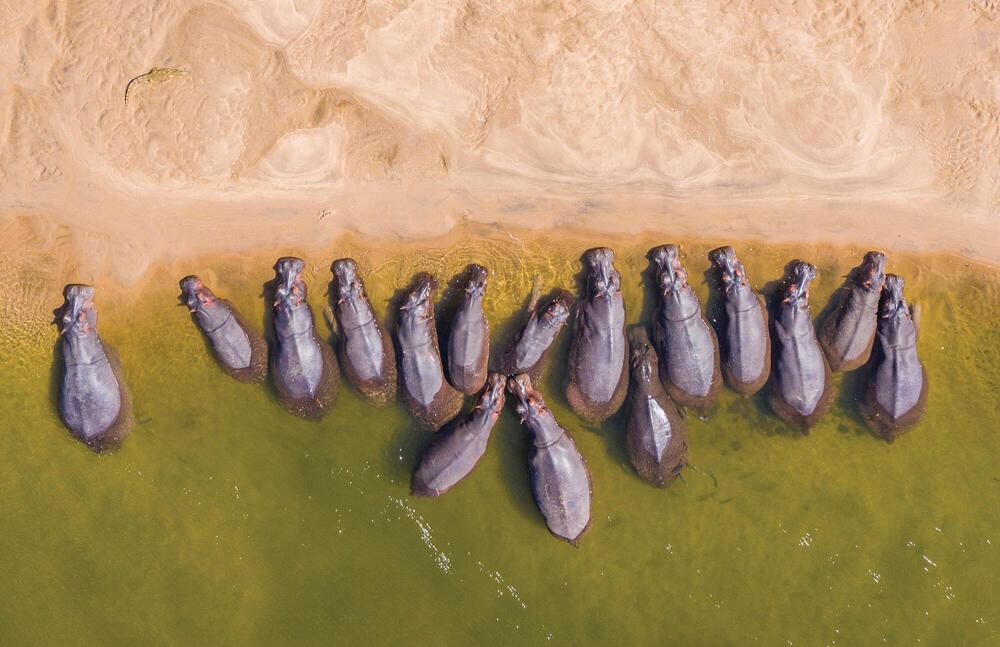 To keep water flowing for people and wildlife in KAZA will take action at every level, from the local to the national, says Sarah Davidson, WWF's director of water policy. "We need everything from communities using water-saving farming techniques during droughts to neighboring countries collaborating on decisions about shared water resources."
In collaboration with WWF-Zambia and their partners—including the Angolan government, the intergovernmental Zambezi Watercourse Commission, USAID, and the US Department of State—Davidson is looking specifically at the Kwando River. It's one of the least-studied rivers in one of the most strategic areas of KAZA, with not only the potential for elephants to move north along its course into southeastern Angola but also, and perhaps even more important, the vital function of moving water south.
As a first step, Davidson and WWF-Zambia are helping local and regional stakeholders develop a "report card" on the health of the Kwando River Basin; it's an approach that's been successful elsewhere in planning for the wise use of water. She is optimistic that the report card will serve as an informed and inclusive starting point for conversations about the river's future.
"Often, our collective understanding of water centers on drinking water and sanitation, but these cannot be separated from rivers and biodiversity," says Davidson. "We're not changing our focus from wildlife, but just realizing how key water is to that mission, both for people and the species in the landscape."
Davidson emphasizes that the communities living in southeastern Angola are small. "It's not their activities that are threatening the river. It's the larger upstream decisions about how the river is managed that will affect its health."
Perhaps the largest threats are hydropower dams: Angola's hydropower potential is among the highest in Africa. WWF's Evan Freund, who focuses on the impacts of infrastructure on freshwater systems, says that hydropower development in the Angolan headwaters would "absolutely" change the dynamics of the Kwando River, not to mention the Okavango and Zambezi rivers.
He says that to protect biodiversity, to allow people to benefit and coexist in a permeable landscape, and to minimize the human footprint through smart regional planning, stakeholders need to manage KAZA's water as its most fundamental asset.
"The thing to appreciate is that the governments [in KAZA] are trying to figure out how to support an economic growth agenda," says Freund. "If we are going to promote our conservation strategies, we have to think about infrastructure as part of that. Infrastructure is a conservation issue, front and center."
With WWF's support, the Angolan government and the KAZA-TFCA Secretariat are working with small and medium-sized Angolan businesses to look at bankable projects in the tourism, energy, agriculture, and fisheries sectors that will deliver services and support livelihoods without jeopardizing conservation.
In the Kwando Wildlife Dispersal Area, for example, this means making smart decisions about smaller-scale projects linked to zoning and land use. Questions that need to be answered, suggests Freund, include these: Are there better places to plant crops? Can fisheries help offset food insecurity? How do people access markets if the roads are bad? If you must build something, can you make it sustainable and compatible with conservation outcomes?
Solutions that answer questions like these aren't always obvious, says KAZA-TFCA Secretariat executive director Nyambe Nyambe. But he believes "there cannot be conservation success and impact without other sectors, like commerce, fisheries, agriculture, and public health, because only then can we have true ecosystem health."
"That's what makes working on KAZA so exciting," says Neville Isdell, former chair and CEO of The Coca-Cola Company. The longtime WWF supporter and Board member, and former Board chair, invests in people's health in KAZA through the Isdell Flowers Cross Border Malaria Initiative, while helping to rewild conservation areas. "KAZA is designed to care for people, for wildlife, and for habitat. National boundaries do not stop animals, or water, or diseases. We've got to address the issue of human well-being and how that's linked to climate change, and how that in turn is linked to food security and all these other issues in the region."
"Conservation comes through wise development," says WWF's Knight. "For a wildlife economy to work in KAZA, an intact, functioning ecosystem is key."
Rapid Response
The COVID-19 pandemic has been a huge setback to wildlife- and tourism-dependent communities in KAZA. After taking stock of the situation on the ground, WWF has responded in meaningful ways.
Health first
The pandemic has had a negative impact on agriculture as well as tourism and hospitality industries in Zambia's Sioma district, part of a vital elephant corridor. Due to these dwindling income streams, many communities couldn't afford face masks or hand sanitizer. WWF-Zambia and the Peace Parks Foundation responded by delivering $22,369 worth of personal protective equipment for communities and frontline health workers to the Ministry of Health in the Sioma Complex of Sesheke District in Western Zambia.
Sharp focus
As tourism-related incomes falter and some rangers are required to shelter in place, illegal trade in wildlife is expected to spike. So WWF-Zimbabwe and the Zimbabwe Parks and Wildlife Authority are implementing and upgrading an automated digital surveillance system in Hwange National Park to gather data from ranger patrols, analyze local poaching trends, and track law enforcement responses—all of which can help control wildlife crime. Additionally, GPS-enabled camera traps allow instant photo messaging from strategic points such as watering holes to a call center, which allows rapid reaction when suspicious movements occur—and reduces the need for face-to-face interactions during the pandemic.
Better basin health
The COVID-19 pandemic has highlighted the importance of protecting water sources for both agriculture and human well-being. Improving river basin health not only benefits agriculture but also improves people's access to drinking water, sanitation, and hygiene. With support from USAID and the US Department of State, WWF-Zambia and ACADIR (a partner in Angola) are working with communities on inclusive management of water resources in the Kwando River Basin. At the height of the pandemic, adhering to strict safety precautions, the team continued important training on water management, conservation farming, and climate change adaptation, and also distributed soap and other health and safety materials to help fight the spread of the virus.
Read about what WWF is doing to help people affected by COVID-19 in Namibia.
Explore More
About

World Wildlife magazine provides an inspiring, in-depth look at the connections between animals, people and our planet. Published quarterly by WWF, the magazine helps make you a part of our efforts to solve some of the most pressing issues facing the natural world.