New economic drivers for conservation in Africa
54
Number of nationalities represented in the Beyond Tourism in Africa challenge, a majority of them in Africa
In Africa, much of the success of wildlife conservation has been tied to income generated from the travel and tourism industry. With the COVID-19 pandemic canceling flights and compromising tourism revenue, the vulnerability of this model has become clear. So, WWF Regional Office for Africa, the African Leadership University's School of Wildlife Conservation, and the Luc Hoffmann Institute launched the Beyond Tourism in Africa challenge to generate innovative income ideas. More than 300 applicants submitted project proposals, and winners secured a place in the university's eight- month incubator program in 2021 to help them turn their ideas into investment-ready businesses. Here are a few highlights.
BEES IN HIVE © KARI SCHNELLMANN; WOMAN WITH HONEY © BRENT STIRTON/GETTY IMAGES/WWF-UK; GORILLA © LINDA HOYDIC; BEADING © JONATHAN CARAMA- NUS/GREEN RENAISSANCE/WWF-UK; LEMUR © WWF/MARTINA LIPPUNER; RHINO © STAFFAN WIDSTRAND/ NATUREPL.COM; WATERING HOLE © WWF-US/STEVE MORELLO; BASKETS © JAMES MORGAN/WWF-US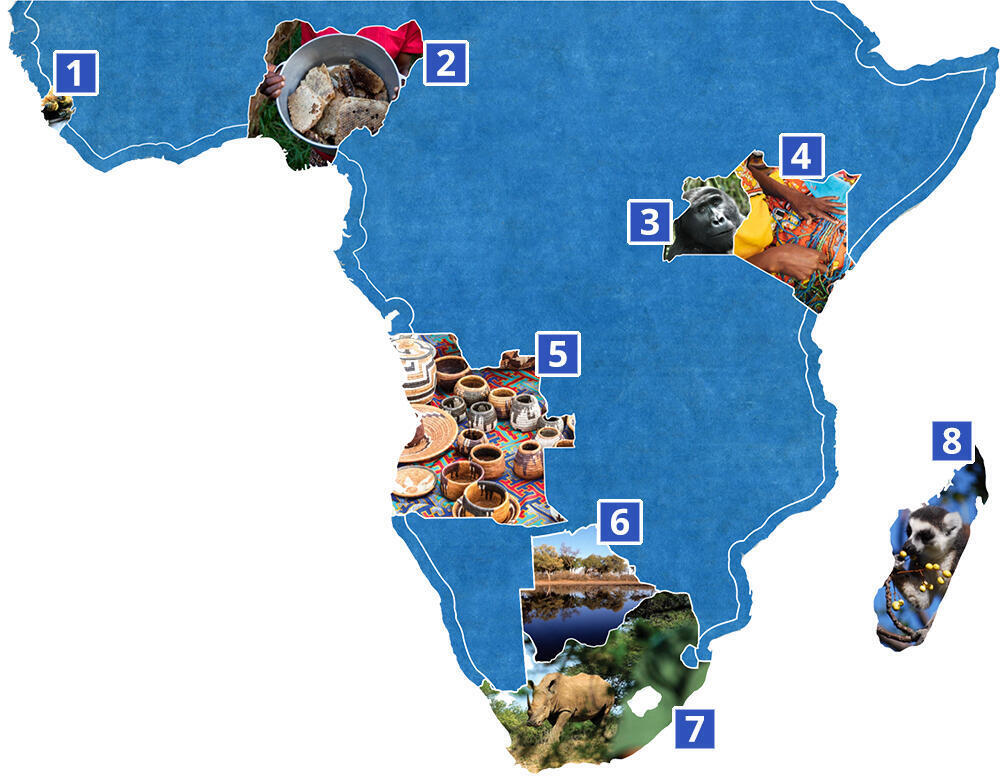 Sierra Leone

Educating local beekeepers in sustainable farming would create income, encourage community engagement, and teach environmental protection. Integrated marketing workshops would uplift women and young people with new skills.

Nigeria

Jobs for women and young farmers could be created through honey harvesting using eco-friendly practices, with a percentage of the revenue funding wildlife protection.

Uganda

A subscription-based mobile app would support gorilla conservation and nearby communities, enabling users worldwide to interact virtually with the great apes and purchase handicrafts from the communities.

Kenya

A digital cultural hub would connect Kenyan artisans and fashion designers with the international market, empowering the artists to express how their cultures relate to nature.
Angola

A virtual platform showcasing handmade products, tourism content, and educational experiences would bring international shoppers together with local communities. Products would emphasize sustainability, with some profits directly financing conservation programs in the KAZA region—Angola, Botswana, Namibia, Zambia, and Zimbabwe.

Botswana

Philanthropists would be able to directly support habitat protection by sponsoring plots of land set aside for wildlife, creating revenue for people and additional habitat for animals.

South Africa

An online platform would take viewers to the field for lessons in environmental sustainability practices, wildlife conservation, culture, and more.

Madagascar

Seeds from endemic plants of southwest Madagascar germinate faster after a lemur has eaten them. Collecting and selling these seeds would help restore degraded habitats and provide more food for lemurs.
Explore More
About

World Wildlife magazine provides an inspiring, in-depth look at the connections between animals, people and our planet. Published quarterly by WWF, the magazine helps make you a part of our efforts to solve some of the most pressing issues facing the natural world.