Stranger Things: The astonishing acoustics of the white bellbird
The white bellbird, native to the Amazon rain forest, has the loudest recorded call of any bird: 125 decibels, or roughly as loud as a rock concert. It uses this call not for long-distance communication or to intimidate predators but to woo potential mates. This pigeon-sized bird is no Frank Sinatra, though. Its hair-raising song sounds more like an emergency alarm than a lover's warble. (Trust us: Look it up.)
WHITE BELLBIRD Procnias albus
RANGE
Northeast South America, including Brazil, Venezuela, and the Guianas
SIZE About 11" long
DIET Fruit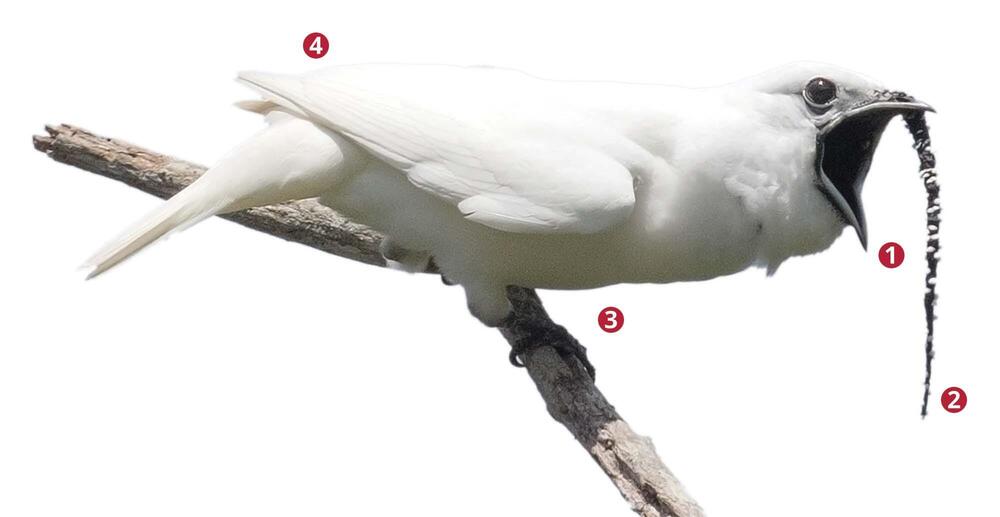 MOUTH
Adapted to eat fruit, the bird's very wide mouth opens broadly when it sings.
WATTLE
A dark-gray, fleshy spike with small, white feathers hangs from the male's forehead.
ABDOMINALS AND RIBS
Unusually strong core muscles may be the key to the bird's unique vocal prowess.
PLUMAGE
Adult males are covered with bright-white feathers, while the females sport olive-green and yellow plumage.
NOISE LEVEL CHART (in decibels)
Whisper
Human
conversation
City
street
Jet plane
takeoff

TYPICAL NOISE LEVELS
ANNOYING, SPEECH MASKING
HAZARDOUS
HIGHLY HAZARDOUS
CAN YOU HEAR ME NOW?
Researchers have found that male white bellbirds sing loudest around females, likely in attempts to attract a partner. When a female perches nearby, the male begins its song, then pivots to face her head-on and belts his most ear-splitting note. Females may favor the loudest males.
©Lars Petersson/Macaulay Library at the Cornell Lab of Ornithology (ML206032151)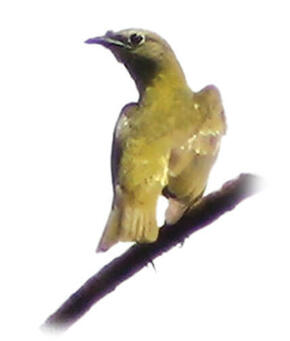 Unlike males, females don't have wattles or a mating call. In fact, they barely make any noise at all.
Explore More
About

World Wildlife magazine provides an inspiring, in-depth look at the connections between animals, people and our planet. Published quarterly by WWF, the magazine helps make you a part of our efforts to solve some of the most pressing issues facing the natural world.