Establishing a Network of Artificial Watering Holes for Saiga Antelope in Russia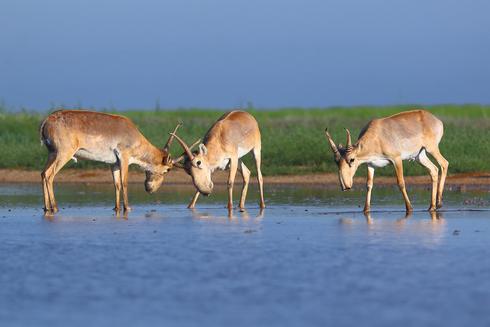 Over the past few decades, temperatures in the Northwest Pre-Caspian Region of Russia have risen while precipitation has declined. Driven by a changing climate, these shifts have caused small lakes and streams to dry up during the summer months. People also use more land for livestock pasture now, leaving less space and water available for wildlife such as the critically endangered saiga antelope (Saiga tatarica tatarica). The Russian population of saiga is one of the smallest, numbering only 5,000-6,000 individuals.
This pilot project, funded by WWF's Wildlife Adaptation Innovation Fund, aimed to make more water available for saiga antelope by restoring three artesian wells from which they can drink within the Stepnoi wildlife refuge.
Park authorities completed repairs in late 2018 and water flow at each well has improved significantly. Now more water is available for saiga antelope and other animals such as foxes and wolves. It will also reduce competition between livestock and wildlife for water resources and decrease poaching of Saiga Antelope as they spend more time inside the protected area.
Camera traps have been installed at the three wells to monitor animal activity.