Help Protect the Amazon So Macaws and Other Wildlife Have a Place to Call Home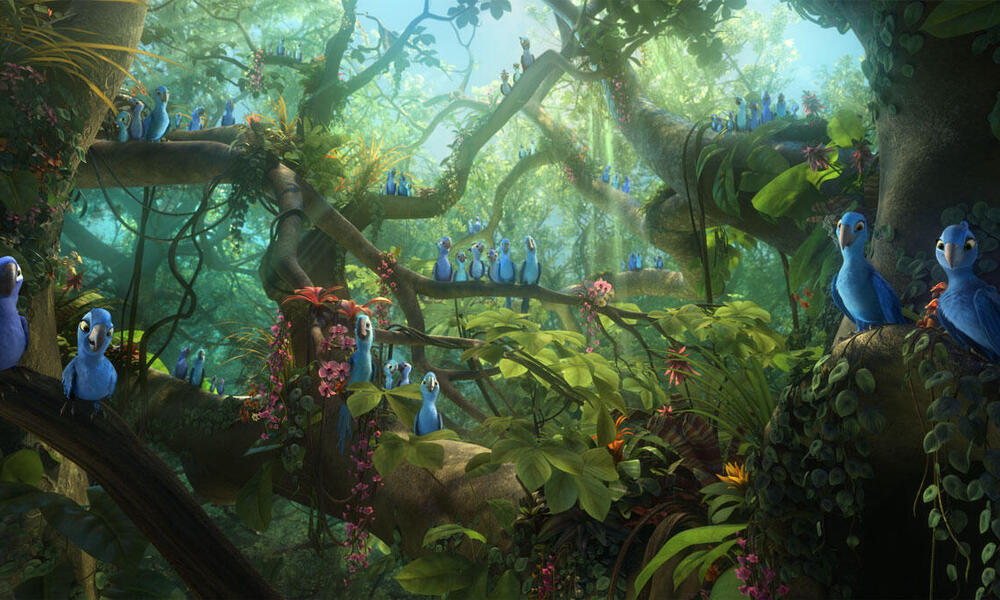 The Amazon is a remarkable place. One in ten of all known species live there. It's one of the last refuges for jaguars, harpy eagles and pink dolphins. And the Amazon is home to more than a thousand different species of birds—including the amazing macaw.
With the help of Twentieth Century Fox's RIO 2, WWF is shining a light on the Amazon and all the wildlife that call it home. In RIO 2, the main characters Blu, Jewel, and their three young macaws travel deep into the Amazonian rain forest to find other blue macaws and discover their roots.
An icon of the Amazon, macaws are highly intelligent and social, living in flocks of 10 to 30 birds. Their squawks and screams echo through the forest canopy. Some species can even mimic human speech. But Macaws are under threat from deforestation and the illegal pet trade.
WWF has worked to protect the Amazon for more than 40 years, not only for macaws, but for all the wildlife and people who rely on its landscape. By creating networks of protected tropical forest—including one larger than the state of California —we help safeguard the Amazon for generations. We're also working to phase out the import of wild birds to the US and fighting wildlife crime around the globe.
The Amazon rain forest is home to more than a thousand different species of birds, including the blue-and-yellow macaw. Macaws are highly intelligent, mate for life and can live up to 60 years.

Jaguars are strong swimmers and climbers and require large areas of tropical rain forest and stretches of riverbank to survive.

Scarlet Macaws are found in tropical forests from eastern Mexico to the Peruvian Amazon and Brazil. WWF helped create Peru's spectacular Manu National Park, home to the scarlet macaw and nearly 10 percent of all bird species on Earth.

The tapir is the Amazon's largest mammal. Its population has declined 30% in the last 30 years primarily due to habitat loss from deforestation and land conversion for agriculture.

pink

These freshwater dolphins known as Amazon river dolphins or pink river dolphins eat a variety of fish species of different sizes. They are very playful and curious, and in the wild have been known to play with other species including turtles and fish.

The harpy eagle is one of the world's most powerful raptors.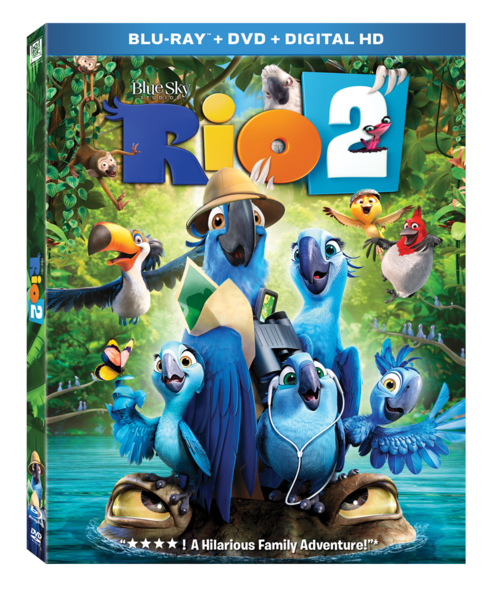 About the Partnership
The Twentieth Century Fox and Blue Sky Studios animated film RIO 2 is helping WWF protect the Macaw and their habitat through the home entertainment release of RIO 2 on Blu-ray, DVD and Digital HD. Twentieth Century Fox Home Entertainment is donating $100,000 to WWF to support our conservation efforts in the Amazon.
About the Film
Welcome to the jungle...of fun! The cast of the animated hit comedy Rio returns — along with a new flock of all-star voice talent, including Bruno Mars, Kristin Chenoweth and more — in this high-flying sequel for the whole family. The party continues when Blu (Jesse Eisenberg), Jewel (Anne Hathaway) and their three kids take a walk on the wild side and embark on a colorful, comical, music-filled journey through the Amazon. As Blu tries to fit into his new surroundings, he goes beak-to-beak with the villainous Nigel, and meets the most fearsome adversary of all: his father-in-law!
Text MACAW to 20222 to donate $10
*Your donation will support WWF's efforts to protect animals like macaws and their habitats around the world. A one-time donation of $10.00 will be added to your mobile phone bill or deducted from your prepaid balance. All donations must be authorized by the account holder. All charges are billed by and payable to your mobile service provider. User must be age 18 or older or have parental permission to participate. By texting YES, the user agrees to the terms and conditions. Service is available on most carriers. Message & Data Rates May Apply. Donations are collected for the benefit of World Wildlife Fund by the Mobile Giving Foundation and subject to the terms found at www.hmgf.org/t. You can unsubscribe at any time by texting STOP to short code 20222; text HELP to 20222 for help.
© 2014 Twentieth Century Fox Film Corporation. All Rights Reserved.
© 2014 Twentieth Century Fox Home Entertainment LLC. All Rights Reserved.