Infrastructure and Nature
The private and public sectors are expected to invest $90 trillion in major infrastructure projects between now and 2030—essentially doubling the amount of infrastructure on Earth and transforming the surface of the planet.
Infrastructure is key to achieving the goals of multiple agreements, including the Paris Agreement, the Convention on Biological Diversity, and the UN Sustainable Development Goals.
The Infrastructure and Nature coalition showcases how we can deliver new and necessary infrastructure while restoring biodiversity, building resilience, and creating a just and carbon-neutral future.
Resource Library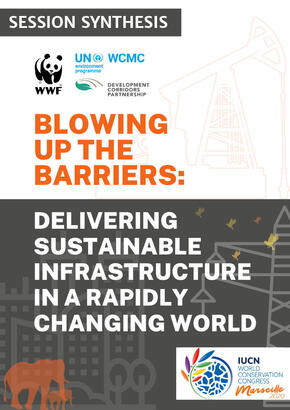 Session Synthesis from the Blowing up the Barriers: Delivering Sustainable Infrastructure in a Rapidly Changing World, IUCN World Conservation Congress event
The IUCN World Conservation Congress hybrid in-person and virtual forum session(Sept 6, 2021) hosted by WWF, UNEP-WCMC, and the Development Corridors Partnership brought together experts from across public and private sectors to explore practical solutions to the complex challenges faced in the planning and implementation of sustainable infrastructure. Setting the tone of the session, Nicolas Buchoud, a leading infrastructure expert and our session moderator, posed the question: How can we break barriers to acquaint the world of infrastructure with biodiversity?
Over the course of the ninety-minute session, key insights and examples were provided to illuminate the practical and realistic solutions available for future sustainable infrastructure development. The discussion was guided by overarching responses to the challenges surrounding data and standards; awareness, technical capacity, and know-how; collaboration & participatory approaches; and policy and regulatory incentives.
Authors: WWF, UNEP-WCMC, Development Corridors Partnership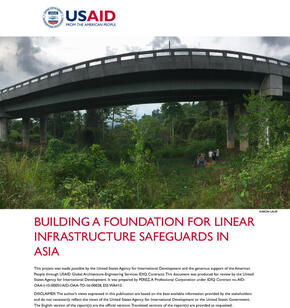 As Asia experiences unprecedented economic growth, the continent's rich biodiversity and complex ecosystems are threatened by the rapid expansion of linear infrastructure development like roads, railways, and power lines. In 2020, the U.S. Agency for International Development (USAID) launched their Linear Infrastructure Safeguards in Asia (LISA) Project—an assessment of the capacity of Asian countries to develop wildlife-friendly linear infrastructure. Due to the Center's expertise in this area of conservation, including road ecology, we were selected to be the lead investigator on this project for USAID's contractor, Perez, APC.
Twenty-four experts from seven countries formed the LISA Project team to build a base of knowledge to support Asian countries in planning wildlife safeguards for future linear infrastructure development. The project conducted its research through an in-depth literature review, a policy assessment, Asia-wide and fine-scale spatial analyses, personal interviews, an electronic survey, and the compilation of case studies.
For more information, visit the LISA Project website.
Author: Center for Large Landscape Conservation (CLLC)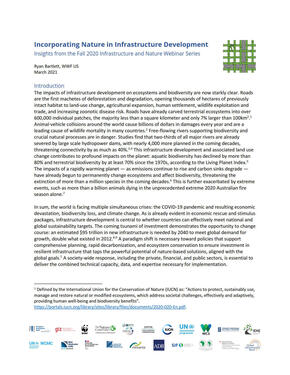 Insights from the Fall 2020 Infrastructure and Nature Webinar Series
The world is facing multiple simultaneous crises: the COVID-19 pandemic and resulting economic devastation, biodiversity loss, and climate change. As is already evident in economic rescue and stimulus packages, infrastructure development is central to whether countries can effectively meet national and global sustainability targets. The coming tsunami of investment demonstrates the opportunity to change course: An estimated $95 trillion in new infrastructure is needed by 2040 to meet global demand for growth, double what existed in 2012. A paradigm shift is necessary toward policies that support comprehensive planning, rapid decarbonization, and ecosystem conservation to ensure investment in resilient infrastructure that taps the powerful potential of nature-based solutions, aligned with the global goals. A society-wide response, including the private, financial, and public sectors, is essential to deliver the combined technical capacity, data, and expertise necessary for implementation.
Author: Ryan Bartlett, Director, Climate Risk Management & Resilience, World Wide Fund For Nature
About Infrastructure and Nature
The Infrastructure and Nature coalition is led by 25+ organizations dedicated to the future of infrastructure.
The Challenge
The private and public sectors are expected to invest $90 trillion in major infrastructure projects between now and 2030—essentially doubling the amount of infrastructure on Earth and transforming the surface of the planet. Infrastructure is key to achieving the objectives of the Paris Agreement, the Convention on Biological Diversity, and the UN Sustainable Development Goals. New infrastructure investments are essential for delivering low-carbon and resilient solutions that provide for the food, energy, and well-being needs of a growing global population. On the other hand, these investments could potentially cause significant harm to biodiversity and the natural environment by destroying or increasing fragmentation of habitat; blocking critical wildlife corridors; depleting nonrenewable resources; and increasing pollution and direct and indirect greenhouse gas emissions. The extraordinary scale of investment needs for infrastructure in the next few decades presents a truly historic opportunity to place humanity on a more sustainable path.
The options we choose may either contribute to human development in line with environmental targets or lock in unsustainable patterns for decades. There are widespread gaps in government policies, institutions, research, and planning capacity needed to embed ecological and climate implications in options that account for externalities over the life of an infrastructure investment. The private sector is helping drive the shift to more sustainable infrastructure with innovative technical solutions and increasing efficiencies. It often finds, however, that a lack of clear and readily available information on environmental and social risks can hinder investment, increase costs, and, ultimately, reduce the sustainability of projects.
Our Objective
Early, strategic-scale planning based on sound science and social engagement can optimize infrastructure development, helping avoid costly post hoc changes and minimizing environmental impacts. With better planning, natural infrastructure can take the place of traditional built solutions and provide ancillary benefits for climate, biodiversity, and resilience. Innovations in science-based design options can enable nature's flows to be maintained as infrastructure needs are met. Better understanding of environmental risks can spur public and private finance to demand more sustainable options. Provisions for compensation for any remaining environmental impacts can fund offsetting conservation. Practical solutions and good models exist. It is time to pull them together and drive a shift in global norms toward building a sustainable infrastructure future.