Ranch Systems and Viability Planning (RSVP)
World Wildlife Fund's Sustainable Ranching Initiative wants to support your ranching operation and help grasslands thrive.

World Wildlife Fund's (WWF) Sustainable Ranching Initiative is partnering with ranchers across the Northern Great Plains to increase sustainable grassland management on one million acres in five years.
The Ranch Systems and Viability Planning (RSVP) network supports ranchers through: technical assistance; scholarships for continuing education; ongoing soil, vegetation and bird monitoring; an innovative cost-share program; and other tools to make ranches ecologically and financially healthy for future generations. The program aims to prevent the conversion of rangeland into cropland, improve water infiltration and overall soil health, increase biodiversity on the landscape and support rural communities and family ranches.
The SRI program recognizes that each producer is unique and has different goals for their land, families, and communities. We are excited to offer the RSVP program as a unique and flexible program that will help ranchers meet those goals while increasing the health of rangelands and the ranch's bottom line.
There are two main ways that ranchers can participate in the program. The first way is to enroll your ranch in RSVP and gain access to all program benefits including our cost-share program. The second way is to participate in RSVP network activities including ranch tours, online webinars and workshops and other educational offerings.
In 2021, the first year of the program, we have enrolled 27 ranches totaling close to 300,000 acres in central and eastern Montana, western South Dakota and the Sandhills of Nebraska. RSVP ranchers have utilized the program to attend Ranching for Profit schools, attend grazing and soil health workshops, install water and fence infrastructure and other conservation projects and develop grazing plans.
RSVP is funded by Cargill, McDonalds, the Walmart Foundation and others. The SRI team looks forward to working with you and your ranch to meet your goals and protect grasslands.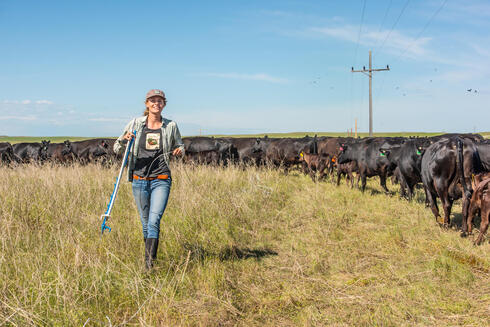 Interested in learning more?