Overfishing, pollution, coral bleaching, climate change—the threats facing our ocean are daunting. But there are stories full of hope from coastal communities, the stewards of the ocean whose livelihoods depend on its health. Working to protect these natural resources and improve their livelihoods with the help of WWF, they are the heroes of the sea. Six of these ocean witnesses tell us why they are so committed to the sea and what it has brought to their lives.
Ernestine Perline Dedicated communicator
Ernestine Perline is a mother of four and president of the fishers' association of Marohata in southwest Madagascar. With the support of WWF, Ernestine introduced sustainable fishing practices in her community. But the road to get there was rocky: in 2013 a number of fishermen started using illegal fishing methods and fish stocks suddenly decreased drastically.
"We lived from day to day," says Ernestine. Around 60 kilos of catch a day turned into 20 and the role of President became a challenge. "Mobilizing community members to make our fisheries more sustainable has not been easy. The biggest challenge was creating an understanding of why marine resources must be handled sustainably."
In the end, Ernestine stopped the negative trend with patience and conversations on the importance of marine sustainability not only for the environment but for sustaining livelihoods that depend on healthy fish stocks. Today, fishing in their region is sustainable; destructive practices were given up and stocks are slowly recovering.
Helena Lešić Sharing her life's passion
In Croatia, Helena Lešić's story is a love story: To the sea, to fishing, and to her husband, Ivica. "The sea is our income and our life," Ivica says. "This is where I was born, where I am raising my family, and where I will die." For years Helena and Ivica lived solely from the sea but, over time, fish populations declined and their income dried up, so they turned to tourism with help from WWF. "By demonstrating our way of fishing to tourists we share a piece of our lives," Helena says.
Today the demand for their tours is so high that they don't have to just rely on fishing to support their family. At each tour's end, the catch of the day is cooked up right on the boat—as fresh as it gets.
Patricio Merino Unexpected visionary
Patricio Merino has lived on the Chilean island Raúl Marín Balmaceda since he was 13 and has worked in fisheries for years. "25 years ago, nobody thought about conservation issues and the only thing that mattered was catching as many fish as possible," he says. But deep down, Patricio knew that fishing grounds weren't infinite.
Over the years as he fished around the island, he grew particularly fond of Pitipalena-Añihué, an area off the coast where fjords, rivers, and ocean ecosystems melt together, making it ecologically rich with whales, dolphins, and sea birds. He knew that in order to both protect these natural wonders and preserve the fishing industry itself, fishers needed to come together to prioritize conservation. "In 2011 we started organizing meetings: the beginning of a long but successful participatory process," he says. Today Patricio is Director of the Pitipalena-Añihué Foundation, the region's first community-managed marine protected area. "Without realizing it, we were visionaries." Now he envisages many more protected areas across Chile's extensive coast.
Dhaval grew up in Porbandar, a coastal town in Gujarat, India. "Fishing has been the main livelihood and the ocean has always played a central role in the lives of the people in my community—it is even considered sacred," he says. Influenced by the changes he has seen in the ocean, how his community is impacted by these changes and how their practices, in turn, impact the ocean, Dhaval took up fisheries science at university, focusing on sustainable fishing.
Today he works with WWF on tackling shark bycatch in trawl nets. Shark bycatch is common with around 160 shark and ray species found along the region's coast. To mitigate this problem, Dhaval is testing nets that would allow juvenile sharks to escape and hopes to introduce these nets in other regions.
Jack Sagumai Educating future conservationists
Jack Sagumai's goal in life is to restore the health of the ocean. He grew up in a coastal community in Papua New Guinea and studied marine biology. "We rely on seafood, especially fish is a main ingredient of our diet," he says. "The ocean also brings us seeds that grow into new trees and provide logs that serve as firewood or timber to build houses."
Papua New Guinea is part of the species-rich Coral Triangle and Jack wants to preserve its great biodiversity. He works with WWF and his community to collect data on sharks and rays and wants to teach his people the importance and process of fishing sustainably. "People talk about leaving a better planet for our children, but we need to leave better-informed children for our planet," he says.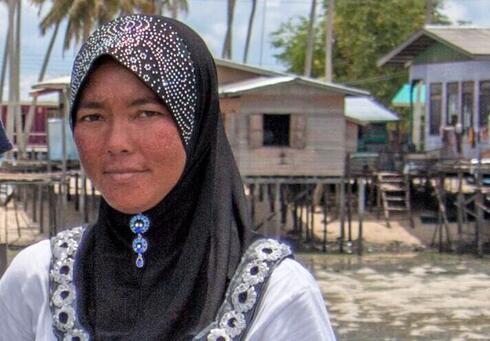 Roziah Jalalid grew up on Omadal off the coast of Borneo. The Malaysian island is considered a natural paradise, but Roziah has seen the ocean deteriorate in recent years. "The weather is getting hotter, fish are getting lesser and pollution has gotten worse," she says. She has noticed the island's turtle populations impacted as well. "Five years ago, we found 14 turtle nests. This year, there are only four." The increase in temperature results in more female than male turtle hatchlings being born and this imbalance makes mating difficult, threatening the population.
Roziah knew this couldn't continue and decided to lead a change. She took over responsibility for the local women's association and got the group involved in protecting marine resources, including the turtles. These women now protect turtle nests and teach younger generations about the importance of conserving your environment. "Through the community, we educate kids and the next generation how to protect the sea."
Livelihood for millions
WWF teams help coastal communities around the world find sustainable ways to enjoy the ocean's resources. As part of the Coastal Communities Initiative, WWF cooperates with more than 280 partners across local authorities, fishing councils, women's associations, and community-based organizations.
"Wherever oceans and coasts are under threat, it is the communities themselves who stand the most to lose, as they often depend on the sea for their food and livelihoods," says Valerie Burgener, who is responsible for the Initiative. To succeed, initiatives must be a win-win—projects must be designed with those affected in mind and participating, and local projects and solutions need to be brought to scale for other regions to reach solutions on a global level.