Good conservation means human opportunity and human rights
In Africa's Dzanga-Sangha Reserve, birth certificates are a key step in a diverse effort to protect the people who protect the land
The Dzanga-Sangha Protected Area Complex is a richly forested oasis for African elephants, western lowland gorillas, and bongo antelopes. It's also a zone of opportunity and stability in the Central African Republic (CAR). Thanks in part to longstanding conservation efforts, Dzanga Sangha is a place where people, whether traditionally in power or historically mistreated, are guaranteed access to health care, jobs, the chance to be heard, and other basic human rights.
This social, environmental, and economic equilibrium has not been easy to secure. CAR ranks second to last in the UN's Human Development Index. Since the mid-1990s, the country has seen a series of civil conflicts and instability, and huge swaths of territory are still not under government control. In fact, today, Dzanga Sangha is the only area outside of the capital that is considered secure for travel by the UN.
And that's in large part because WWF has worked here for more than 30 years.

Much of that work has been with the BaAka people, traditional hunters and gatherers that have been economically and culturally marginalized for a very long time. Historically, before the arrival of WWF in the area, BaAka people did not receive birth certificates due to that discrimination—for the most part, they weren't recognized as official citizens of the country where they lived. While that situation has improved in some places—particularly in Dzanga-Sangha—and there is more economic opportunity, the BaAka still struggle for social equality, and to hold on to their traditional ways of life.
When WWF first helped develop Dzanga-Sangha in 1989, it was conceived as a refuge for wildlife and as a way to secure better lives for the BaAka who lived there. From the beginning, conversations with the government, the BaAka, and other community groups led to innovations that included job creation, the establishment of areas where BaAka people could continue traditional activities like hunting and gathering, free or subsidized education, and medical care.
The work in Dzanga-Sangha also ensured that traditionally disadvantaged voices were heard—that there was a place and a process to air and resolve conflicts on an even playing field. For many years, this work in Dzanga-Sangha—and in many other WWF projects—was largely informal. But in 2016, in partnership with a Human Rights Center and BaAka community association, that system was formalized, and has become a model—known as a conflict resolution and grievance system—for how to ensure all people, particularly in high risk areas, have a path to justice and a voice when things go wrong.
The Dzanga Sangha conflict resolution and grievance system
What makes a conflict resolution and grievance system work? A good system must:
Be run by an independent, rights-focused organization with autonomy to resolve issues on behalf of all area residents
Include multiple issues in its scope of work, rather than be limited to issues related to the relevant protected area
Be staffed by both social workers and lawyers, to ensure different levels of engagement and provide different levels of support
Ensure access to all members of the community, at every socioeconomic levels
Provide monitors from the community in each community, to ensure a safe space for people wherever they live across the landscape
Establish and provide a clear process to address issues at every level, from local arbitration to legal action and support, within both WWF's organizational structure and the region's legal system
Ndima-kali Association
A conflict resolution and grievance system must start with, and continuously earn, the community's trust. Seen here, Memba Henriette (center) a BaAka elder, Miss Bogue, and Miss Gongo are members of the Ndima-Kali Association, a local group that helps BaAka leaders share their culture, connect to economic opportunities like tourism, and promote their priorities to municipal and Dzanga Sangha leadership. It also serves as a bridge between elders, who are generally more tied to a more traditional forest-based lifestyle, and young people often drawn to modern village life. Having greater confidence and status, along with a formal system to raise concerns and see those concerns respectfully addressed, are key steps in building a system of safety and trust.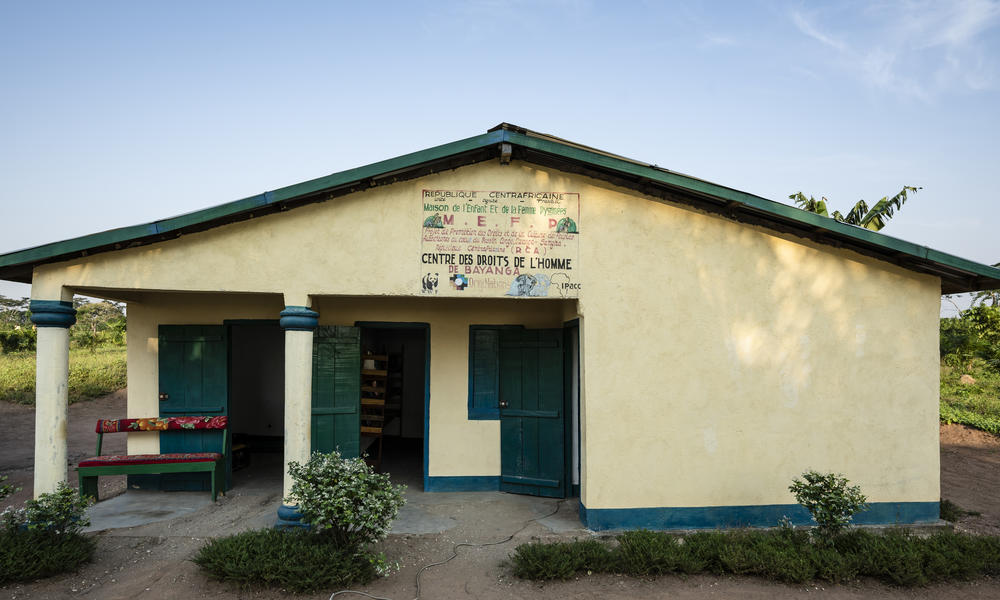 The "Centre des Droits de l'Homme," which WWF helped establish but is run by the independent human rights organization, Maison de l'Enfant et de la Femme Pygmees, provides multiple community services united under a single banner. They work to ensure the BaAka have equal rights, help them secure increasing respect and stature in the community, and provide a safe, clear, reliable system for raising grievances and addressing conflict at every level. While most cases have been resolved within the community, the Center has also supported prosecution in a criminal case related to a Dzanga-Sangha employee—a step that engendered significant community trust.
The center's primary areas of work
SECURING AND DEFENDING RIGHTS
Securing and defending people's rights is also a significant part of the center's work. Here, a stack of birth certificates that the Center is preparing to deliver to municipal authorities. Birth certificates legitimize a person in the eyes of the law and guarantee a right to basic government services and the right to vote. Today, the Human Rights Center encourages and helps new parents complete and submit birth certificates to the Center, which then delivers them to municipal authorities and pays the necessary fees.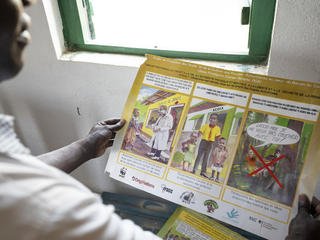 EDUCATION
Education and training are central to the Center's mission. Trainings are for both community members, with a focus on clarifying individual rights and encouraging advocacy, and park staff (including ecoguards) with a focus on embedding human rights best practices into all park activities.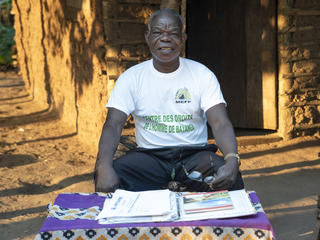 ADDRESSING CONFLICT
Conflicts can be addressed and elevated through Dzanga Sanga's Human Rights Center as well. Typically, issues are first raised to a local village monitor, though sometimes they are brought directly to the Center itself. Most disputes are domestic or interpersonal in nature, and often involve payments—or lack thereof—for services such as hunting or physical work. While these conflicts are generally resolved via conversation between the village monitor and aggrieved parties, when a situation involves violence or other legal matters, the case is immediately referred to the Center, where the program director, a lawyer, can advocate for legal action, and shepherd it through CAR's legal system.
A successful conflict resolution and grievance system isn't built overnight. In Dzanga Sangha, WWF and our partners have remained committed to the well-being of both people and wildlife for more than thirty years. As strong as the system is, vigilance is still required. WWF, the Ndima-Kali Association, the Human Rights Center, and our other partners must hold each other mutually accountable through rigorous engagement with each other, reliable monitoring of practices and progress, and a commitment to a shared future.
Today, Dzanga Sangha employees about 250 local people, and while BaAka represent about 10% of the population, they fill 30% of park jobs. The strength of the program in Dzanga Sangha took many years to build, but the results—healthy elephant and gorilla populations, higher incomes locally than across the country, a small but growing ecotourism economy, security, and increased equality among the people—are proof that conservation can be a powerful tool for both wild places and human rights.