Meet the 2019 class of Russell E. Train Fellows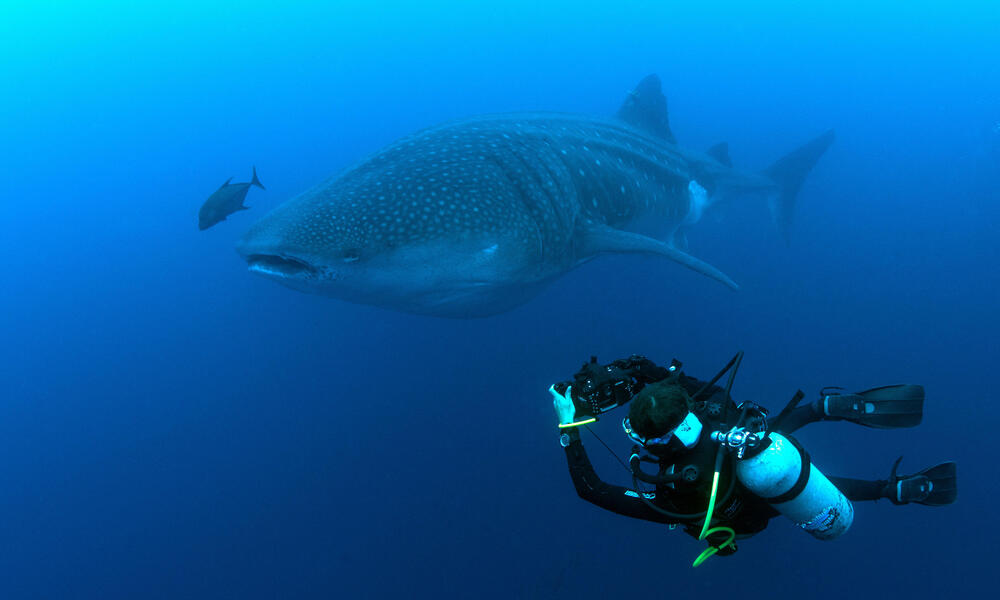 This year marks the 25th anniversary of the Russell E. Train Education for Nature Program (EFN). Since its creation in 1994, EFN has provided fellowships to over 800 conservationists to receive their advanced degrees, and now the program is adding eight more outstanding individuals to its growing network.
Selected for their innovative proposals and merit-based history, the 2019 cohort of Train Fellows will focus their research on key topics, from analyzing whale shark behavior in the Galápagos to preserving critical landscapes throughout Bhutan. After graduation, they will return to their home countries of Ecuador, Peru, Bhutan, Indonesia, Kenya, and Uganda to further implement their research, expand academic programs, and advance conservation outcomes.
Sofia Green, Ecuador
Sofia Green is passionate about marine biology and protecting the unique ecosystems that make up the Galápagos Islands. She is pursuing an advanced degree as part of the IMBRSea program, a joint master's degree organized by ten leading European universities in the field of marine sciences. She is researching the movement and behavior of whale sharks in the Galápagos and hopes to use her findings to advocate for better marine protection policies, improve protected area management, and influence behavior change for communities living in the region.
David Anchundia, Ecuador
David Anchundia works to fill data gaps for several little-known bird species in the Galápagos Islands. With his doctorate in conservation biology from the University of Vienna, he will document many at-risk bird species that were not included in previous avian studies. After completing his degree, he plans to return to the Galápagos to encourage Ecuadorian universities to support more research on the islands and implement the creation of bird and conservation clubs so data can continue to be collected for years to come.

Sandra Velazco, Peru
Sandra Velazco is a committed and enthusiastic mentor for undergraduate students at San Marcos National University's Museum of Natural History where she is currently a research associate. As part of her doctoral degree at Boise State University, she will explore the use of seeds dispersed by bats to restore degraded montane areas in Peru. She plans to use this research to inspire her students to pursue research around restoring degraded land ecosystems. Upon her return to Peru, she will rejoin the university to improve curriculum and research opportunities on forest restoration and biodiversity conservation.

Ugyen Penjor, Bhutan
Ugyen Penjor is committed to conservation planning and wildlife species protection in landscapes throughout Bhutan. During his doctoral degree at the University of Oxford, he wants to understand the impacts of climate change on the distribution and survival of megafauna and what policies are needed at a local level to protect natural resources for the future. He will use this knowledge to educate conservation managers on biodiversity loss in the face of climate change throughout Bhutan.
Edy Setyawan, Indonesia
Edy Setyawan works to protect manta rays in the Birds Head Seascape. He will continue this work through his PhD at the University of Auckland and improve scientific data on reef manta rays in Indonesia, completing one of the most comprehensive studies ever conducted on this vulnerable species. Upon his return to Indonesia, his goal is to design and run a training program on marine conservation at the State University of Papua. The program will provide hands-on experience for students on applied marine ecology and conservation to prepare the next generation of marine ecologists.
Christine Nyangweso, Kenya
Christine Nyangweso is a dedicated educator working with the Kenya Wildlife Service. With a doctorate in biodiversity and natural resource management from the University of Nairobi, she hopes to join the faculty and serve as a mentor and role model for other Kenyan women interested in marine conservation issues. She will use her research on coastal and marine ecosystem services to understand the drivers and willingness of Kenyans to pay for marine biodiversity and ecosystems conservation.
Violet Ndeda, Kenya
Violet Ndeda grew up in a fishing community on the Kenyan Coast and understands the challenges these communities are facing. Her doctoral research on the vulnerability of coastal fisheries to environmental and climatic change will document the need for better management planning and policies to protect communities and marine resources. Her degree will not only help her start a new program on environmental and ecological engineering at Maseno University but will also enable her to mentor and encourage other female students to enter STEM fields.
Methodius Mukhwana, Uganda
Methodius Mukhwana is helping communities in Uganda improve their livelihoods and reduce conflict with wildlife. He will pursue his PhD at Michigan State University and conduct research on the impact of various initiatives aimed at reducing human-wildlife conflict. His goal is to use his research to create more effective human-wildlife conflict interventions and improve the lives of communities in Uganda while also protecting endangered species.
Help celebrate the 25th anniversary of EFN!
Since its founding in 1994, the Russell E. Train Education for Nature Program has supported over 2,700 individuals and organizations around the world. With your support, it will continue to reduce educational barriers for conservationists from the biodiversity-rich Global South, leading to a more diverse and inclusive global conservation science community. Donate today!