Protecting my Arctic home
How warming waters and increased shipping could impact Indigenous peoples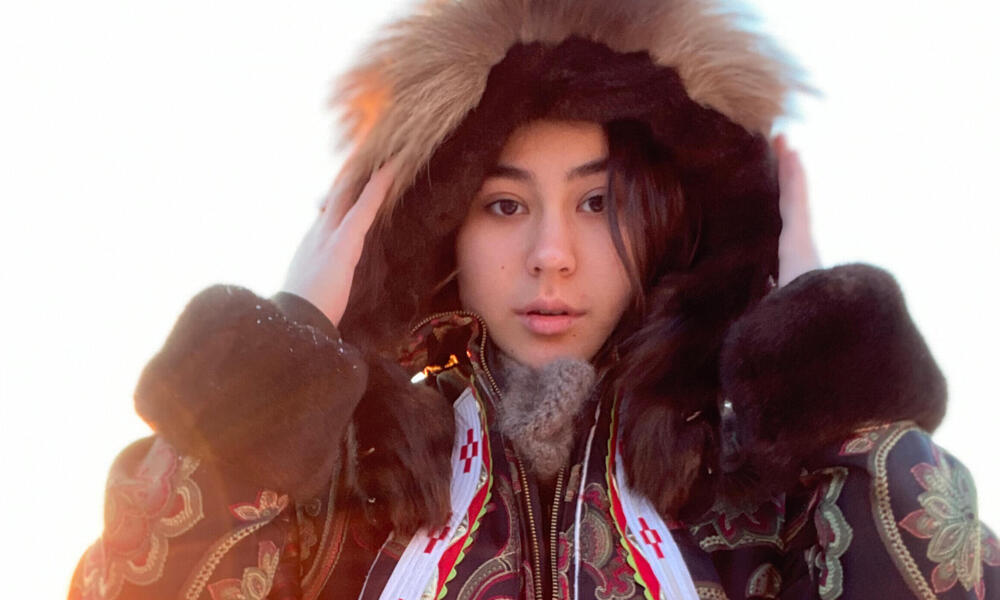 Date: September 16, 2021
Author: Alexandria Abuzanuq Ivanoff
Alexandria Abuzanuq Ivanoff is a communications intern at WWF, focused on conservation issues in the Bering Strait region and the Arctic. She is from Unalakleet, Alaska, a small hunting and fishing community on the northwest coast. Ivanoff is working toward a degree in journalism to further advocate for Indigenous rights and the conservation of the ecosystems that sustain those communities.
My earliest memories are on the water, shivering in the boat on the way up to fish camp, wind whipping through my hair. As we got further up the river, the waterway narrows and trees hang over the eroding banks like a canopy. Distant hills grew larger as we approached, and the land seemed to stretch on forever. Up here, fish used to run in the thousands and so, without fail, we would return with our tubs filled to the brim. Back at the fish racks I played and watched while the strong women effortlessly stripped the fillets as they told humorous stories with loud belly laughs that followed. We eagerly awaited the delicious, oily king salmon—the first salmon to arrive after our long, chilly winter. We cut fillets into thin ribbons and hung them to dry and smoke.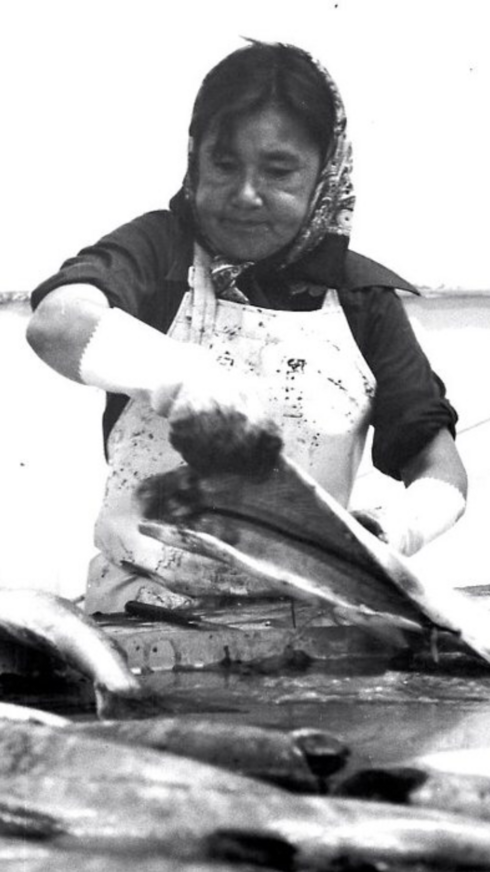 My family has always been eager for the hard work the subsistence way of life entails. Inupiaq survival is based on hunting and gathering practices guided by thousands of years of traditional ecological knowledge that our ancestors learned and passed down through generations. My grandmother is the reason that my family and I carry some of this knowledge today. With love and patience, she has passed down the skills it takes to use and prepare every part of an animal. She taught us not to waste.
In the last few years, my family has struggled to fill our freezers with king salmon as we see fewer and fewer of these fish return to our rivers and streams. Today, the work that once took my grandmother a few days takes us twice as long. The king salmon that we harvest today are younger and smaller, forcing us to put 10 more fish away to equal what we once had.

Warming oceans and the impact on fish populations
The king salmon, dog salmon, and silver salmon populations in the Yukon and Bering Strait are deep declines, likely due, in part, to the rapid temperature increase in oceans and headwaters where they spawn. Not only has this rise in temperature affected the salmon populations but also other marine life. Near St. Lawrence Island in the Bering Sea lies a cold expanse of water on the Eastern Bering Sea Shelf. The cool water has kept pollock and Pacific cod south of this shelf. But in 2018, the ocean warmed so drastically that the two species of fish had to migrate and feed farther north than normal. Pollock and cod prey on king crab and small fish native to the area north of the Eastern Bering Sea Shelf and their recent encroachment into northern waters has contributed to the crash of the king crab population. Both the king crab and king salmon populations used to sustain a remarkably successful commercial fishing and crabbing industry, as well as supply food to entire communities. A survey conducted in 2006 found that the average amount of subsistence food harvested per household in the Bering Strait region is over 3,700 pounds per year, with 77.5% of the food gathered being from the ocean.¹ Today, this type of harvest is just not possible.

Shipping traffic is on the rise
Rising temperatures and winds are creating another problem for wildlife and people, too: increased shipping.

In recent years, a lack of sea ice due to a warming planet has opened once impassable waters in the Bering Strait—and with it, a drastic increase in shipping. Routes across the Arctic are significantly shorter than those commonly used today. Current data reflect a significant increase in transits observed in the Bering Strait in the last decade. While only 262 transits were recorded in 2009, that number increased to 434 transits in 2019. These vessels often travel through delicate marine habitats and Indigenous hunting grounds, which increases the risk for collisions with hunters and marine mammals. A collision can result in damage or loss of transported goods such as oil and natural gas and a spill would devastate the region. There is little infrastructure available to clean up such a disaster.

And even without incident, ships increase noise pollution and light pollution, disrupting communications among animals and their migration patterns. And vessel waste scatters, discharges of sewage that can lead to oxygen depletion, spread pathogenic bacteria and viruses, and increase nutrient levels in the surrounding ecosystem, possibly leading to toxic algal blooms.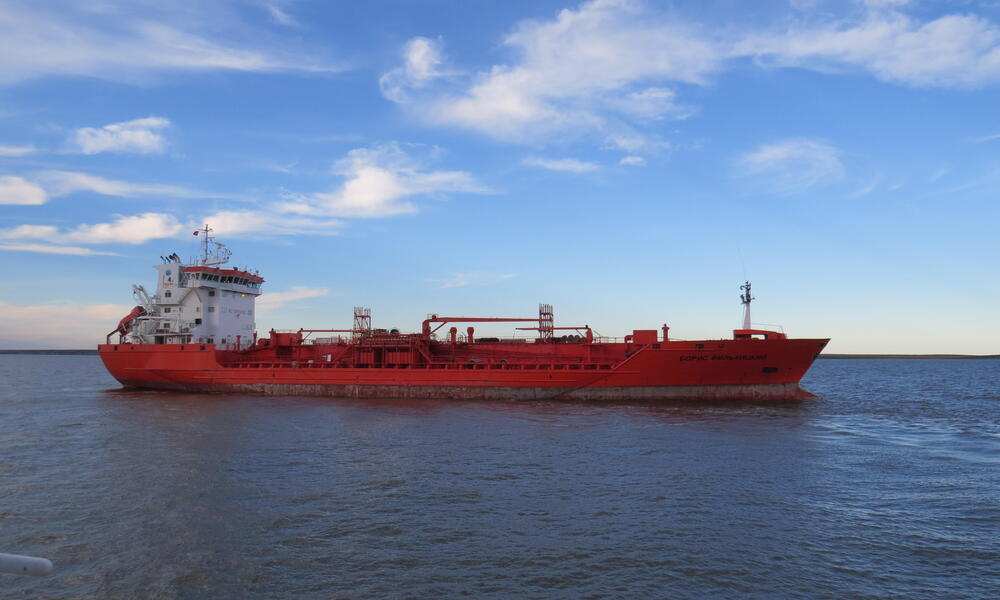 Shipping takes a toll on local culture
Shipping through previously impassable waters poses risks for people in the region as well. The large ships' routes can interfere with Indigenous hunting grounds, forcing the hunters to take longer, more extensive measures to find the resources that they depend on to survive. This is detrimental to the ecosystem and the people in the Arctic. If one part of the food chain or landscape changes, the entire ecosystem is impacted, and animals and the Native villages can suffer from food insecurity. An entire population and culture rely on a healthy ocean ecosystem—one that we've maintained for generations. We can't let that slip away.
What WWF is doing
WWF is working with partners to protect marine resources from the threat of shipwrecks and related oil spills, and an uptick in pollution. We've also created a plan for the United States and Russia for smart shipping through the Bering Strait, which outlines best practices from how to share information in real-time to protecting Indigenous communities and wildlife.
We're tackling the climate crisis by engaging with millions of Americans, leading businesses, and government leaders to prepare for inevitable change and reduce the emissions that drive a warming planet.
And WWF is encouraging decision-makers to listen to Indigenous voices and providing support for Indigenous people to attend and speak at various fora. Indigenous voices are essential for the conservation of wildlife and the future of the Arctic and its people.
Protecting my Arctic home
My home is precious to me. If we lose the Arctic, the entire Inuit culture that has been kept alive like a burning flame could die and thousands could be displaced.
Preservation of the Arctic starts with the preservation of its people. I am now the one to stand with pride, slicing each precious king salmon into strips for hours on end, working with such care as if these fish were gold. I look forward to passing down to my future children the knowledge that my grandparents worked so hard to pass down to me.
Together we can sustain the gorgeous region that I come from and protect the delicate, amazing ecosystem that has nourished us for thousands of years. This thriving, beautiful land and the people who call it home should thrive for generations to come. We must act now to protect this wild, wonderful place.

Learn more about the Arctic and what you can do to help.
¹Source: Kawerak, Inc.