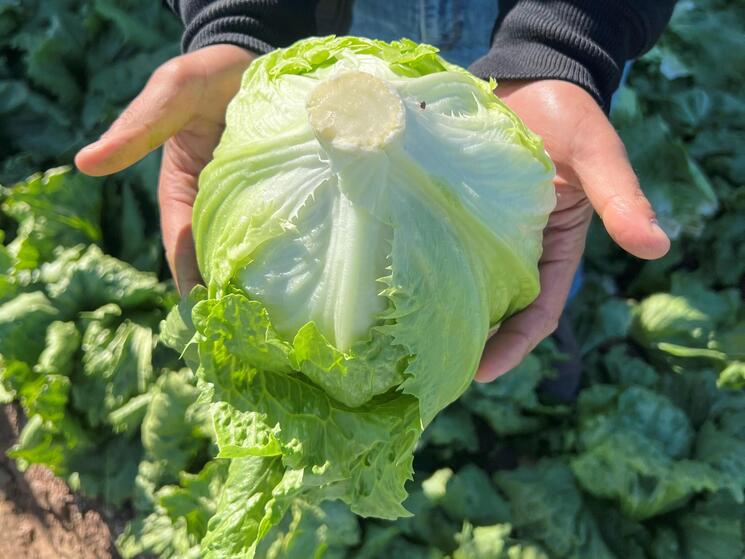 Date

: 26 April 2023

Author

: Alex Nichols-Vinueza, Program Manager, Food Loss and Waste; Leigh Prezkop, Senior Program Officer, Food Loss and Waste
Organizations are increasingly working to reduce food loss and waste (FLW) across the food supply chain in support of their commitments to address food insecurity and climate change. That work often starts with donating or composting excess food to keep it out of landfills (where food waste emits methane). While this downstream work is incredibly important, the overwhelming majority of the food system's environmental impacts occur upstream at the farm level, and the larger challenge is how buyers and growers can more closely coordinate to reduce FLW in a way that utilizes more of what we already grow and shrinks the footprint of agriculture.
In nature, nothing is wasted, and by mimicking this approach, we can develop more circular pathways that use surplus food along the supply chain to first feed those in need, and then develop new sales channels for growers to justify harvesting more of their crop, feed animals, and fertilize their crops—all helping to reduce our natural resource use and impact on biodiversity in the process.
Fortunately, there are signs that this circular thinking is starting to take hold. Nearly 35% of all surplus still goes unsold or uneaten in the US, and most of this simply ends up in landfills, incinerators, or plowed under on farms. Yet the shocking levels of surplus on farms and hunger we all saw in the pandemic prompted new ways of thinking around how to maximize the value of this uneaten food. Pandemic-era food rescue programs (such as Farmer's to Family Food Box Program and TEFAP) helped to catalyze more collaborative, direct-to-consumer channels to distribute on-farm surplus to those in need.
Even as these programs come to a close or enter their next phase, the foundation of new food system connections and partnerships they helped to spark continues to expand. There has been a surge in food system innovators (from food recovery to upcycling and new online marketplaces), all working to develop new channels that ensure less surplus goes to waste. The shift we've seen coming out of the pandemic is that surplus food should never be "waste" or "the cost of doing business," but must instead always become food for someone or something else.
To accelerate this momentum, WWF is working with companies to integrate on-farm loss and surplus measurement into procurement schemes for third channel supply chains so that edible surplus on-farm can be tracked, harvested, and delivered through alternative channels for human consumption. As part of this work, WWF is collaborating with innovative organizations whose mission is to create a third channel for nutritious food that would otherwise go to waste. Here are just a few examples:
The Farmlink Project began as a collective response to address food supply chain disruptions due to the COVID-19 pandemic. What started as college students moving surplus produce to local communities has since scaled nationwide. The Farmlink Project is now committed to building solutions that make the abundance of nutritious food accessible for everyone.

GoldiFresh emerged out of the Farm to Family Food Box program and focuses on moving surplus food to trusted community locations such as churches, youth centers, bodegas, or sold at a discount to sites such as social supermarkets which cater to residents who may not have access to or be able to afford these same foods in traditional supermarkets.

Other companies are pioneering the way of prescribing food as medicine, such as Project FoodBox, which directs fresh produce (which would otherwise likely be left unharvested or unsold) in pre-packed boxes to Medi-Cal members.

Upcycled Food Association (UFA) is a non-profit dedicated to preventing food waste by accelerating the upcycled economy. UFA has created a coalition of hundreds of businesses across the world working together to certify upcycled products and ingredients that have an impact on food waste prevention.
Measuring surplus on-farm opens the door for better predictive analytics and planning to help buyers and growers develop a third channel and identify new efficiencies in the supply chain. The end result is that we use more of what is currently being grown, minimizing land conversion pressures, natural resource use, and agriculture's footprint. Most importantly, it also helps to ensure more food reaches its full potential—to be eaten by people—which is an idea we think most everyone can get behind.