Behind the Scenes with: Sarah Zaaimi, Program Officer, Seafood Markets Outreach, Oceans
In our Behind the Scenes series we speak to WWF staff to learn more about their work and what makes them tick. For today's post, we caught up with Sarah Zaaimi, a Program Officer for Seafood Markets Outreach on WWF's Oceans team.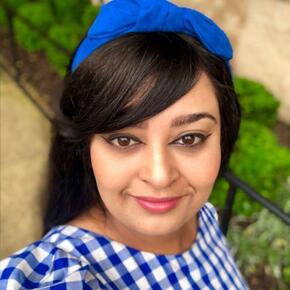 What are you currently reading or watching on TV?
Ironically, although I spent most of my career in broadcast media, I never owned a TV myself. On the other hand, I am an avid reader and Audible listener. I am currently reading "Forbidden City" by Vanessa Hua, a story about a teenage girl in 1960s China who becomes Mao Zedong's protégée, lover, and icon of the Cultural Revolution.
Is there a project you are working on that you are excited about? What is it?
I am very excited to be working with the Ocean Markets and Finance team to support the communications of our new strategy promoting Nature Positive Business. I feel this approach will set the tone for new avenues of partnership with businesses as we move from the classic "do no harm" and "mitigate" to a "restore and generate positive impact" approach. This innovative strategy will also diversify our portfolio of partnerships beyond the seafood sector to include destination development, marine renewables, and shipping.
What brings you joy outside of work?
Besides my 10-year-old son, I spend time outside of work volunteering and working closely with a local Iraqi NGO called Liwan, specializing in tangible and intangible heritage conservation. I find joy in training and learning from local communities that demonstrate exceptional resilience and willingness to preserve cultural diversity despite the devastating impacts of the ongoing turmoil on heritage sites and people. Some of the projects I have recently volunteered on include the ethnographic documentation of nomadic Bedouins' intangible heritage, water scarcity and its impacts on the social and cultural landscapes in northern Iraq, and the documentation of the religious plurality of the city of Baghdad.
What previous experience have you had that led you to WWF, educational or professional?
My education and professional background are at the nexus of media and communication on one side and international development and civil society on the other. I have studied journalism, international relations, corporate communications, and development interchangeably in London, Paris, and Morocco. As for my career, I have been working in several international newsrooms as a reporter, producer, and editor in alternation with years spent in conflict and post-conflict countries, leading communication efforts for a number of international organizations. I joined WWF three years ago because the most meaningful job we can do is to contribute to saving our planet for future generations.
What advice would you give a young professional who is interested in sustainability?
Join the movement now. The future is green, blue, and sustainable. As an Arab Muslim belonging to a group that is rarely represented in the field, I particularly encourage young professionals coming from different minority backgrounds to engage with WWF or similar conservation organizations. We need more diverse voices and innovative ideas to save our planet and the people who depend on it.
What does the future of sustainable business look like to you?
Sustainability today is no longer a luxury social responsibility target to grow one's brand or appease consumers and investors, but an integrated part of doing business. As a growing pillar of any commodity production and consumption life cycle, I see it becoming an inherent part of any business model, given the tangible value it brings to the survival of our planet and its resources. Unfortunately, not all countries perceive value in nature conservation, especially those fragilized by conflict and economic hardship. The democratization of sustainability across countries will still need further investments in education and awareness and additional pressure and influence from multinational businesses to transform global markets.