Celebrating Women in Sustainability: Halide Alagöz
A Q&A with Halide Alagöz, Executive Vice President, Chief Supply Chain and Sustainability Officer, Ralph Lauren Corporation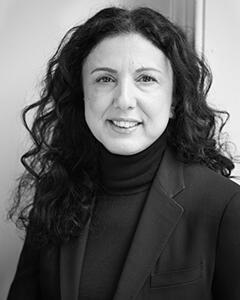 Why did you choose a career in sustainability?
During my undergraduate and graduate programs, I studied to become an Industrial Engineer – so I can't say that I chose a career in sustainability from the outset. Instead, I believe that it has been my professional experiences, and the choices I've made along the way, that have led me on a path where I recognized the importance of integrating citizenship and sustainability into general business practices.
Over the course of my career, I have had the fortune of living in different parts of the world, including some of the largest textile and apparel producing countries. I saw firsthand how much value is generated when organizations and companies prioritize the environment and vulnerable communities, and what happens when they don't. This real-world experience truly inspired and motivated me to pursue a career where I could be a part of the solution and help address the elimination of negative impacts of production and contribute to the innovations that create positive impact.
Eventually, my passion led me to oversee regional and global operations at H&M. During my time with the company, sustainability became a central function of the company and its business units, allowing me to be engaged and learn and grow in the area. I came away with the understanding that to make substantial progress on challenging problems, business has to drive the solutions. Now, I am proud to lead sustainability efforts for an iconic, global lifestyle brand.
At Ralph Lauren, we have developed a comprehensive, forward-looking Design the Change strategy, and our teams are collaborating in new ways to ensure sustainability is integrated into everything we do.
What are some of the biggest challenges of your work?
The urgency for sustainability is greater than ever before, and at times, we all wish the pace of scalable solutions could be more accelerated. However, it is an optimistic mindset and focus on innovation that will help us deliver on our ambitious goals and ultimately create a positive impact on society.
On this journey, it is important to be agile and to have a North Star – which allows us to not lose sight of our long-term mission and goals. I also believe, because of the many challenges and unknowns we face, it is critical to build strategies that will make us both resilient and agile.
What accomplishment or project are you most proud of?
At Ralph Lauren, we believe sustainability needs to be integrated in everything we do. That means we are constantly identifying areas where we can evolve and improve the way we create our products and run our business, and every day we are working to better the lives of the people around us. We understand how important it is to find our focus around a cohesive strategy to create impact and how to use our voice to be a catalyst for change.
Whether it is setting science-based targets to reduce emissions or investing with partners to scale innovative solutions, I am incredibly proud of our progress and our team's agility and resilience in the process. It is because of our amazing team of talented global leaders, and their passion for progress, that we can deliver the change needed for a more equitable and sustainable future.
How can we encourage more women to pursue a career in corporate sustainability?
The next generation of leaders are showing a genuine interest in sustainability and ESG, and most businesses understand that a comprehensive strategy around sustainability is a non-negotiable to create long-term value for all stakeholders – so there is certainly a need for more women to pursue a career in the field. But it is important to note that as companies are building sustainable business models, there is an individual responsibility for all leaders to incorporate sustainability in their work– no matter the job function, one's work needs to be grounded in creating sustainable practices and solutions.
…
About Halide
Halide Alagöz is Executive Vice President, Chief Supply Chain and Sustainability Officer of Ralph Lauren Corporation. Ms. Alagöz is responsible for all areas of supply chain, from product development, sourcing to delivery of our products worldwide. She leads the Company's production, sourcing and logistics functions and partners with the brand, regional and other corporate teams to strengthen the brand, drive profitable sales growth and deliver strong shareholder return. She also oversees Ralph Lauren's Sustainability strategy and initiatives. Ms. Alagöz joined the Company in 2016.
Prior to joining Ralph Lauren, Halide was with H&M Corporation for 18 years, most recently in Hong Kong as the Head of Purchasing. During her tenure with H&M, Halide was responsible for various Regional and Global Supply Chain operations. During her time with H&M, Halide and her family have lived in Hong Kong, China, Bangladesh and in her native country, Turkey. Halide earned both her bachelor's degree in Industrial Engineering and her master's degree in Engineering Management from Istanbul Technical University.
Halide is a member of the Board of the American Apparel and Footwear Association (AAFA).
…

The views expressed in this blog do not necessarily reflect those of WWF.