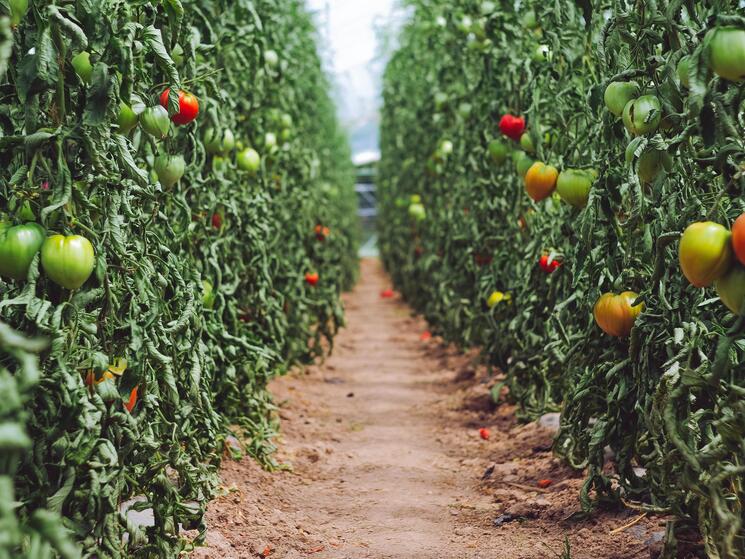 Date

: 20 July 2021

Author

: Leigh Prezkop, Food Loss and Waste Specialist, WWF
Grower Adoption of a Food Loss Metric is Key to Reducing Specialty Crop Loss
By now, people have started to realize that food waste is a pretty big issue. We know millions of tons of food in the US are being wasted in food service, retail, and our own kitchens. A lesser known, and often not as well measured, part of the issue happens on farms due to drivers and decisions made throughout the whole supply chain. In fact, new research out of WWF-UK shows that as much as 1.2B tons of food is lost on farms during, around, and after harvest. This is equivalent to about 15% of all food produced.
For the last several years, through WWF's No Food Left Behind initiative, we have been working closely with specialty crop farmers and other partners to examine how loss of certain crops is measured on farms and what drives that loss. The reality is that loss is not measured consistently or transparently for fruit and vegetables, which makes it challenging to understand why it's happening or how it can better be avoided. There's a complex web of factors that drive this loss. Market structures that separate farmers from buyers, retail specifications, labor shortages, unpredictability of weather events, market dynamics, and inflexible, short-term contracts are all contributing factors.
One farmer involved in this work said: "The synchronization of buying and selling has been skewed, and I believe that food waste is actually going up, not going down...We can solve a lot of the quality issues in the field by harvesting on time when the crop is ready. When outside sources, like computer programs, come into buying decisions, you get sideways and have to play catch up. Obviously, weather has an impact, holidays have impacts, but there are ways growers can accelerate or slow things down to some extent, but not when it's a long term pattern. What (we) are seeing is a complete disconnect between buying and growing that impacts the waste."

More attention has been drawn to food loss on farms, especially during the supply chain disruptions of the pandemic and as many struggle to afford healthy produce. Retailers and food processors are seeking to collaborate with suppliers to reduce the amount of food lost or wasted. But critical information that is necessary to develop effective solutions across the supply chain is often unavailable, which exposes the industry to significant risks.
"The pressure on the buying community (retail) is all about the margins, which causes the disconnect. We no longer have complete supply chain transparency... We are getting contract requests today for prices lower than last year, but with land, labor, energy inputs, packaging price all going up there is NO reality in that pricing. Every grower I know right now is frustrated with the disconnect. Growers are the weakest link. Their product is perishable and vulnerable from the time they plant the seed."
The first step to solving this challenge and unlocking opportunities for waste reduction, food utilization, and financial gain is supporting farmers in better measurement. Field sampling that incorporates direct measurement of what's left behind to estimate total on-farm losses (as opposed to visual estimations) fills a gap in US agricultural data, highlighting opportunities to move more nutritious food off of farms and to people, which also may add to a farmer's bottom line.
With generous support from General Mills, WWF has been working with Nikki Cossio of Measure to Improve (MTI), Kai Robertson of KOR Consulting, and Dr. Lisa Johnson of LKJ Consulting to support growers in assessing the amount of food left behind in their fields and operations using the Stewardship Index for Specialty Crops (SISC) Food Loss Metric.
"General Mills is supporting this work to help catalyze opportunities for farmers to recover food that otherwise can be left in the fields," said Nicola Dixon, Director of Global Impact, General Mills Inc. and Executive Director, General Mills Foundation. "By helping farmers measure their surplus food, they can more accurately forecast, communicate to buyers about product availability, and also make plans to charitably donate good food."
The Food Loss metric calculator tool, developed in 2020, is the most comprehensive measurement tool for horticultural crops that exists today and is available to anyone to use at no charge. This collaborative project is providing direct support to a cohort of growers and corporate partners in North America in collecting baseline data so they can better identify opportunities for managing surplus product through improved management or marketing practices. The Food Loss metric calculator tool can be used to assess in-field losses (and capture insights about the causes), as well as loss at the packing, processing, and storage stages.
Here's what a few of our participating growers have said:
"I found this metric tool to be very user friendly and straightforward. The amount of information that can be obtained from simply inputting some basic harvest sample data is quite amazing, and it only gets more amazing with the more data you enter for each portion of the supply chain. This tool can be used not only for calculating a singular loss of product in-field, but for highlighting trends in seasonal changes related to weather, disease or market conditions, as well as being a concise way to show the costs and efficiencies of your specific supply chain. I can see the Food Loss Metric Calculator becoming an integral part of how we collect and analyze our ability to grow, harvest, and transport crops in the future."

"The BIGGEST reason [to use the food loss metric] is to find out if we have anything marketable still out there. Unfortunately 90% of the time we are selling our crops against a loss, so IF we have an opportunity to reduce the financial losses and increase revenue even if ONLY by 1 or 2% with the volumes we grow, that can make a BIG difference. The markets fluctuate daily."
"Broccoli is a big revenue loser for us and anything that we can do to help make a difference or understand how to find opportunity is a good thing."
WWF and our partners are thrilled to be collaborating with these companies and growers who are leading the way for on-farm food loss measurement in fresh produce supply chains:
Calavo
Campbell Soup Company and E&H Farms
Coastline Family Farms
Dole Fresh Vegetables, a division of Dole Food Company, Inc.
Duda Farm Fresh Foods
Lipman Family Farms
Pacific International Marketing