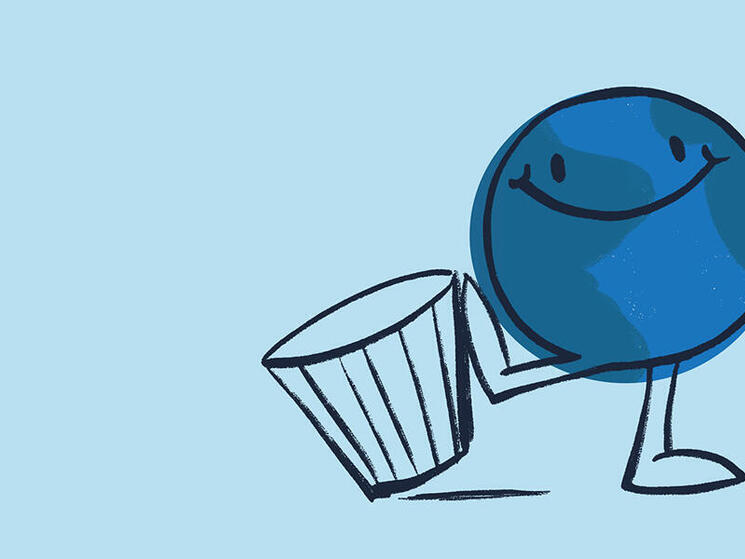 WWF, in partnership with Ziba Design, has launched a new toolkit that helps the hospitality and tourism industry communicate about food waste with guests. This resource was designed to provide businesses with guidance, tools, and ready-made campaigns to communicate with guests about food waste and help shift guest behaviors. While many in the hospitality industry have embraced the battle against food waste in their operations, finding ways to engage customers on the issue can feel challenging. Hospitality staff aim to create an ideal experience, and don't want to alienate guests or sound preachy – this new toolkit can help.
Building on a pioneering partnership with Hilton Worldwide on the food waste strategy for their global operations in 2015, WWF's food loss and waste team has been working with many across the industry through close collaboration with the American Hotel and Lodging Association (AHLA). This work led to the development of Hotel Kitchen—a platform offering guidance and tools to prevent and manage hotel food waste, drawing on universal mechanisms to cut food waste in commercial kitchens. This platform has been introduced in over a dozen countries and adopted by hotels around the world.
Food waste is a senseless—yet persistent and complex—problem. We spend labor, money, fertilizer, water, energy, and land resources to grow our food; then we pay waste management companies to haul it away (and the majority of food waste is water) to be buried in landfills where it decomposes to become the third largest emitter of methane gas in the US.
"Our research demonstrated that everyone is willing to do the right thing…but only for their own good reasons. We set out to understand cruise and hotel goers' motivations and emotional needs. Fueled by these guest-centered insights, we crafted messages that resonate across a variety of guests mindsets."

Rob Wees Ziba Design Creative Director
In the US, it's estimated that nearly 40% of the 80.6 million tons of food waste generated annually comes from consumer-facing businesses – think hotels, restaurants, grocery stores, and commercial cafeterias. Resources like Hotel Kitchen and 86 Food Waste (a toolkit for restaurants) provide easy-to-use, accessible tools and guidance for reducing food waste and reaping the rewards of lower food costs, more efficient operations, and increased employee morale, along with the environmental benefits of an improved footprint. But we still see critical holes in the food waste initiatives inspired by these toolkits, a major one being consumer engagement.
Most food service businesses, especially hotels and cruise lines, are focused on delivering an experience to their guests. This experience has historically hinged on abundant food offerings, which unfortunately can translate into a lot of excess and waste. But, and especially in a post-COVID world, the traditional approach to hospitality is being outmoded in favor of more personalized dining, focused on maximizing experience, ingredients, and food safety.

Once a hotel or cruise has adopted strategic interventions to prevent and manage waste in their operations, they have an opportunity to bring their guests into the conversation. The new Toolkit for Communicating Food Waste to Guests guides hotel, cruise, and other tourism businesses through researched guest insights and communication strategies to develop their own branded food waste campaign, or download assets ready to use in their marketing, communications and operations. The guidance and sample campaigns are designed to meet guests where they are, acknowledging their travel priorities and celebrating their contributions.
We all must play a role in reducing food waste. Businesses can take the lead on prevention within their operations and show guests and customers that this is an issue that matters to their brand, but also one we as individuals can act on to reduce our own impacts by changing expectations and habits.
The simple and thoughtful messages in this guide could help disrupt unintentionally wasteful behaviors and empower different decisions at points of action. Together, food businesses and their guests will play a huge role in building a culture free of wasted food and reducing our impact for the benefit of people and nature.