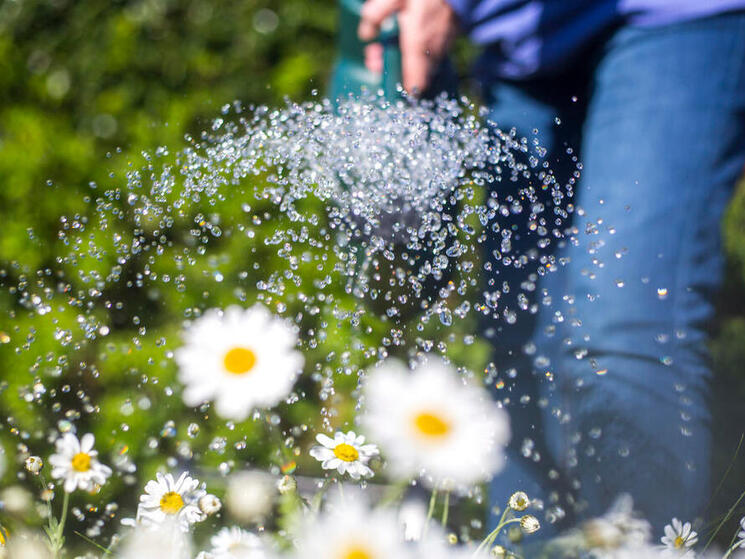 Spring is in the air and as the days grow longer and warmer, there is a natural desire to spend more time outside. If you are looking for a fun outdoor activity that can give you some time in the fresh air, while also helping the planet, we encourage you to plant a pollinator garden with native wildflowers. WWF will be doing the same, through our continued work with Air Wick® to reseed 1 billion square feet of native wildflower and grassland habitat in the Northern Great Plains. In celebration of National Wildflower Week, we've outlined some easy tips on planting your own pollinator garden.
When choosing what to plant, be sure to consider your region's local biodiversity. Biodiversity is the variety of life in a specific area – that is, the plants, animals, and even micro-organisms like bacteria that work together to maintain balance in nature. Believe it or not, even a small home garden comprised of native plants can help support biodiversity in your area. Pollinators such as bees, butterflies, and birds are a vital part of our ecosystem and produce nearly one-third of the world's food. By using native plants in your garden, you can attract pollinators and play a role in helping to keep our environment thriving.
If you are wondering whether it is too late to plant your wildflower seeds in Spring – don't worry, you still have time. If you live in a colder climate, you'll just want to make sure that there is no longer a threat of freezing temperatures or frost, and the soil is warm enough to plant. Warmer air and soil temperatures will help seeds to germinate and grow. If you happen to be reading this article in the Fall, you can also plant in the Fall season too! Seeds can be sewn in Fall for Spring emergence.
To get started, just follow these easy steps:
Select native wildflowers
When you are searching for which plants or flowers to grow, the best thing you can do to help support a healthy ecosystem and attract pollinators is to plant sustainably sourced, organic wildflower seeds that are native to your region. If you need seeds, be sure to visit the WWF resource page which includes a handy map guide of wildflowers by region and information on how to get free seeds.
Give your seeds the best possible chance at growth by ensuring they have a well-prepared soil bed or container. First make sure your planting site receives the appropriate number of hours of sun (you can find the requirement on the back of your seed packet). In a flower bed, be sure to remove any dead plants or leaves and lightly rake the soil. If using a container, be sure to use fresh potting soil.
Now that your soil is well prepped, you can scatter and plant your seeds. Be sure to follow the instructions on your seed packet, as some seeds must be covered with soil on top, while others can be sprinkled onto the soil.
Mother Nature can often provide the best source of hydration for your seeds. If you live in a dry area or the forecast doesn't have any showers, but sure to water your seeds regularly. You'll want to keep the soil moist while the seeds are germinating.
Now that you've done the hard work of planting, you can sit back and relax while your seeds grow. With proper care you'll soon see the green growth of your new plants emerging from the soil. Please don't be discouraged if your wildflowers don't bloom during the first year. It sometimes takes more than one season for plants to mature.
To learn more about the important work WWF and Air Wick® are doing in the Northern Great Plains, visit our website.
Additionally, until June 1, 2022, if you share any wildflower to Instagram, Facebook, Twitter, or Pinterest—a photo, a video, an illustration (any wildflower counts)—WWF and Air Wick will plant an additional square foot of wildflowers in the Northern Great Plains to help further restore this important ecosystem. Just tag your posts with #SquareFootSuperBloom.