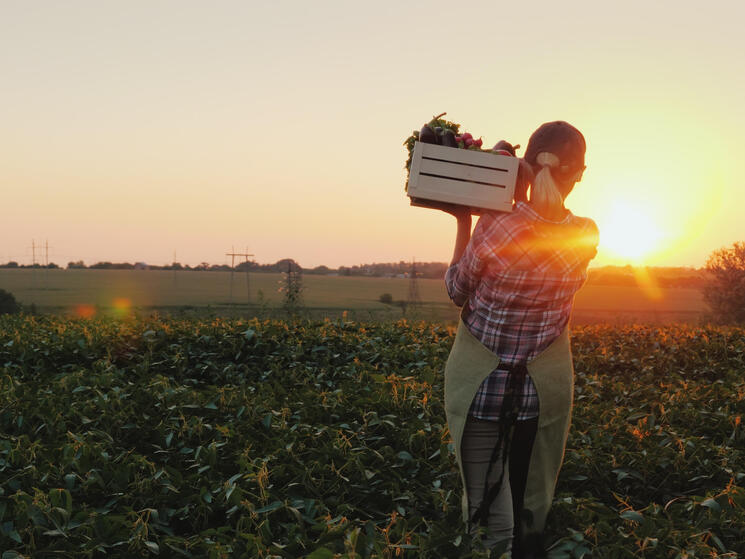 Date

: 02 August 2021

Author

: Melissa D. Ho, Senior Vice President, Fresh Water and Food, WWF
Food plays a role in our lives far beyond sustenance. Communal meals shared with family and friends can strengthen bonds and relationships; cultural identity and tradition is engrained in the recipes we create, consume, and share; and societies were built and evolved from humans' ability to produce food for their communities by stewarding the land on which that food is grown. Given food's pervasive role in our society and the scale of its impacts, it always surprises me that food systems and the communities that have the power to transform them have not been higher on the political, development, and climate agenda.
This "super year" 2021 is a crucial year to move toward solutions for climate, nature, and people. This fall will see several key global convening events including the UN Conference on Climate Change (COP26) in Glasgow, Scotland this November. Kicking off the fall events is the first ever United Nations Food Systems Summit (UNFSS), held in conjunction with the UN General Assembly in New York City this September.
This critical mass of key events provides an unprecedented chance to integrate solutions for the planet's interconnected challenges of climate change, biodiversity loss, economic inequality, and pandemic recovery. Beginning the series of events with a focus on food systems offers a key opportunity to mirror food's ability to reach across geopolitical and cultural boundaries, and bring people together to accelerate systemic change. The way we produce and consume food has the potential to halt and reverse biodiversity loss, keep global warming within 1.5oC, and feed the world healthy and sustainable diets. It's time food systems were placed firmly on the global policy agenda.
Last week, a UNFSS Pre-Summit, held in Rome, set the stage for the September culminating event by introducing the latest science-based approaches to food systems transformation, launching commitments and coalitions, and mobilizing new financing opportunities. The Pre-Summit also convened a broad range of stakeholders from farmers, indigenous peoples, civil society, researchers, private sector, and policy leaders.
"As producers, we are the solutions you are looking for," Elizabeth Nsimadala, president of the Pan-African Farmers' Organization and the Eastern Africa Farmers Federation, said at this week's Pre-summit.
Agriculture is part of the solution for both climate and nature and can help achieve sustainable, equitable, resilient food systems that benefit people and the planet. And the often-underrepresented perspectives and experiences of those from local communities, especially women, are critical to successful transformation.
After the success of the Pre-Summit in Rome, I'm filled with renewed hope that we will see food systems within the bigger-picture plans for global leadership. To do that, we must continue to place the role of agriculture firmly on the climate, nature, and development agendas and adopt a 'whole-of-society' approach that drives broad participation, particularly of the vulnerable and under-represented.
A Nature- and People-Positive Future
We know that food systems transformation requires broad participation from Heads of State and other constituency members such as food producers, civil society organizations, private sector companies and financers. We also know that, while the UNFSS represents a significant opportunity, there will be more work to do as we head down the road to COP 26 in Glasgow in November, where we hope bold commitments on climate -- that include food systems -- will be made. To this end WWF will work with stakeholders at the summit and beyond to implement specific actions toward food systems transformation.
Halting deforestation and conversion for food production and safeguarding our freshwater systems and natural habitats is crucial to conserving critical landscapes and the ecosystem services they provide. Supporting more regenerative agricultural practices will help reduce GHG emissions, improve water quality and usage, and ensure we're wasting less. By doing this, we will be better positioned to help people and communities who rely on agriculture for their livelihoods to thrive.
At the UNFSS and beyond, WWF will elevate the role of our food systems and push for food production to be visible and accounted for in the global agenda to conserve nature fight climate change. With increased visibility, we'll be able to navigate a future where food is as the forefront of all domestic and global policies that help us reduce environmental impacts while feeding a growing planet.
Now more than ever we must seize this opportunity. Our ability to continue to feed ourselves depends on healthy, functioning ecosystems and biodiversity. I believe we can nourish the world while sustaining local communities and biodiversity and addressing climate change. But we cannot expect to succeed without bold change. This is a turning point, bringing global attention and action in addressing food system problems. We can all be game changers, and leadership from all sectors of society is needed if we are to rise and meet these unprecedented challenges.
Learn more: about WWF and the UN Food Systems Summit