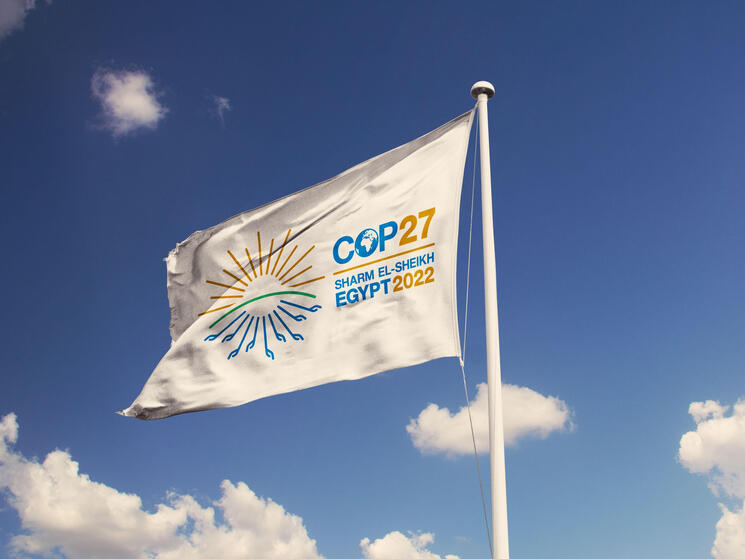 Date

: 23 November 2022

Author

: Sheila Bonini, Senior Vice President, Private Sector Engagement
Having just returned from COP27 in Egypt, I would like to share my reflections on the state of the climate dialogue. Food was back on the agenda this year in a major way. It's an area where business can support solutions around sustainable agriculture, resilience, and land-use change. And while there was some progress overall at COP27, including a welcome step towards a loss and damage fund to help vulnerable countries hit hard by climate disasters, my biggest takeaway is that climate actions aren't moving quickly enough.
Climate change could depress growth in global agriculture yields up to 30% by 2050. At COP27, we introduced, It's Time: Solving the Great Food Puzzle for a 1.5° C Future, A WWF Food Manifesto. It calls for food-based climate action pledges to be implemented at the national and regional levels and identifies five decisive actions central to doing so. You can read about these actions here.
Without resilient agriculture, crop failures and food insecurity will likely lead to increased environmental degradation as agriculture shifts to new locations and communities exploit natural resources to accommodate lost livelihoods and incomes. This challenge is particularly acute in Africa.
WWF recently launched, Scaling and Accelerating Adaption in Food Systems in Africa, a report that assessed Nationally Determined Contributions (NDCs) and National Adaptation Plans (NAPs). It found that adaptation plans must be broadened to include shifts to healthier and more sustainable diets combined with radical cuts in food loss and waste alongside improved food production. Only by adopting full food systems approaches, from farm to fork, can we achieve food security and a stable climate. African countries must set more ambitious targets, but finance must also be allocated to the continent and channeled to the local communities that will implement solutions.
By narrowly focusing only on agricultural production, negotiations failed to deliver a transformative plan on food. Nature is humanity's first line of defense against the impacts of climate change, but climate change itself poses an immediate and existential threat to our natural ecosystems –on which our food systems rely. Ecosystem services, such as pollination of crops, water filtration, flood mitigation, waste decomposition, carbon sequestration and climate regulation are worth approximately $125 trillion dollars annually, providing valuable economic benefits to agriculture, society and business. These economic externalities and system dynamics need to be reflected in policy and finance. There is still hope though that with a joint working group on agriculture and food security over the next four years, it is possible to increase the ambition and build a more holistic approach. Read more on WWF's hopes for the work ahead here, as well as a joint open letter to negotiators and ministers from 100 organizations urging for more ambitious action to accelerate the transition to more equitable and sustainable food systems.
As U.S. Special Presidential Envoy for Climate John Kerry so eloquently stated in the run-up to Sharm el-Sheikh about the fight against climate change: "it's not just the work of one government, or public or private sector, bilateral or multilateral. There's only one way to secure the future. We have to summon the greatest effort we've ever assembled, with the greatest sense of urgency. And we must win this fight, because the alternative is beyond unacceptable."
Unfortunately, a disappointing roadmap was released by 14 of the world's largest agricultural companies to address deforestation associated with palm, beef, and soy production in biomes around the world. While the roadmap demonstrates progress for some commodities, it represents a step back for others and ultimately falls short of the 1.5° C pathway that was promised at last year's COP. There's a clear path for agricultural companies to shift food production to degraded land.
This message was sent by the newly elected Brazilian President, Lula da Silva, in his address at COP where he stated, "I am sure that Brazilian agri-business will be a strategic ally in our government looking for regenerative and sustainable agriculture. We have 30m hectares of degraded lands. We don't need to deforest one square meter to be one of the largest food producers in the world." And while a more sustainable agricultural model is a good step, nature-based solutions also need to be part of the equation.
We have the opportunity to invest in nature to mitigate the worst effects of climate change as well as be prepared for changes that threaten our ecosystems and our economies. Using land for farming and conserving and restoring nature's ability to provide multiple benefits, resources, and services is not mutually exclusive. As Secretary Kerry so adeptly noted, "the alternative is beyond unacceptable."

For more on WWF's take-aways from COP27, see our closing press release here.