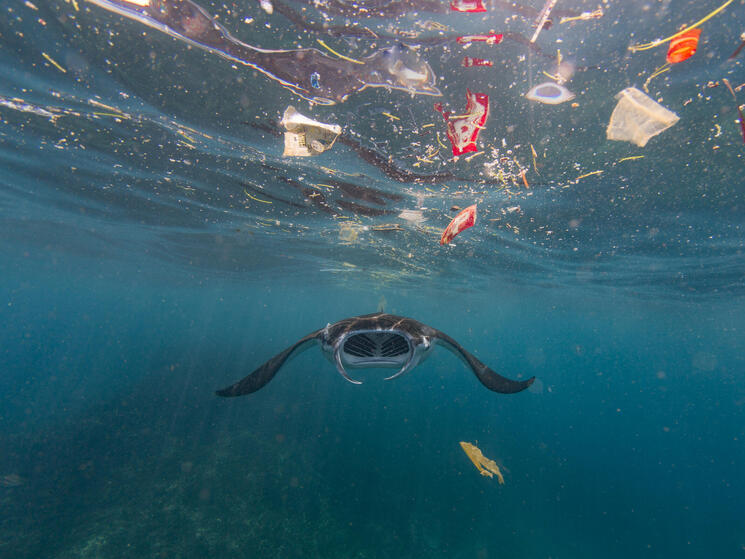 Date

: 13 November 2019

Author

: By Sheila Bonini, senior vice president, private sector engagement, World Wildlife Fund
Plastics pollution knows no bounds. It's a crisis because a system that should be circular is broken and this crisis doesn't belong to one country or one company. It's a problem that is far reaching to every corner of the world, impacting wildlife, water systems, oceans and communities. The impacts are visible – from debris littered beaches to wildlife suffocating in plastic bags – and we're only just beginning to understand what this pollution means for nature and people long-term.
But simply getting rid of all plastic is not a viable solution. So, what is the answer? We need science-based, systematic and measurable change, and we need it now. That means going beyond solutions that focus solely on waste management and instead adopting a strategy that factors in every stage in plastic's life cycle, from sourcing to design, production, distribution, use, recycling and reuse. Voluntary and regulatory solutions must emerge to ensure that the end of the lifecycle for one product consistently starts the beginning of the lifecycle for the next.

Closing the loop on plastic production, disposal, and reuse will require systems level change. We know that just as few as 100 companies have the potential to prevent roughly 10 million metric tons of the world's plastic waste. Working with those companies to secure that change is the right thing to do. But it's only a part of the solution.
Change can happen. Last week, the American Beverage Association, The Coca-Cola Company, Keurig Dr Pepper and PepsiCo launched 'Every Bottle Back', an initiative to recover and recycle more plastic bottles in the US, reducing the industry's dependence on new plastic. This program addresses a clear pain point in the recycling of PET in the United States.
This initiative will leverage WWF's ReSource: Plastic accounting methodology to help track the program's progress and identify opportunities to make additional impact. And it's this type of collaboration across all sectors that will help us solve the whole puzzle. It's clear, working together we're better. When companies and governments pair their unique influence to solve for different parts of the problem, we have the ability to make meaningful impact and fix broken systems.
If we are to move the entire system – create the enabling policies, spur innovation and economies, create equities for consumers, and bring public and private dollars to move infrastructure to the modern age – we need the government to act. In 2019, we began to see an unprecedented number of global governments stand up and commit to reducing plastic pollution. In the US, we are beginning to see our lawmakers and agencies seize on this new momentum and work to take steps that could ease the burden of plastic pollution on our planet. Policy makers in both the Federal and local governments have started to weigh how to manage, reduce and remove the impact of plastic on our environment, but meaningful change cannot happen until citizens, business and government come together.
As we drive towards our goal of No Plastic in Nature by galvanizing all stakeholders we know that real cross-sector collaboration is possible. In fact it will be the only thing that delivers real and lasting change.