The Global Treaty on plastic is a once in a lifetime opportunity for corporate action -- if you seize it
Date

: 19 May 2022

Author

: Erin Simon, Head of Plastic Waste and Business
Even in times of great political divide and international conflict, moments of global resolution are possible. Just a few months ago on March 2 at the UN General Assembly (UNEA 5.2), 175 world leaders courageously found common ground on a plan to tackle one of the planet's most pressing issues: plastic waste.
In the historic moment marked by the knock of a gavel and a roar of applause, UN member states unanimously voted in favor of establishing a legally binding agreement to end plastic pollution – and one that will be developed under an accelerated timeline to be finalized as soon as 2024.
This first major step to put a treaty in motion took more than seven years. Because while there are many ongoing large-scale efforts to mitigate plastic waste, the reality is that no international issue can be effectively addressed without a global framework to support it.
For example, take the Montreal Protocol, which successfully set targets to heal our atmosphere. To stop plastic pollution, we need a treaty focused on reversing the crisis on the ground, one that doesn't just set targets but provides a clear roadmap for how to reach them. The treaty must work for the world's diverse communities by bringing myriad perspectives and cultures to the table. This will ensure that the proposed solutions serve the interests of all people, not just those of more developed nations.
While the Treaty is being negotiated over the next two years, we're presented with an incredible opportunity to develop a framework that works for all stakeholders. Not just for countries, but for their citizens, communities, as well as NGOs and companies, and everyone in between.
I've been in this fight for many years, and I can tell you that there has never been a moment like this – especially for business.
The private sector has an unprecedented chance to help rewrite the future of plastic pollution and the world by designing a new system.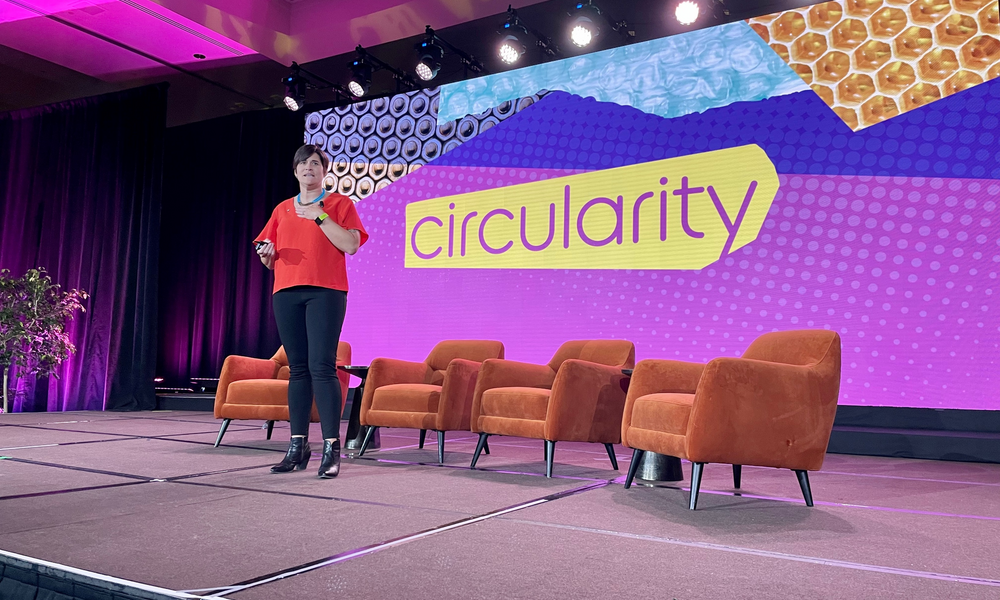 I'm calling on companies to decide how they want to leverage their critical influence throughout the treaty negotiation process. Because large-scale efforts to reduce plastic pollution, led by business, stand to benefit tremendously from a treaty.
In recent years, we have seen many large, influential businesses stepping up and doubling their initiatives to fight plastic waste, and yet plastic pollution continues to grow. Although the will is there, these business efforts lack sufficient support and scale to drive meaningful systemic change.
We need to better enable conditions that will allow these business initiatives to be successful. A global treaty can provide support by coordinating stakeholder action, driving innovation, and facilitating the development of unified standards, common metrics and both global & national targets.
So how can companies seize this unprecedented opportunity to support treaty negotiations?
As we headed into UNEA 5.2 earlier this year, we asked companies to join us in support of a global treaty. We asked them to advocate for an agreement that was not only legally binding and inclusive of the whole plastic life cycle, but one that would be actualized rapidly – because we know that we don't have time to waste.
And now that this resolution has been adopted, the real work can start.
This final resolution will act as a catalyst for country-level action both here in the United States and abroad. With corporate support to help move circular systems forward, we can help set up success for country-level actions plans, building confidence in the UN Member States as they turn commitments into implementation.
As part of this, we need companies to supplement their own high-level commitments of action with co-designing and advocating for policies that can enable circular systems. Policies that help us move out of the R&D stage and into the implementation of better materials and their management, as well as policies that encourage innovative new business models to reduce resource demand.
Throughout the next two years, we will call on companies not only to do your part but to stand shoulder to shoulder with us as we ask our government to do theirs.
We invite companies to directly support this process by vocalizing their support for a treaty when the first International Negotiating Committee workshops begin Fall 2022. As part of this, we will reaffirm that NGOs, businesses and individual leaders are here to support the adopted resolution.
The road ahead is steep, but I am optimistic that, together, we have the power to realize a world with no plastic in nature.