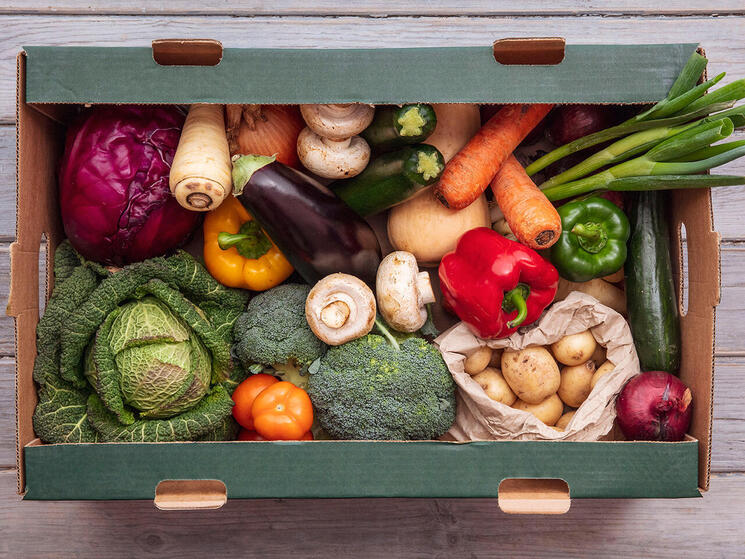 Date

: 03 February 2022

Author

: Julia Kurnik, Director of Innovation Startups, WWF Markets Institute
To most people, the United States Postal Service (USPS) is a low-cost way to send a letter, but here at the Markets Institute, we believe it has the potential to deliver more than just mail.
In spring 2020, people stayed at home and cooked more, grocery store shelves were bare, and farmers serving commercial food businesses were stuck leaving healthy food to rot in fields. And this was all happening as food insecurity skyrocketed. These problems weren't new, but exacerbated, so we began to rethink how we get healthy produce to people. This sparked conversations with farmers, food hubs, the USPS, USPS unions, elected officials, hunger relief groups, and others, a business case, and popular interest. The result? An idea for "Farmers Post," a third-party led platform to allow farmers to ship produce directly to consumers via the USPS, improving market access for small and minority farmers while simultaneously expanding access to healthy, fresh, local produce for consumers across the US.
Perhaps somewhat surprisingly, our current food system does not provide producers with many options to sell directly to consumers. For every dollar a consumer spends on fruits and vegetables, the farmer makes just 7.8 cents. Meanwhile, there are 53.6M food insecure people who lack access to fresh, healthy food at affordable prices. We waste around 40% of fresh produce grown in the US, yet just one in ten adults eats the recommended servings of fruits and vegetables.
One of our conversations was with Healthy PlanEat, a sustainable food tech startup based in East Lyme, CT, which provides a platform to connect farmers to local consumers so that every farmer doesn't need to develop their own website and consumers can easily order from one site. Founder Rosemary Ostfeld was immediately intrigued. She worked with three partners, Provider, Cugno's, and Cloverleigh Farms, to ship 61 boxes of fresh produce to customers during summer 2021 using current USPS offerings.

One repeat customer, Zak Alexander, said that "Each delivery contained around ten pounds of fresh, high quality local vegetables with flavor beyond anything available at the grocery store. The best part was that my packages were conveniently delivered by my local mail carrier, saving trips to the store, and recycling or composting the packaging made me feel even better."
This type of program could be a game changer for consumers, especially those who are food insecure, homebound, or otherwise struggle to access fresh produce, and for smaller scale farmers. Susan Mitchell, owner of Cloverleigh Farm, points out, "As a small farm, I have primarily only been able to offer on-farm CSA purchases but something like this would allow farms like mine to expand our customer base and open up new markets."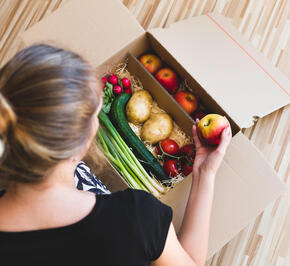 Healthy PlanEat just received a USDA Local Food Promotion Program Planning Grant to build upon this micro-pilot. Ostfeld shared that "Farmers Post could increase access to healthy food and bridge the gap between farmers and local customers. It's incredibly exciting to think about how we could work with our postal workers to better support our nation's small farms and improve health." However, they also had a few learnings to share.
First, the box sizes and programs are close, but need tweaks. The three farms struggled to keep box weights below ten pounds so that shipping would be less than $10. Another program, the Regional Rate system, ships heavy boxes short distances at low cost (e.g. $8.23 up to 20 lbs). Unfortunately, the current box sizes are not shaped well for produce so the USPS would need to consider adding another box shape in the same weight class. It could be a great opportunity to consider a Farmers Post-branded box to advertise the program and how the USPS is helping bring healthy food to more people.
Second, there needs to be a way to make this more accessible to all consumers. Right now, SNAP and WIC benefits are only eligible for online purchase with a few large companies, and that's still in pilot stage. It would be great to see it extended to a program like Farmers Post, allowing more consumers to purchase healthy food directly from local farms, which could also save grocery trips.
These are tweaks, though, not major overhauls. The USPS is already an expert at distribution with programs well-positioned for this type of expansion, and people are clamoring for more local food. We are eager to see Healthy PlanEat's progress and larger pilot while we continue to explore what Farmers Post could be nationwide through our own analysis, coalition building, and further pilots. It's possible that an institution with roots back to 1775 might provide the innovation we need to revolutionize how people access fresh, healthy fruits and veggies across the country, making it as easy as opening your mailbox.